Main content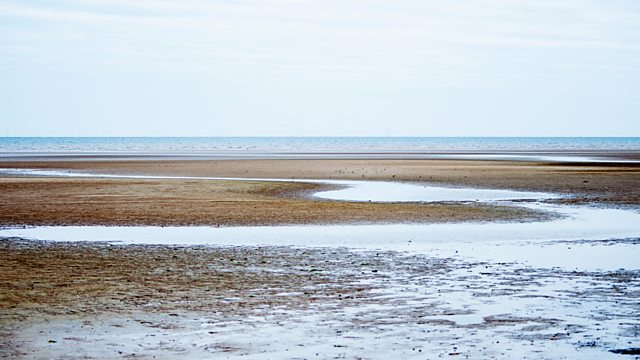 Sunrise Sound Walk: The Wash
In the depths of winter, Horatio Clare welcomes a Lincolnshire dawn across The Wash.
In the cold depths of the year, Horatio Clare watches night retreat and day break at Gibraltar Point in Lincolnshire. As the sun rises in the east across the mingling of land and sea on the northern most tip of The Wash - that great bite out of the east coast of Britain - the stark, remote, unspoilt beauty of the mudflats and saltmarsh is brought to life. From the glimmer of first light to the great golden flare of the risen sun, this moment of serene natural drama reveals the vast skies and shimmering waters of one of the UK's great wildernesses.
The second of two programmes walking the North Sea coast. As the rising winter sun brings warmth and light to the coast in the middle of winter, Horatio takes delight in the minute detail of the plants, the wildlife, the sounds and wide East Coast vistas he experiences on the walks. Suffused with music reflecting the feel and mood of the coastline, he captures the ever changing light and shifting seas and sands of these liminal places.
Last on
Music Played
Arvo Pärt

Cantus in Memory of Benjamin Britten

Orchestra: Estonian National Symphony Orchestra. Conductor: Paavo Järvi.

Erik Satie

Gnossienne No.4

Performer: Sarah Rothenberg.

Arvo Pärt

Fratres

Ensemble: Chilingirian Quartet.

Georg Hólm

Fljótavík

Composer: Jón þór Birgisson. Composer: Kjartan Sveinsson. Composer: Orri Páll Dýrason. Ensemble: 12 Ensemble.

John Cage

In a landscape

Performer: Sarah Rothenberg.

Johann Sebastian Bach

Minim

Composer: Dustin O'Halloran. Performer: Elissa Lee. Performer: Anna Müller.

John Taverner

O Wilhelme, pastor bone

Choir: The Sixteen. Conductor: Harry Christophers.

Maurice Ravel

Piano Concerto in G major (2nd mvt)

Performer: Hélène Grimaud. Orchestra: Baltimore Symphony Orchestra. Conductor: David Zinman.

Gershwin, Ravel: Piano Concertos: Grimaud, Zinman.
Erato.
5.

Frederick Delius

Brigg Fair

Orchestra: Hallé. Conductor: Sir Mark Elder.

English Rhapsody: Butterworth; Delius; Grainger.
Halle.
7-11.

Ralph Vaughan Williams

Symphony No 5 in D major (3rd mvt)

Orchestra: BBC Symphony Orchestra. Conductor: Andrew Davis.

Vaughan williams: Symphonies nos. 4 & 5: BBC Symphony Orchestra, Davis.
Teldec.
7.
Broadcast

Featured in...
A season of programmes and features celebrating light in music and culture.