Main content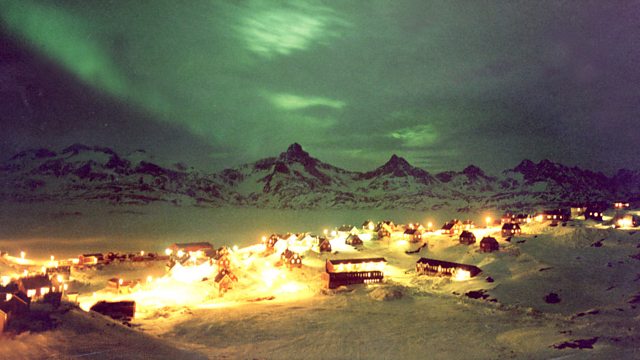 Songs of the Sky
The sounds of the northern lights not only mesmerise, their constant presence in contrast with the changing environment highlight the consequences of climate change for Alaskans.
Karin Lehmkuhl Bodony lives in Galena, Interior Alaska, a small native Alaskan village within the Arctic Circle. Karin lives a subsistence lifestyle, close to nature and while doing wildlife studies as an Alaskan national wildlife ranger she spends a lot of time in the wilderness, day and night. Like many Native Alaskans Karin is witnessing how the changing climate is effecting seasons and the natural landscape. As the natural environment visibly changes, the northern lights remain the one constant and because they come from the sun's solar wind, they will always remain. Native Alaskans have used the lights in the night sky to hunt and never fail to be in awe but is their relationship with the lights has not always been a harmonious one. They're a constant in a changing environment, and come from the source which is effecting their way of life, the heat from the sun. Alaskan elders share myths and legends associated with the northern lights.
As well as witnessing the Aurora Borealis, Karin also turns the lights into sound. Using a very low frequency radio recorder she takes us deep into the forest on her dog sleigh to capture - in sound- the swirls and whistles generated by the solar shower as it interacts with earth's electromagnetic field. The sounds are as haunting and ethereal as whale song.
Karin captures the sounds of the northern lights for a project with the environmental composer Matthew Burtner whose work draws on environmental change in his native Alaska. He uses captured sound and music to reflect environmental change. Matthew listens to the lights out in the Alaskan wilderness for the first time using a very low frequency recorder and uses recordings of the lights to compose a piece of music.
Producer Kate Bissell
Last on
Broadcast

Featured in...
A season of programmes and features celebrating light in music and culture.