Main content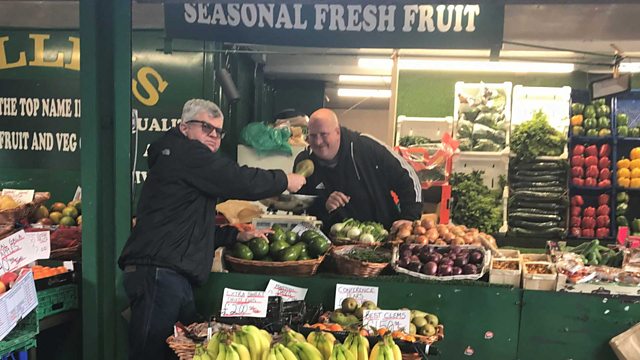 Living British
As the EU transition period nears the end, Adrian Chiles tries to eat, drink, wear and travel British for a week. How self-sufficient are we as a nation and does it matter?
Adrian Chiles tries to eat, drink, wear and travel British for a week. As the UK prepares for the end of the transition period with the EU and during a global pandemic, what we consume and where it comes from has never felt so relevant. So how self-sufficient are we and does it matter?
As a vegetarian, Adrian is hoping food will be the least challenging tasks of the week. But many of the staples in his cupboards and fridge have to go and there's a long list of produce where the provenance is unclear. He heads to his local shops and one of the big supermarkets to find out what actually is British and plan his week's menu. He also talks to other consumers about what's in their totes and trolleys. Traditionally brand allegiance, quality and price have been more of a motivator than provenance. Will Brexit and a global pandemic change our buying habits?
Getting dressed poses further problems. Adrian buys most of his clothes from high street British retailers but practically nothing in his closet is made in the UK. Adrian speaks to industry insiders to find out what's left of Britain's clothing industry. And does buying British mean buying ethically?
Travelling brings new obstacles and he's got to get to work in Manchester, Bradford and central London. Adrian's Yamaha bike, BMX and German car aren't an option. He looks at public transport and asks if there is a wholly British car left to drive. Where can we legitimately stamp 'Made in Britain'?
The British industry of today is not as big, simple or as visible as it once was. Much of what we export is less tangible, like financial and IT services, or not vital to a daily existence - as Adrian discovers in his avocado-free week. Does that matter? Should focus stay on the service industry or do we need to boost domestic production in these unprecedented and uncertain times.
It's not just a week of denial and gloom and doom. Throughout the week, Adrian's diet improves as he makes new home-grown culinary discoveries. And glossing over the fact that his electronic devices are made in China, there's no shortage of home-grown music and TV. All of which can be consumed with a whisky, beer, cider or even wine.
Producer: Henrietta Harrison
A Loftus Media production for BBC Radio 4
Last on
Broadcasts