Main content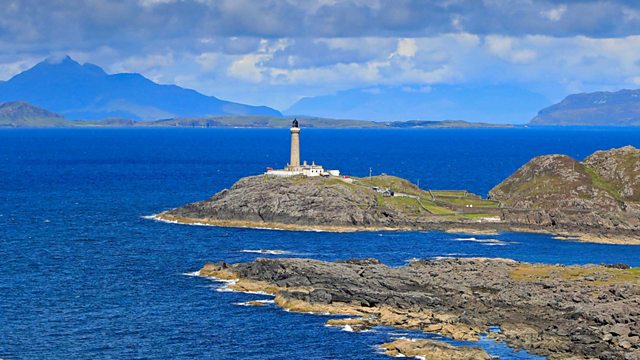 The Lighthouse on the Headland of the Great Seas
A community trust has taken over the visitor facility at Ardnamurchan Lighthouse, in the west of Scotland, to preserve its history and develop its tourist potential.
Ardnamurchan Lighthouse, on the westernmost tip of the UK mainland, is one of a number of 19th century "Stevenson" lighthouses and has a unique Egyptian style of architecture – inspired by the ancient Lighthouse of Alexandria. On a clear day there are spectacular views towards Skye and the Outer Hebrides. On a dark, stormy night it's a desolate, forbidding place.
The Ardnamurchan light is operated remotely from Edinburgh by the Northern Lighthouse Board but a local community trust recently bought the site and wants to develop its tourism potential.
On a wet and windy day, Helen Mark is shown around the site by the trust's manager and retained light keeper, Davie Ferguson. Despite sophisticated new technology, mariners still rely on lighthouses for guidance and Davie leads Helen up the dizzying climb to the lantern room to show her the modern LED light which casts its beam 24 miles out to sea.
The area's connections with the lighthouse are deep rooted – its construction provided employment for local people during the potato famine and the keepers and their families were important members of the small crofting community. Former lighthouse keeper, Ian Ramon, now acts as a guide, tells visitors what life was like when the light was run on paraffin and when being caught asleep on shift meant instant dismissal!
As well as enjoying the stunning scenery and feeling the power of the wind and waves, visitors can tour the small museum and take shelter in the tearoom when the storms are sweeping in from the Atlantic. For many, the biggest attraction is the giant red foghorn which sits at the bottom of the lighthouse. It hasn't sounded for many years but the trust's recently appointed project officer, Stephanie Cope, tells Helen of her hope that it may, one day, blare out its warning signal again.
Ardnamurchan Point is also part of a network of viewing areas set up by The Hebridean Whale and Dolphin Trust along the west coast of Scotland. Volunteers record sightings around the peninsula in the summer months and arrange exhibitions and talks for visitors. Siobhan Moran, from the Trust, talks to Helen about the project's links with the lighthouse and the importance of Ardnamurchan as a whale watching site.
Presented by Helen Mark
Produced by Kathleen Carragher
Last on
Broadcasts

Podcast
Countryside magazine featuring the people and wildlife that shape the landscape of Britain