Main content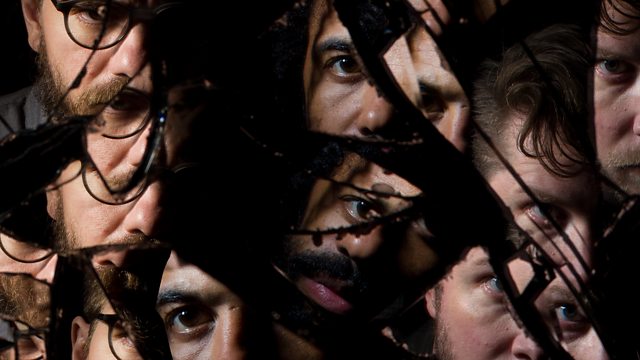 Albums of the Year and a mixtape by clipping
Jennifer Lucy Allan reveals the albums of the year as chosen by the presenters, producers and friends of the show. Plus, a mixtape assembled by avant-rap experimenters clipping.
At the end of a tumultuous year, the Late Junction team reflect on the last twelve months in music with a selection of their favourite adventurous albums.
2020 will clearly be remembered for a lot more than its music. But beyond the Covid headlines, artists have been responding to the pandemic in creative ways, using music to connect across lockdown and try to make sense of the crisis. This is the year that collaborations were established at distance, live streams replaced sweaty concerts and songs were penned in response to the Black Lives Matter movement. Jennifer Lucy Allan reveals some of the best albums of the year as chosen by the presenters, production team and friends of the show, including picks from Holly Herndon; Sarathy Korwar; Georgia Ellery; Angel Bat Dawid and Fielding Hope.
Also on the programme, a hand-crafted mixtape assembled by the avant-rap group clipping, who have made one of the albums of the year with Visions of Bodies Being Burned. They're a trio who combine rap with the experimental production techniques of musique concrete and noise. For this year's Record Store Day they released a live album made on tour with The Flaming Lips, which featured recordings from microphones left in the toilets, taped to ceiling pipes, tied to trees, worn by roadies and hidden inside the venues. The rapper at the centre, Daveed Diggs, is also a renowned actor who won a Grammy for his role in Hamilton.
Produced by Alannah Chance.
A Reduced Listening Production for BBC Radio 3.
Last on
Music Played
clipping.

Something Underneath

Visions Of Bodies Being Burned.
Sub Pop.

Beatrice Dillon

Workaround Two

Sarathy Korwar

Birthright (feat. Zia Ahmed)

Siti Muharam

Pakistan

Romance Revolution.
On The Corner Records.

Silvia Tarozzi

Spazio

Mi specchio e rifletto.
Unseen Worlds.

Bone Thugs‐n‐Harmony

Mr. Ouija

Creepin On Ah Come Up.
Ruthless Records.

Big Ed

Assassin (feat. Master P)

The Assassin.
No Limit Records.

Meredith Monk

Unison

Our Lady Of Late.
Minona Records.

Mark Trayle

_21

Goldstripe.
Creative Sources.

Sean Baxter

Windchimes

Solo Drumkit Improvisations.
Bocian Records.

Jeff Parker

Super Rich Kids

Slight Freedom.
Eremite Records.

The Conscious Daughters

Something To Ride To (Fonky Expedition)

Something To Ride To (Fonky Expedition).
Priority Records.

Crematory

Chunks Of Flesh

Cheryl E. Leonard

Fizzy Iceberg Underwater

Chattermarks: Field Recordings From Palmer Station, Antarctica.
Great Hoary Marmot Music.

Jennifer Veillerobe

B1

Luftlöcher.
Senufo Editions.

Pedestrian Deposit

Overcast

Severance.
Monorail Trespassing.

MC Hammer

Let's Get It Started

Let's Get It Started.
Capitol Records.

Sun Araw

Catalina

Rock Sutra.
Sun Ark Records.

dumama

&

kechou

leaving prison

buffering juju.
Mushroom Hour Half Hour.

Desire Marea

Thokozani

Desire.
Izimakade Records.

Francesca Naibo

Nadare Nura

Ana Roxanne

Venus

Because Of A Flower.
Kranky.

Angel Bat Dawid

&

Tha Brothahood

Black Family

LIVE.
International Anthem.

oui ennui

Aesthete For Hire (References Available Upon Request)

Harry Pussy

Stop

Superstar.
Palilalia Records.

Beverly Glenn‐Copeland

Don't Despair

Transmissions: The Music Of Beverly Glenn-Copeland.
Transgressive Records.
Broadcast