Main content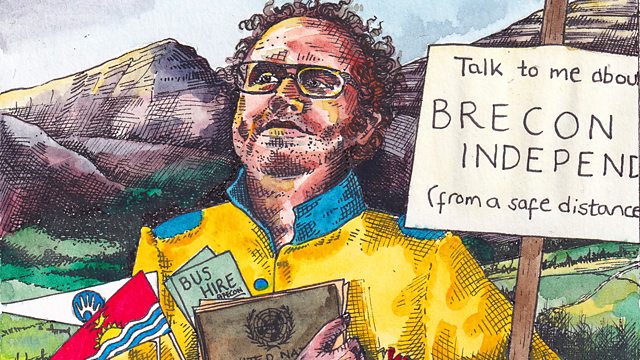 (Part 1 of 2) Could a town declare independence not just from the UK, but from Wales itself? Satirist Gareth Gwynn is on a mission to find out.
(Part 1 of 2) Comedy writer Gareth Gwynn wants to talk about Independence. For the past ten years, it's been the word on everyone's lips. From Scotland leaving the UK, to the UK leaving the EU, to Zayn Malik leaving One Direction, wherever he's looked he feels like there's been someone arguing for their independence - often successfully. Now, he himself wants a slice of that action.
In this two-part adventure, Gareth sets out to see if he can persuade the town of Brecon - where he lived when he was a teenager - to declare independence, not just from the UK, but from Wales itself. With political scientists, pollsters, strategists and top-tier statesmen as his guides, he embarks on an odyssey to discover what really defines an independent state, and what it takes to become one.
On reading - in a UN treaty from 1933 - that states can be defined by four key characteristics (a population, a territory, a government, and the ability to enter into negotiations with other states), Gareth's heart leaps. If he can somehow prove that Brecon meets these criteria, that's a strong first step, right?
Last on
Broadcasts