Main content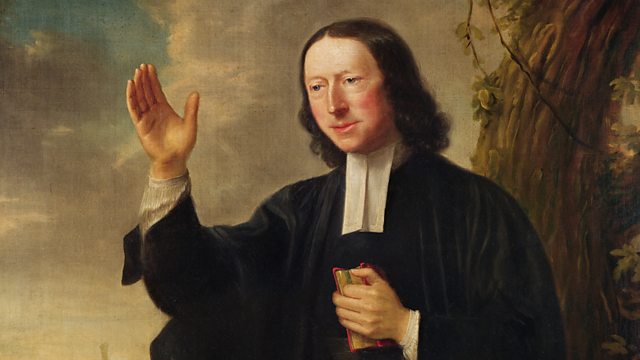 John Wesley and Methodism
Melvyn Bragg and guests discuss the difference John Wesley made during the Christian Revival of the 18th Century, developing Methodism into a major movement around the world
Melvyn Bragg and guests discuss John Wesley (1703 - 1791) and the movement he was to lead and inspire. As a student, he was mocked for approaching religion too methodically and this jibe gave a name to the movement: Methodism. Wesley took his ideas out across Britain wherever there was an appetite for Christian revival, preaching in the open, especially the new industrial areas. Others spread Methodism too, such as George Whitefield, and the sheer energy of the movement led to splits within it, but it soon became a major force.
With
Stephen Plant
Dean and Runcie Fellow at Trinity Hall at the University of Cambridge
Eryn White
Reader in Early Modern History at Aberystwyth University
And
William Gibson
Professor of Ecclesiastical History at Oxford Brookes University and Director of the Oxford Centre for Methodism and Church History
Produced by Simon Tillotson and Julia Johnson
Last on
LINKS AND FURTHER READING
William Gibson at Oxford Brookes University
Stephen Plant at the University of Cambridge
Eryn White at Aberystwyth University
John Wesley - Wikipedia
READING LIST:
H. Abelove,
The Evangelist of Desire, John Wesley and the Methodists
(Stanford University Press, 1990)
David Bebbington,
Evangelicalism in Modern Britain: A History from the 1730s to the 1980s
(Routledge, 1989)
P. S. Forsaith,
Image, Identity and John Wesley, A Study in Portraiture
(Routledge, 2017)
V. H. H. Green,
The Young Mr Wesley
(Longman, 1961)
G. Hammond,
John Wesley in America: Restoring Primitive Christianity
(Oxford University Press, 2014)
Richard P. Heitzenrater,
Wesley and the People Called Methodists
(Abingdon Press, 2013)
D. Hempton,
Methodism: Empire of The Spirit
(Yale University Press, 2005)
D. C. Jones, Boyd S. Schlenther and E. M. White,
The Elect Methodists: Calvinistic Methodism in England and Wales 1735-1811
(University of Wales Press, 2012)
J. Lenton,
John Wesley's Preachers, A Social and Statistical Analysis of the British and Irish Preachers Who Entered the Methodist Itinerancy before 1791
(Epworth Press, 2009)
Randy L. Maddox,
Responsible Grace: John Wesley's Practical Theology
(Abingdon Press: 1994)
R. L. Maddox & J. E. Vickers (eds),
The Cambridge Companion to John Wesley
(Cambridge University Press, 2010)
Mark A. Noll,
The Rise of Evangelicalism: The Age of Edwards, Whitefield and the Wesleys
(InterVarsity Press, 2003)
Colin Podmore,
The Moravian Church in England 1728-1760
(Clarendon Press, 1998)
Henry D. Rack,
Reasonable Enthusiast: John Wesley and the Rise of Methodism
((Epworth Press, 1992)
R. E. Richey, K. E. Rowe & J. Miller-Schmidt (eds.),
The Methodist Experience in America: A History Vol. 1
(Abingdon Press, 2010)
R. E. Richey, K. E. Rowe & J. Miller-Schmidt (eds.),
The Methodist Experience in America: A Sourcebook Vol. 2
(Abingdon Press, 2000)
John Wesley,
Forty Four Sermons
(first published 1787; many editions today including Arkose Press, 2015)
Broadcasts

Featured in...
Browse the 18th Century era within the In Our Time archive.

Discussion of religious movements and the theories and individuals behind them.