Main content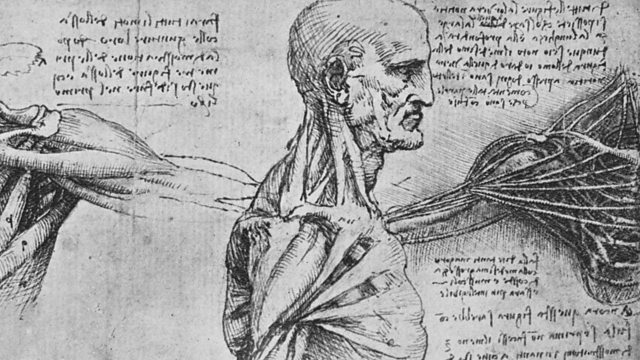 The Body
The readings are all from poems, stories and research undertaken by New Generation Thinkers. The music ranges from Mahler to the Delta Rhythm Boys.
From the tattoos on Queequeg in Moby Dick to the schoolboys in Nicholas Nickleby, the diaries of suffragette Emily Wilding Davison to the experience of excavating an Iron Age tomb, medieval manuscripts to studies of the gut - today's programme reflects research into different aspects of the body undertaken by New Generation Thinkers.
As Radio 3 marks the fact that 100 early career academics have now come through the scheme run in conjunction with the Arts and Humanities Research Council to turn research into radio - this episode features new non fiction writing by ten New Generation Thinkers read by the actors Deeivya Meir and Ewan Bailey with published authors Sarah Jackson, Sandeep Parmar, Preti Taneja and Peter Mackay reading their own poems and prose.
The musical pieces range from Mahler to the Delta Rhythm Boys via Scriabin and Missy Mazzoli.
Producer: Torquil MacLeod
You can find a playlist of discussions, short documentaries and Essays featuring New Generation Thinkers on the Free Thinking programme website.
Last on
Music Played
Timings (where shown) are from the start of the programme in hours and minutes
00:00

Steve Reich

Clapping Music

Performer: Steve Reich. Performer: Colin Currie.

Colin Currie Records CCR0003D.
Tr1.

Tiffany Watt-Smith

Embodied Habits, Deeivya Meir

00:02

Dmitri Kabalevsky

30 Children's Pieces, Op. 27: No. 5 Cradle Song

Performer: Carol Rosenberger.

Peter Mackay

The Leak (An t-Aoidean), Peter Mackay

00:04

Orlando Jacinto Garcia

A Rising Tide

Orchestra: Malaga Philharmonic Orchestra. Performer: Jennifer Choi. Conductor: Orlando Jacinto Garcia.

Toccata Classics TOCC0435.
Tr1.

Diarmuid Hester

Tattoos and Literature, Deeivya Meir

00:07

Christopher Gordon

Queequeg

Performer: Christopher Gordon.

Varese Sarabande.
CD1 Tr2.

00:09

Úlfur Hansson

Skin Continuum

Performer: Nordic Affect.

Sono Luminus SLE-70008.
Tr6.

Preti Taneja

from We That Are Young, Preti Taneja

00:11

The Delta Rhythm Boys

Dry Bones

Alun Withey

The Quest for the Ideal Body, Ewan Bailey

00:14

The Delta Rhythm Boys

Dry Bones

Lisa Mullen

The Feels, Deeivya Meir

00:16

Sergey Rachmaninov

Vocalise

Performer: Clara Rockmore. Performer: Nadia Reisenberg.

Lisa Mullen

The Feels, Deeivya Meir

00:20

Ethel Smyth

Concerto for Violin, Horn and Orchestra (2nd mvt: Elegy)

Performer: Thomas Albertus Imberger. Performer: Milena Viotti. Ensemble: Wiener Concert-Verein. Conductor: Doron Salomon.

Fern Riddell

Emily Wilding Davison, Deeivya Meir

00:28

Sir George Benjamin

Written on Skin

Singer: Barbara Hannigan. Singer: Christopher Purves. Orchestra: Orchestra of the Royal Opera House, Covent Garden. Conductor: Sir George Benjamin.

Sarah Jackson

Bilateral, Sarah Jackson

00:32

Missy Mazzoli

A Thousand Tongues

Performer: Jennifer Koh. Performer: Missy Mazzoli.

00:39

Rachel Portman

Nicholas Nickleby

Performer: Rachel Portman.

Clare Walker Gore

Reading Disability, Ewan Bailey

00:41

Alexander Scriabin

Prelude & Nocturne for the Left Hand, Op. 9: No. 2, Nocturne

Performer: Nicholas McCarthy.

Elsa Richardson

The Gut, Deeivya Meir

00:49

Frank Martin

Death and the Athlete

Orchestra: ARMAB Orchestra. Conductor: Bastian Blomhert.

Sandeep Parmar

from Faust: xx, Sandeep Parmar

00:55

Gustav Mahler

Die zwei blauen Augen von meinem Schatz

Performer: Charles Reid. Ensemble: Virginia Arts Festival Chamber Players. Conductor: JoAnn Falletta.

Emily Cock

Historians and Bodies, Deeivya Meir

01:02

Ludwig van Beethoven

Piano Sonata No. 31 in A-Flat Major II. Allegro molto

Performer: Konstantin Scherbakov.

Steinway & Sons Steinway30149.
Tr5.

Hetta Howes

Bloody Manuscript, Ewan Bailey

01:04

Tomás Luis de Victoria

Good Friday Responsories: Tamquam ad latronem

Performer: Stile Antico.

harmonia mundi 902272DI.
Tr8.

Seren Griffiths

Absent Bodies, Deeivya Meir

01:09

Lori Laitman

Living in the Body

Singer: Maureen McKay. Performer: Gary Louie.

Broadcasts