Main content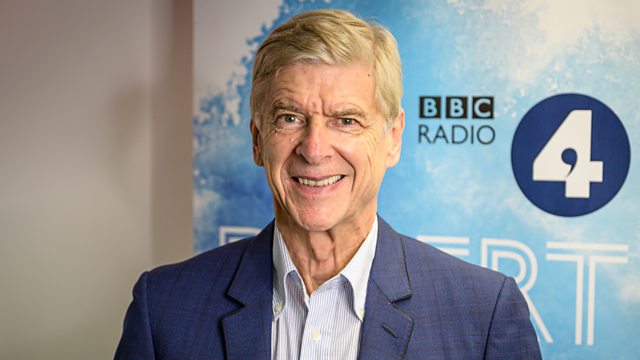 Arsène Wenger, former football manager
Arsène Wenger, the manager of Arsenal FC for 22 years, shares the eight discs, book and luxury he would want with him if cast away to a desert island. With Lauren Laverne.
Arsène Wenger was the manager of Arsenal FC for 22 years, becoming the longest-serving and most successful manager in the club's history.
He was born in Strasbourg in 1949 and grew up as the youngest of three children in the nearby village of Duttlenheim, where his parents ran a bistro. There he listened in to the daily conversations about football, which preoccupied the men of the village.
After playing for his local team and studying for a degree in economics, Arsène made a career as a footballer in France for a decade, before moving into management. He coached in France, Monaco and Japan before joining Arsenal in 1996. At that point he was a complete unknown in English football, but soon proved his doubters wrong. He took a declining mid-table side to Premier League glory within two years, going on to win two further Premierships and a record number of FA Cups. In 2003-4 his so-called Invincibles achieved a record-breaking run of 49 matches without defeat.
He also won a reputation as an innovator, changing his players' diets and contributing to the globalisation of soccer by signing overseas players and scouting young talent from across the world. He was instrumental in building a new home for Arsenal, when the club moved from Highbury to the brand new Emirates Stadium
Arsène retired from Arsenal in 2018 and took up a post as FIFA's head of Global Football Development the following year. He is separated from his partner Annie Brosterhous. They have one grown-up daughter, Léa.
DISC ONE: Could You Be Loved by Bob Marley And The Wailers
DISC TWO: Imagine by John Lennon
DISC THREE: Avec Le Temps by Léo Ferré
DISC FOUR: Your Song by Elton John
DISC FIVE: Évidemment by France Gall
DISC SIX: The Wonder of You by Elvis Presley
DISC SEVEN: Ne Me Quitte Pas by Jacques Brel
DISC EIGHT: My Way by Frank Sinatra
BOOK CHOICE: Around the World in Eighty Days by Jules Verne
LUXURY ITEM: A ball
CASTAWAY'S FAVOURITE: Avec Le Temps by Léo Ferré
Presenter: Lauren Laverne
Producer: Cathy Drysdale
Last on
Arsene Wenger shares his Desert Island Discs
Music Played
Bob Marley & The Wailers

Could You Be Loved

Legend.
Globo Polydor.
3.

John Lennon

Imagine

The John Lennon Collection.
Parlophone.
9.

Léo Ferré

Avec Le Temps

Avec Le Temps.
Barclay.
11.

Elton John

Your Song

Elton John Greatest Hits.
Mercury Records Limited.
1.

Elvis Presley

The Wonder Of You

All The Best From Elvis Volume 2.
Sony Music Entertainment.
16.

Jacques Brel

Ne Me Quitte Pas

Frank Sinatra

My Way

My Way.
Warner Music UK Limited.
1.
Broadcasts