Main content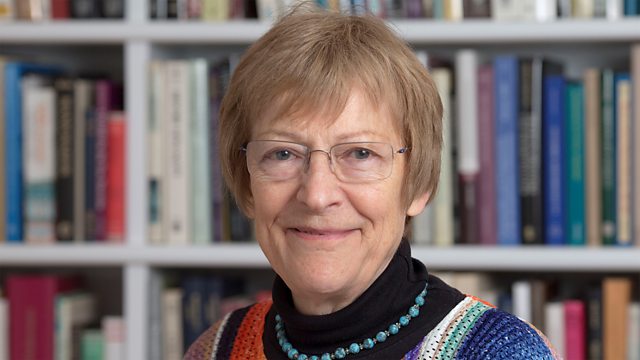 Judith Herrin
Michael Berkeley's guest is eminent Byzantine historian Judith Herrin. With Brahms, Beethoven, Mozart and The Doors.
On this darkest day of the year, Judith Herrin brings to Private Passions the dazzling gold of medieval icons and mosaics: she has spent a lifetime exploring the history of Byzantium, that thousand-year civilization which led Europe out of the dark ages and into the modern era. She's one of our greatest historians of the early medieval Mediterranean world, that melting pot of East and West, Christianity, Islam and paganism. She's worked in Paris, Munich, Istanbul and Princeton, and is currently Emeritus Professor of Byzantine Studies at King's College London. She is the author of eleven books, and her latest is a fascinating study of the north-Italian city of Ravenna, famous for its gold mosaics and once the centre of the Roman and then the Byzantine Empire.
In Private Passions, she talks to Michael Berkeley about her passion for Ravenna, which she first visited as a teenager. The mosaics there made an unforgettable impression – an almost mystical experience. As a young woman, Judith Herrin spent her summers in Prades in Southern France, working on a peach farm by day and going to hear Pablo Casals at night. She chooses a memorable archive performance of Casals, as well as a recording of Jacqueline du Pré, who was a friend when she was growing up. Her own instrument is the bassoon and she chooses bassoon music by Mozart and by Janáček. And she has never forgotten seeing The Doors at the Roundhouse in the mid-60s, with revolution in the air and the excitement of creating a new kind of history.
Produced by Elizabeth Burke
A Loftus Media production for BBC Radio 3
Last on
Music Played
Johannes Brahms

Piano Trio in B major, Op.8 (1st mvt: Allegro con brio)

Performer: Isaac Stern. Performer: Pau Casals. Performer: Myra Hess.

Enric Morera

La Santa Espina

Ensemble: La Principal de la Bisbal.

Ludwig van Beethoven

Cello Sonata in C major, Op.102 no.1 (1st mvt: Andante - Allegro)

Performer: Jacqueline du Pré. Performer: Daniel Barenboim.

Wolfgang Amadeus Mozart

Bassoon Concerto in B flat major, K.191 (3rd mvt: Rondo)

Performer: Stepan Turnovsky. Orchestra: Vienna Mozart Academy. Conductor: Johannes Wildner.

The Doors

Break on Through

Leos Janáček

Mladi (3rd mvt)

Ensemble: Ensemble.

Wolfgang Amadeus Mozart

Tamino, halt (Die Zauberflote)

Singer: Marlis Petersen. Singer: Daniel Behle. Orchestra: Berlin Academy for Early Music. Conductor: René Jacobs.

Cole Porter

Do I Love You

Performer: Ella Fitzgerald.
Broadcast