Main content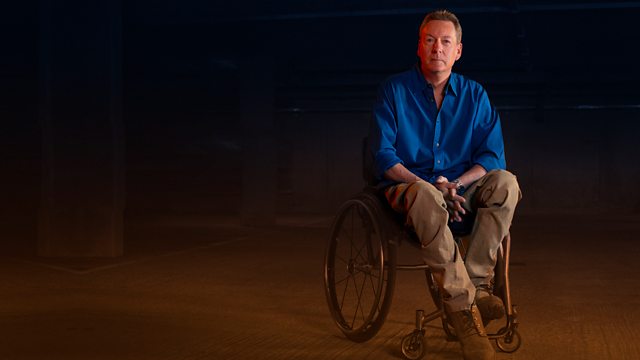 Being Frank: The Frank Gardner Story
Sixteen years after being shot by al-Qaeda, BBC security correspondent Frank Gardner explores what it is like to suddenly become disabled, meeting others with life-changing injuries.
In June 2004, BBC security correspondent Frank Gardner was shot six times by al-Qaeda gunmen whilst reporting on growing terrorist activity in Saudi Arabia. The bullets damaged his spinal nerves – at the age of 43, Frank was left partially paralysed and has used a wheelchair ever since.
Sixteen years on, Frank has never fully got used to being disabled. In this deeply personal film, he talks candidly about the effects his injuries have had on his life, work, relationships and the way he views himself. Disarmingly honest about revealing the ongoing physical indignities that have resulted from the attack, including changing his colostomy bag and catheter on camera, Frank nevertheless finds talking about his emotional responses more difficult.
Exploring the way that others have responded to sudden, life-changing injuries, Frank meets Yasmin, a young woman who has recently suffered a spinal cord injury as a result of a climbing accident. Yasmin is still coming to terms with her disability, and her comments remind Frank of the shock and intense sadness he felt immediately after becoming paralysed. Revisiting his past as a young man backpacking around the Middle East, Frank tells the story of how he turned himself into a BBC correspondent in the 1990s. At this time, Frank met his wife Amanda, and they had two children. The film broadcasts never-before-seen footage of the last report that Frank and cameraman Simon Cumbers were making just prior to the attack by al-Qaeda, during which Simon lost his life and Frank very nearly didn't make it.
Reflecting on his recovery, Frank says it was Amanda who helped him most - but it was not without its impact on their relationship. Recently, Frank and Amanda have divorced, amicably, and Frank now finds himself at a turning point in his life in a new relationship.
Frank meets a military couple whose marriage has been affected by a life-changing injury. He also meets Gerard, a young man living in Edinburgh who has paralysis in all four limbs as a result of a diving accident. Gerard's disability is far more severe than Frank's – he has to have 24-hour live-in care – but the two share a love of the Middle East, and Gerard's positivity has a strong impact on Frank.
Travelling to report for the BBC from the Colombian rainforest, Frank comes to terms with the frustration of just how dependent on others he will always be. Yet despite the considerable physical hardships he endures, and knowing that the mental recovery after a life-changing injury can take years, he continues to live life to the full. Ultimately, he is really very happy, just being Frank.
Clips

Credits
| Role | Contributor |
| --- | --- |
| Presenter | Frank Gardner |
| Composer | Tim Goalen |
| Production Manager | Lykke Jorgensen |
| Producer | Caroline Sciama |
| Editor | William Grayburn |
| Executive Producer | Dov Freedman |
| Director | Charlie Russell |
| Production Company | Curious Films Ltd |
Featured in...
Documentaries from BBC Two - the home of distinctive, specialist factual programming.

1 in 5 British people have some form of disability. These are their stories.