Main content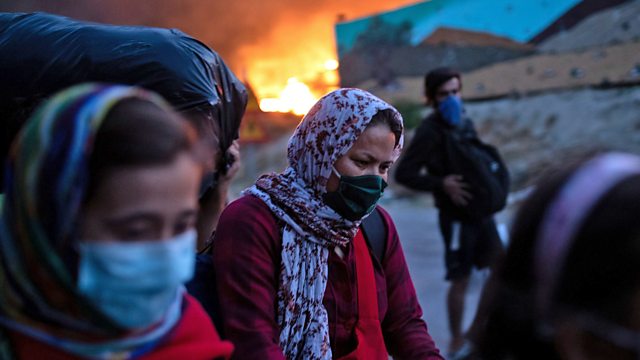 Stuck on Lesbos
Stories about the fire in a refugee camp on the Greek island of Lesbos, and on Kenyan schools, from Hong Kong, India's Himalayan region and Belarus. With Kate Adie.
Last month a fire burned down the Moria refugee camp on the Greek island of Lesbos, which had been hugely overcrowded. The cause was arson, but what was the real reason, and who stoked the fire once it was lit? Gabriel Gatehouse has been investigating the blaze, and Europe's dysfunctional migration policy.
In Kenya, schools have reopened this week for the first time since March, at least for some year groups. The seven-month closure was to help stop the spread of Covid-19. But how have schools, teachers and students been faring in the meantime? And what's it like being at school now? Anne Soy has been finding out in Nairobi.
Hong Kong has been a gateway to China, while enjoying freedoms such as a free press that do not exist on the mainland. But following months of often violent pro-democracy protests, and a new security law imposed by Beijing, the territory's identity is changing. Can it keep its status as a global powerhouse, asks Karishma Vaswani.
Arunachal Pradesh, in India's tribal Northeast, is home to more than 20 tribes – among them the Tibeto-Burman Idu Mishmi, one of the few to have retained their animist beliefs. Antonia Bolingbroke-Kent attends a rare Mishmi festival – and learns about the decline of the number of shamans, and a novel solution to the problem.
There have been weekly demonstrations, some met with police violence, in Belarus ever since the disputed election in August. Protesters have been calling for the resignation of long-term ruler President Lukashenko. All a long cry from when Ash Bhardwaj went cycling in an ancient forest in the country, on the look-out for a Soviet-era relic - or so he thought. And then he too had a run-in with the KGB....
Presenter: Kate Adie
Producer: Arlene Gregorius
Last on
Broadcast