Main content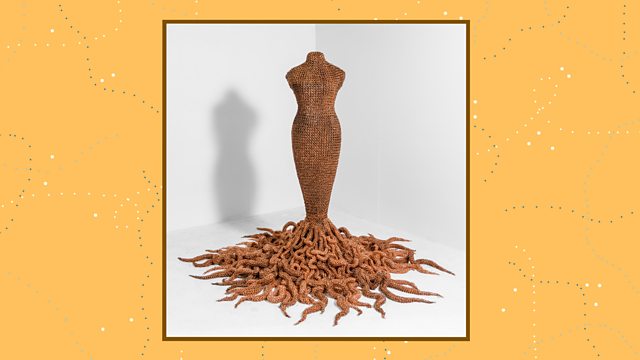 Sculptor Susie MacMurray, Fillers, ADHD Late Diagnosis and Women and Forgiveness
Susie MacMurray on her latest sculpture Medusa, why MP Laura Trott is calling for regulation for fillers, Emma Mahoney on her midlife ADHD diagnosis and women and forgiveness.
A striking new female figure can be seen in Kings' Place in London, and online from this week. Medusa is a tall, headless woman whose body turns into snakes made of chainmail. For her creator, Manchester-based artist Susie MacMurray, the sculpture is a metaphor for women's power. She and a team of female art students used 300 kilos of copper wire to create Medusa, as part of a new exhibition of her work, Murmur, which opens on 21 October. A free preview tour is also being livestreamed on YouTube and Instagram this Thursday 15 October at 6pm, just search for Pangolin London.
Lip fillers and other cosmetic procedures are increasingly popular and there's even been what the industry is calling a "zoom boom" over the last few months with people wanting to change their appearance after spending hours looking at themselves on their computers. But it's not just adults turning to fillers, it's also teenagers who're often targeted on social media by advertisers and are in part influenced by the celebrities they see on TV shows. What you may not realise however is that it's completely legal for under 18s to get fillers and it's an area that is at present completely unregulated. Anyone can administer fillers and there are even reports of people buying fillers online and injecting themselves after watching a how-to session on Youtube. Jane Garvey talks to Laura Trott MP who is trying to get a law passed to stop under 18s accessing filler treatments and Ashton Collins from Save Face.
What's it like to get a diagnosis of ADHD as a woman in middle age? We often associate the condition with much younger people, usually boys, partly because ADHD in girls presents itself in a much quieter way. But Emma Mahony's ADHD was formally diagnosed when she was 52. She's written a book called Better Late Than Never, which explores how her diagnosis makes sense of her life and the decisions she's made.
Do women forgive differently from men? Jane speaks to Sandra Barefoot who works in prisons with the Forgiveness Project. She is running creative writing workshops in November with Cecilia Knapp, Young People's Laureate for London and Anne Marie Cockburn whose daughter died of an ecstasy overdose. Can writing help people find strategies for forgiveness?
Presenter: Jane Garvey
Producer: Clare Walker
Website image of Medusa courtesy of Ben Blackall
Last on
Broadcast

Podcast
Women's voices and women's lives - topical conversations to inform, challenge and inspire.