Main content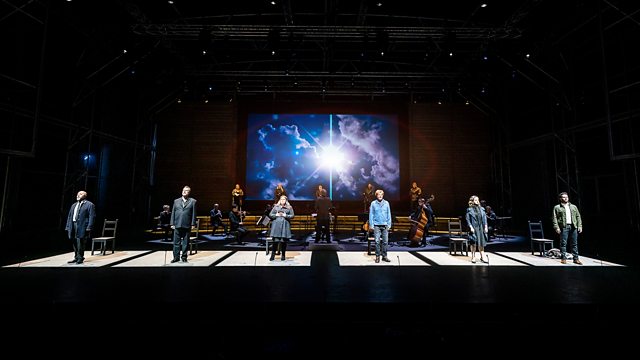 Beethoven's Fidelio from Garsington Opera
Beethoven's Fidelio from Garsington Opera conducted by Douglas Boyd starring Katherine Broderick as Leonore and Toby Spence as Florestan.
A rare chance to hear this exclusive semi-staged performance of Beethoven's opera, Fidelio from Garsington. The perfect story for our times, this thrilling opera revolves around the triumph of love, courage and freedom over oppression and isolation.
The soprano Katherine Broderick takes on the role of Leonore, who bravely disguises herself as a young man Fidelio in order to rescue her unfairly jailed husband Florestan, sung by tenor Toby Spence. Douglas Boyd conducts members of the Philharmonia Orchestra in a version of Beethoven's masterpiece cleverly orchestrated by Francis Griffin.
Presented by Kate Molleson
Recorded September 2020
Leonore.....Katherine Broderick (Soprano)
Florestan.....Toby Spence (Tenor)
Rocco.....Stephen Richardson (Bass)
Don Pizarro.....Andrew Foster-Williams (Bass)
Marzelline.....Galina Averina (Soprano)
Jaquino.....Trystan Llyr Griffiths (Tenor)
Don Fernando.....Richard Burkhard (Baritone)
First Prisoner.....Richard Pinkstone (Tenor)
Second Prisoner.....Thomas D Hopkinson (Bass)
Philharmonia Orchestra
Garsington Opera Chorus
Douglas Boyd (Conductor)
Leonore, disguised as a man named Fidelio, has secured a post at the prison where she suspects her husband, Florestan, is being
illegally incarcerated. Marzelline, the daughter of chief gaoler, Rocco, has fallen in love with Fidelio, much to the annoyance of fellow employee Jaquino.
Fidelio persuades Rocco to share supervision of the inmates. Upon overhearing plans to kill the prisoner in solitary confinement, Fidelio secures permission to assist in preparing the grave. Deprived of light, air, nourishment and liberty, Florestan considers his hopeless situation, seeing a vision of Leonore leading him to freedom. Upon hearing his voice, Fidelio recognises her husband,
reveals herself as Leonore and threatens the governor, Pizarro, with a gun.
At that very moment, the Minister arrives and announces a pardon
for all prisoners, allowing Leonore finally to release her beloved Florestan.
Last on

Music Played
Ludwig van Beethoven

Fidelio Part I

Singer: Katherine Broderick. Singer: Toby Spence. Orchestra: Philharmonia Orchestra. Orchestra: Garsington Opera Chorus. Conductor: Douglas Boyd.

Ludwig van Beethoven

Fidelio Part II

Singer: Katherine Broderick. Singer: Toby Spence. Orchestra: Philharmonia Orchestra. Orchestra: Garsington Opera Chorus. Conductor: Douglas Boyd.

Wolfgang Amadeus Mozart

Clarinet Quintet in A Major, Op. 108, K. 581

Ensemble: Carducci String Quartet.

Mozart: Clarinet Quintet in Major, K. 581 - Weber: Clarinet Quintet in B-Flat Ma.
Signum Classics.
201.

Carl Nielsen

Symphony No 4, Op 29, 'Inextinguishable'

Conductor: Colin Davis. Orchestra: London Symphony Orchestra.

Nielsen: Symphonies Nos. 4 & 5; Sir Colin Davis, LSO.
Harmonia Mundi.
1.

Joseph Canteloube

Songs of the Auvergne: Set 1

Singer: Véronique Gens. Orchestra: Orchestre Nationale de Lille. Conductor: Jean‐Claude Casadesus.
Broadcast

Featured in...
We broadcast more live and specially-recorded concerts and opera than any other station.