Main content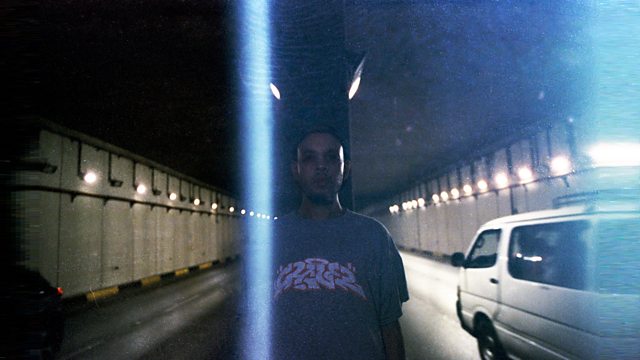 ZULI's Mixtape
The genre-bending Egyptian producer ZULI assembles a mixtape for Jennifer Lucy Allan and we spotlight Sarah Hennies' minimalist interrogations of raw instrument sounds.
Jennifer Lucy Allan presents a 30-minute mixtape compiled by the genre-bending Egyptian producer ZULI. Ahmed El Ghazoly, aka ZULI, produces music at the intersection of techno, jungle, grime and hip hop. His album Terminal is born out of collaboration with the Egyptian rap scene and a continued fascination with audio collage. As the co-founder of club night VENT and video series irsh, he's long been engaged in bringing the Cairo scene to wider attention. For this mixtape he weaves together Egyptian songs and Iranian electronics with his own field recordings and other curve balls from his collection.
Elsewhere we feature tactile interrogations of raw instrument sounds by composer Sarah Hennies, 1980s lovers rock from Sugar Minott and hear from pioneering ambient composer and transgender activist Beverley Glenn-Copeland about his first album in 15 years.
Produced by Alannah Chance.
A Reduced Listening production for BBC Radio 3.
Last on
Music Played
El Grupo Folclórico

Tamba

La Locura de Machuca 1975​-​1980.
Analog Africa.

Zuli

Kassir w Khazzen (feat. Haykal)

ZULI Presents: Habibi Loops Vol 1.

anrimeal

Marching Parades

Pan-Pipe Ensemble 'Au Tahana

Aanoaanoha

Flutes De Pan Mélanésiennes - Malaita - Solomon Islands - Vol. 1.
Disques Vogue.

Ustad Saami

True Notes ("Happy Morning")

Pakistan Is for the Peaceful.
Glitterbeat Records.

George Lewis

Lush Life

The Solo Trombone Record.
Sackville Recordings.

Silver Apples

Program

Silver Apples.
Kapp Records.

Mohamed Mounir

&

Zuli

Aal Madina (ZULI Spectral Refix)

GOLPESAR

Tehroon

The Flesh Of The World.
Opal Tapes.

Amani

&

King Vision Ultra

Shaft In Africa (feat. Suede Jury & D00F)

An Unknown Infinite.
PTP.

Boards of Canada

Gyroscope

Panstarrs

عايز أنام (Ayez Anam)

Zuli

untitled + thank you note

Sugar Minott

Freedom Train

Wicked Ago Feel It.
Wackie's.

Jockstrap

Beavercore 2

Beavercore.
Warp Records.

Beverly Glenn‐Copeland

River Dreams

Transmissions: The Music of Beverly Glenn​-​Copeland.
Transgressive.

Ryuichi Sakamoto

Tell em to Me

Hidari Ude No Yume.
Wewantsounds.

Elizabeth Cotten

Oh Babe It Ain't No Lie

Freight Train And Other North Carolina Folk Songs And Tunes.
Smithsonian Folkways.

Otto Sidharta

Ngendau (1979)

Indonesian Electronic Music 1979-1992.
Sub Rosa.

Cath & Phil Tyler

The Great Day/Diggers Song - Sacred Harp 567
Broadcast