Main content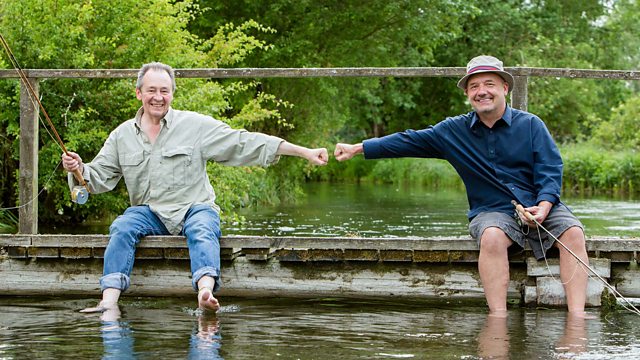 Paul and Bob are on the Test in Hampshire, fishing for brown trout and musing on the ephemeral nature of life.
Paul and Bob return to the river where they first went fishing together after Bob's heart surgery – the Test in Hampshire. Famous for its gin-clear water, the Test is renowned as the home of fly-fishing. Paul and Bob are here during the mayfly hatch – the peak of the trout fishing season.
Before they start to fish, Paul shows Bob how to tie a fly – a technique that was refined and developed here on the Test in the 19th century. Paul also has a Victorian rod to use today. Their quarry is brown trout – another fish which has eluded Bob up until now.
As they fish, they mull over what is might be like to be a mayfly, having just one day to live after they hatch. They ponder what they would do if they just had 24 hours left and are surprised to find they have a lot they want to fit in.
As the sun starts to set, Bob prepares a riverside picnic for them, and all too soon it is time to leave the river and see what Bob has chosen for their accommodation. This week it is a treehouse, set within fields and rolling farmland. Bob creates his own version of a pub here in the treehouse, with him as the landlord, and over a pint they take stock of the day.
The next morning, Paul gets to the river early and starts fishing, but Bob takes a detour to a local plant nursery to buy Paul a gift. They meet up on the river and as they get fishing, the conversation turns to the fleeting nature of life, their attitudes to death and a realisation of things to be thankful for. They end another glorious day's fishing with a very special bankside picnic, and this time Bob has a few belated birthday treats in store for Paul.
Clips

Music Played
Timings (where shown) are from the start of the programme in hours and minutes
00:12

Elbow

My Sad Captains
Credits
| Role | Contributor |
| --- | --- |
| Featured Artist | Bob Mortimer |
| Featured Artist | Paul Whitehouse |
| Series Producer | Stephanie Fyfe |
| Executive Producer | Lisa Clark |
| Executive Producer | Max Gogarty |
| Production Company | Owl Power TV |
| Director | Robert Gill |
| Editor | Doug Bryson |
| Production Manager | Louise Meager |