Main content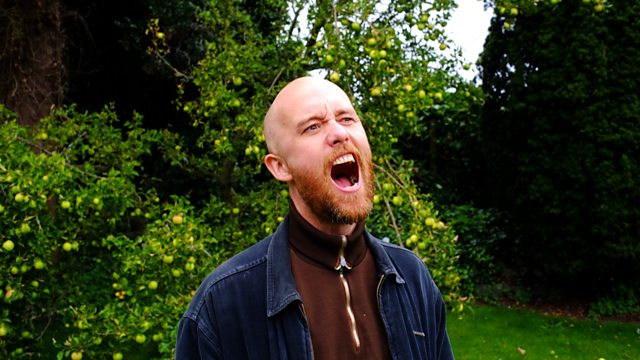 Them There Records
Stuart hears from Carl Brown, founder of the experimental pop label Them There Records. The featured album is komische ensemble Harmonia's meditative 1975 record Deluxe.
Stuart hears from Carl Brown, founder of eclectic experimental pop label Them There Records. The Preston-based imprint marries folk, electronic and ambient music together with the outer peripheries of pop. It has quickly established itself as one of North England's go to places for finding exciting oddities like Freak Zone favourites Bianca Scout and Bunny Hoova.
The featured album comes from the innovative komische ensemble Harmonia, and their meditative 1975 record Deluxe. The eccentric supergroup, made up of Kraftwerk's Michael Rother and Cluster's Dieter Moebius and Hans-Joachim Roedelius have been referred to by Brian Eno as "the most important rock band of all time". Harmonia were responsible for seamlessly melding electronics and rock instruments, a previously unheard and unparalleled sound including luminous and melodic synths, chanted vocals and hand drums.
Also on the show, experimental electronics from Russia, 1970's rock from Zambia and keyboard arrangements inspired by the life of Henry VIII.
Last on

Music Played
MAHAVISHNU ORCH

Be Happy

VISIONS OF THE EMERALD BEYOND.
Columbia.

Matmos

Warm Opening

The Consuming Flame: Open Exercises In Group Form.
Thrill Jockey.

Harmonia

Deluxe (Immer Weiter)

C.P.I

&

Veronica Vasicka

Walking And Falling

Oliver Coates

Butoh Baby

skins n slime.
RVNG Intl..

WITCH

You Better Know

WE INTEND TO CAUSE HAVOC.
Now Again Records.

j. b. glazer

Ride Em

Compact Break.
Them There Records.

Hyperdawn

Avalanche

Bleach.
Them There Records.

Pun Collins

Blackbox

Dying Together.
Them There Records.

Out of Focus

Black Cards

FOUR LETTER MONDAY AFTERNOON.
Kuckuck.

Hekla

Sofðu Unga Ástin Mín

J G THIRLWELL & SIMON STEENSLAND

Mare

ARCH GARRISON

Like A Diamond Bright

THE BITTER LAY.
Self-released.

Rick Wakeman

Catherine Of Aragon

The Six Wives Of Henry VIII.
A&M Records.

THE ARTERIES OF NEW YORK

Cass

The Arteries of New York City.
Bloxham Tapes.

THUMBSCREW

Composition 52

THE ANTHONY BRAXTON PROJECT.
hatOLOGY.

KATYA YONDER

Mood

MULTIPLY INTENTIONS.
Métron Records.

Bruce Brubaker

Metamorphosis 2

GLASSFORMS.
Infine Music.
Broadcast