Main content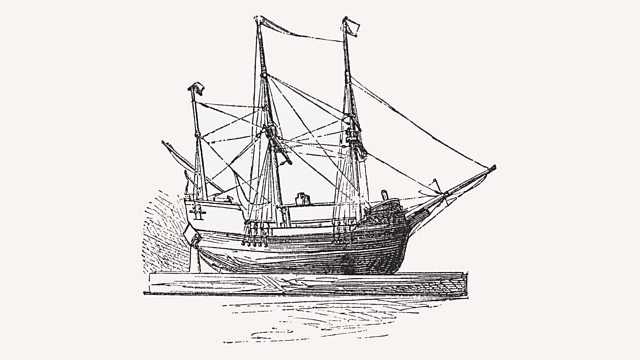 The Mayflower and Native American history
How do we commemorate the 400th anniversary of the Pilgrims' voyage? Views from an advisor at Plymouth's Box Museum, a descendant of a Mayflower settler and the Wampanoag.
From fancy dress parties using native American head-dresses to the continuing significance of Wampum belts made of shells - how do particular objects help us tell the story of the colonisation of America and what is the legacy of the ideas brought by Puritan settlers who left English port cities like Plymouth and Southampton 400 years ago? Eleanor Barraclough talks to 3 academics whose research helps us answer these questions - Sarah Churchwell, Kathryn Gray and Lauren Working - and we hear contributions from the Wampanoag Advisory Committee who have worked with curators at The Box museum in Plymouth on a touring exhibition.
Professor Sarah Churchwell's books include Behold, America: A History of America First and the American Dream. She is Director of the Being Human Festival which puts on public events focusing on research taking place at universities across the UK. This year's festival (Nov 12th - 22nd) includes Mayflower related events. https://beinghumanfestival.org/us/
Dr Kathryn Gray from the University of Plymouth has consulted on exhibitions commissioned for https://www.mayflower400uk.org/
Wampum: Stories from the Shells of Native America tours to SeaCity Museum, Southampton (to 18 October 2020), Guildhall Art Gallery, London (8 January to 14 February 2021) and The Box Plymouth (15 May to 19 July 2021)
. Mayflower 400: Legend and Legacy runs at The Box Plymouth 29 September 2020 to 18 September 2021
Lauren Working is the author of The Making of an Imperial Polity: Civility and America in the Jacobean Metropolis and works as a researcher on the TIDE project http://www.tideproject.uk/ which explores Travel, Transculturality and Identity in England c1550 - 1700
You might be interested in this conversation with Nandini Das and Claudia Rogers on their research into First Encounters https://www.bbc.co.uk/programmes/m000kpgp
Producer: Robyn Read
Last on
Broadcast

Featured in...
Spying, peace negotiating & the power balance around the world, films, books, paintings

Discussions/interviews: Slavoj Žižek, Xinran, Ivan Klíma, Claudia Rankine, Pankaj Mishra