Main content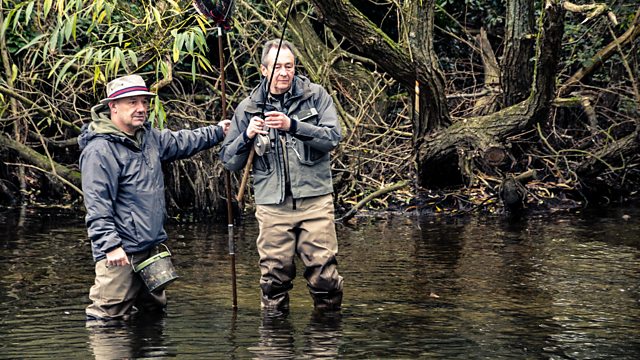 Paul and Bob visit Paul's teenage fishing haunt, the River Lea in Hertfordshire.
Paul takes Bob on a trip down memory lane and back to the River Lea in Hertfordshire, where Paul used to come as a teenager with his mates. They would catch the train from north London to fish this network of rivers and canals that flow from Hertfordshire into the Thames, and just like when Paul was young, Paul and Bob fish for perch.
They start their trip in a quiet and secluded stretch of the Lea. Paul gives Bob a copy of The Compleat Angler by Izaak Walton, a 17th-century fishing guide that was written here in Hertfordshire on the Lea and takes the form of a conversation between a skilled angler and his apprentice. Drawing the obvious comparisons, Bob delves into the book over the course of the trip to see if any of its contents still ring true today.
They agree they need to be stealthy on this stretch of river, and in hushed tones they chose a suitable spot and settle in. The whispered conversation turns to their teenage years, and they discuss their memories of school dinners, bands they were in and making friends. Bob has prepared Paul a riverside picnic inspired by his trips here when he was young – jam and banana sandwiches and crisps - bringing them both a Proustian rush of teenage, packed-lunch nostalgia.
For this episode, Paul has invited a special guest along to the river – Feargal Sharkey, former lead singer of The Undertones turned angler and river conservationist, who fishes the River Lea regularly. As well as discussing their love of fishing, Paul reveals an amusing connection he has to Feargal, which could have seen his life turn out quite differently.
Bob reveals their home for this trip will be a narrowboat, nestled in a quiet section of the canal, close to where they will fish the next day. Over a drink at the end of the day, Paul shares some teenage photos of him and his friends - Bob finds the 1970s hairstyles particularly unusual.
On their second day on the River Lea, they return to one of Paul's favourite haunts – a weir pool that hasn't much changed since he used to visit, and still home to roach and dace. As they fish, they compare being a teen in the 70s to now, and how ambitions change over time. Bob reads from The Compleat Angler, choosing a section to reveal his gratitude to Paul.
They return to the houseboat that evening, and Bob is cooking another 1970s-inspired dish – corned beef and potato pie, just like Paul's mum used to make. To their surprise, they find it rather tasty after a day out fishing. To round off the trip, Bob performs a song he has written all about what they got up to during their two days on the Lea.
Clips

Credits
| Role | Contributor |
| --- | --- |
| Featured Artist | Bob Mortimer |
| Featured Artist | Paul Whitehouse |
| Production Manager | Madeleine Molinier |
| Series Producer | Stephanie Fyfe |
| Executive Producer | Lisa Clark |
| Director | Will Yapp |
| Executive Producer | David Brindley |
| Executive Producer | Max Gogarty |
| Production Company | Owl Power TV |