Main content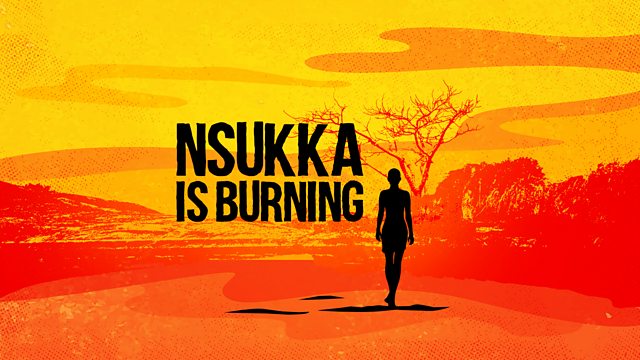 Nsukka Is Burning
Nsukka, a sleepy Igbo town in southeastern Nigeria - and a creative hotspot where prolific writers are forged in the fire.
Playwright Inua Ellams explores how writers from Nsukka, a university town in southeastern Nigeria, have continued to bloom in spite of erasure and exile.
Producing some of the most formidable voices in African literature, like Chinua Achebe, Ifeoma Okoye and Chimamanda Adichie, this Igbo town has burned bright as a beacon of resistance in Nigeria.
Nsukka's harmattan season brings about an unusual chill but this is likely the only cold thing about this place. As one of the first areas invaded and burned in the Nigerian Biafran war, we trace Nsukka's history of creativity right through to the stories and spaces of resilience that exist today.
Inua speaks with Nwando Achebe, oral historian and the daughter of Chinua Achebe, about the war's impact on the town and how creativity was nurtured at the University of Nigeria, Nsukka. The writer Chika Unigwe talks about her memories of Nsukka and how she returns in her work. And Inua hears from writers Otosirieze Obi-Young and Arinze Ifeakandu about The Writers Community that is continuing a tradition of resistance and platforming young artists.
Inua Ellams is the writer of Three Sisters and Barber Shop Chronicles. He is an internationally touring poet, playwright and performer. His published books of poetry include Thirteen Fairy Negro Tales and The Half-God of Rainfall.
Sound Engineer: Charlie Brandon-King
Voiceover Artist: Chidimma Nwodoh, Uju Ejizu and Obi Maduegbuna
Sound Designer and Composer: Alexis Adimora
Produced by Deborah Shorindé.
Executive Producer: Hannah Marshall
Commissioned as part of the Multitrack Audio Producers Fellowship
A 7digital production for BBC Radio 4
Correction: Chika Unigwe's On Black Sisters' Street won the 2012 NLNG Nigeria Prize for Literature, not the 2013 Commonwealth Prize.
Last on
Broadcast