Main content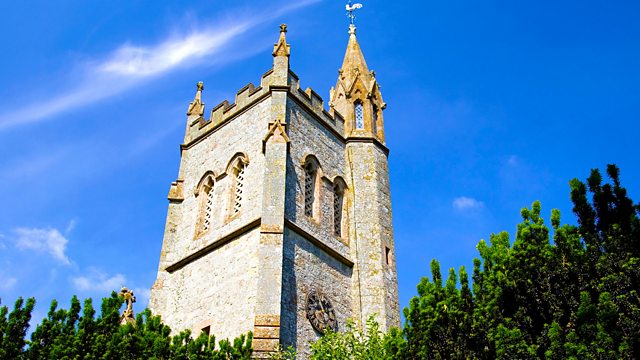 Wild at Home
Paul Kerensa leads a service from this year's virtual Greenbelt Festival.
Every August for the past forty six years, many thousands of people have gathered together for the annual Greenbelt Festival. It's the highlight of many people's year. The festival brings together faith, arts and social justice in the grounds of Boughton House near Kettering. There's always a packed programme of music, theatre and comedy; talks and discussions about the really big issues facing our world.
But this year, everything is different. Along with many events and festivals throughout the world, Greenbelt has moved online. Sunday Worship meets some of the contributors to this year's somewhat unconventional Festival, and reflects on the festival theme of 'Wild at home'. It is led by comedian and writer Paul Kerensa, with contributions from Greenbelt's Creative Director Paul Northup, Greenbelt trustee Molly Boot, and poet Harry Baker.
Producer: Andrew Earis
Last on
Script
Introduction: Paul Kerensa
Good morning. Every August for the past 46 years, many thousands of people have gathered together - many of them camping, and others staying in nearby hotels or B&Bs - for the annual Greenbelt Festival. It's the highlight of many people's year. The festival brings together faith, arts and social justice in the grounds of Boughton House near Kettering. There's always a packed programme of music, theatre and comedy; talks and discussions about the really big issues facing our world.
But this year, everything is different. Along with many events and festivals throughout the world, we can't safely meet together in person, so Greenbelt has moved online this weekend, with a packed schedule of film, music, poetry and debate. Today's Sunday Worship meets some of the contributors to this year's somewhat unconventional Festival, and reflects on the festival theme of 'Wild at home'.
Music
Bow down and worship him
Soul Sanctuary Gospel Choir
CD: You are the key (Soul Sanctuary)
Paul Kerensa
We begin with prayer, led by Andrew Graystone, who is leading the worship at this year?s online Greenbelt Sunday service.
Opening prayer: Andrew Graystone
Lord Jesus, as you walked the roads, did you laugh and sing with your disciples?
As you swapped stories of the wild, wide mercy of God, was there joy in the meeting?
Join us now we pray, and infuse our complicated lives with a spirit of faith, hope and mischief,
So that as we gather this morning, together and apart,
we will find glimpses of grace,
and windows on wild heaven
and as we drop our guard, be drawn closer into love with you.
In Jesus' name. Amen.
Paul Kerensa
One festival 'regular' is Molly Boot. She's a student in Medieval Church History in Oxford, where she is also a Baptist Minister in Training and a musician. She's a Trustee of Greenbelt and reflects now on what the Festival means to her. But first we hear words from the Book of Exodus, Chapter 40
Reading: Exodus 40:17-19; 34-38
Music
Spiegel im Spiegel for violin and piano - Arvo Part
Tasmin Little
CD: The Very Best of Arvo Part (EMI Records)
Reflection: Molly Boot
How do we worship God in the wilderness?
When we're in the in-between,
unsure of where home is,
walking through a world that feels increasingly hostile
looking for somewhere to rest our tired feet,
Where can we gather?
Where can we pray, sing, cry, eat, dream, and hope?
God's answer to Moses,
and to the founders of Greenbelt in the 1974, was this:
Put up a tent.
Put up a tent,
and even in the exile,
there will be somewhere we can dwell and dream together.
Actually, Greenbelt is made up of a lot of tents:
each one set up and filled with
colour, music and inspiration
by thousands of wonderful misfits
who have made Greenbelt a festival,
a family, and a spiritual home.
I didn't expect to find my spiritual home
in a field near Kettering
in August 2018.
I arrived knowing no one,
a queer, autistic, anxious 21-year-old
wondering where to belong,
where to find God.
In a muddy field,
in torrential rain,
I found God in Pussy Riot's protest punk rock,
in the stranger that lent me her raincoat,
in bread and wine and dancing and song.
The presence of God settled over our tents;
God's glory in rainclouds and campfires.
Not constrained by walls of stone and brick,
God rests over our tents.
Present amongst a wandering people,
weaving together multicoloured threads
of lives lived for justice, love and creativity.
And somehow, year after year,
restless hearts are gently knit together,
in communion with one another;
with our fragile world;
and with the One who
who draws everything together in love.
I can't explain how,
but somehow a cluster of tents
in a field called Greenbelt has,
for thousands of us,
become a thin place.
A place where the veil between heaven and earth
is that much more difficult to notice.
A place where the veils we use to cover
and divide up the parts of our lives
that don't always fit together easily,
are set aside.
A place to breathe out,
and take joy in being fully, wonderfully ourselves.
So, how do we worship God in the wilderness?
When we can't gather physically
in those tents and tabernacles.
When this year, we can?t rest our feet and hearts for a few days
in a home in a field,
made of people and music and canvas?
Rest assured: God has a habit of meeting those in exile,
of dwelling in the in-between,
of wandering with us
through the changes and chances of this
fleeting, wild, beautiful world.
Music
Underneath the Stars
Kate Rusby
CD: Kate Rusby - Underneath the Stars (Pure Records)
Prayer (Andrew Graystone)
Loving Lord Jesus, whose ministry began not in the city, but in the wilderness,
Come to us now, and meet us
In the scorching hot days of our busyness, walk with us.
In the freezing cold nights of our insecurity, lie beside us.
God of the wilderness, be our friend,
Paul Kerensa
Becky Tyler first spoke at the Greenbelt Festival three years ago, when she was 14. Becky has quadriplegic cerebral palsy, and she spoke using an eye-gaze machine and a voice synthesiser.  Now Becky is 17, and at this year's festival she reflects on Jesus? parable of the great banquet from St Luke's Gospel, Chapter 14. Before we hear from Becky, the parable is read to us by Tom and Charlotte, recorded on the Festival site at Boughton House.
Reading: Luke 14
Reflection: Becky Tyler
Things went wrong when I was born, and my brain was starved of oxygen.  In just a few minutes, I lost the ability to walk, talk and use my hands, and I will be dependent on other people to care for me for the rest of my life.  Some people might say that I missed out on Plan A for my life as an able-bodied person, and that my disabilities have meant that I have been forced to live Plan B which is considered an inferior life as a disabled person.
However, that is not my perspective nor my experience!  I believe God knew in advance what would happen to me, and I am living God's Plan A for my life, and I do not believe that God has a Plan B.
In Jesus' parable of the great banquet, many people were invited. There were the religious people and the popular people in the community, the 'in crowd'. But they were all too busy attending to their own businesses and family matters, so they sadly missed out on the party. When none of the invited guests turned up, Plan B was to send the servants out to the backstreets to bring in the poor, the blind and the lame and invite them to the feast.  These people weren't on the original guest list, they were the outsiders and 'misfits' of society, those who were socially unacceptable or unpopular. I can relate to these people! Maybe like me, you also know what it is like to feel on the outside. We all have a deep longing to belong, to be accepted as we are and to be loved unconditionally. And this is what Jesus does for us when He brings us into God's Kingdom. In fact God's party is incomplete without us.
Music
Ubi caritas - Taize
Taize Community
CD: Music of Unity and Peace - Taize (Deutsche Grammophon)
Paul Kerensa
Paul Northup is Creative Director of the Greenbelt Festival, and reflects on this year?s theme, 'Wild at Home'.
Paul Northup
When we began to imagine and plan the 2020 Greenbelt Festival, we were thinking that our event would take place in a field again - for the 47th time! Little did we know back then quite how much the world would change.
Our original theme for our 2020 festival was Wild at Heart. But when, at Easter, we had to cancel the physical festival and reimagine Greenbelt in a digital space, we re-cast that theme as Wild at Home.
The Texan theologian Stanley Hauerwas characterises a life of faith as one in which we learn to live 'out of control'. But what does he mean?
Perhaps he's suggesting is that our desire to be in control is the thing most wrong with our lives today. On the one hand, control seems to be the thing we are most determined to achieve. And yet, on the other hand, perhaps it is the very thing that stops us living a full life.
The DNA that runs through Greenbelt is a mix of artistry, activism and belief.
Artistry happens in the borderlands between what we know, can see and shape and what lies beyond that. And in our encounter with art, we are often taken beyond the confines of our experiences and into new territories with wider horizons and new perspectives. We are taken towards what is beyond our imagining.
Perhaps most of us think ourselves too reserved and introverted to get involved in activism. It is tempting to play it safe rather than take a walk on the wild side. But these strange times remind us that activism isn't optional. Fighting for a better world; and helping those whose lives have been made even more precarious by the pandemic, is our urgent duty. Most of all, whether we're wild at heart or home, our theme challenges our belief and our ways of believing. Because if we're honest, there is a sense in which we have tamed our notions of God. We have sought to sanitise and downplay the wildness, the otherness, the sheer strangeness that lies at the heart of our faith.
The idea of re-wilding is fast emerging as a compelling approach to conservation and sustainability - one which might just be vital to our future flourishing. Re-wilding is about allowing nature to make a comeback, after centuries of our control and management. It is one of the most important ideas and practices we see at the moment in terms of our connection to our environment and our fight against climate emergency.
At Greenbelt we wanted to suggest that our faith and our action are perhaps also crying out for a re-wilding of sorts in order to be saved; to say that we need to re-wild our notions of God. Because re-wilding reminds us that at the heart of our lives, at the heart of our faith, at the heart of our world, there is mystery.
The late, great American poet Mary Oliver wrote in her poem The Summer Day: 'Tell me, what is it you plan to do with your one wild and precious life?' And that is the question we want to ask ourselves at the festival this year - whether in a field or at home.
This was a theme we coined for the festival way back before the world changed. But if the Covid-19 pandemic has taught us anything - and it has taught us so many things - it is to recognise that our desire to control can only ever be a pretence. Perhaps what God might be reminding us of in all this is that there are always wilder, more generous, more just, more creative and more loving ways to live - ways in which we learn again to abandon control, to lose our lives in order to really find them, in all their wonderful wildness.
Music
Hold on to your faith
Soul Sanctuary Gospel Choir
CD: With all your soul (Soul Sanctuary Gospel Choir)
Paul Kerensa
One of the speakers at this year's online Greenbelt Festival is Philip Akello, the Climate Justice Policy and Advocacy Advisor for Africa at Christian Aid, based in Nairobi, Kenya. He shares some thoughts on climate justice in this time of global pandemic and the need for urgent action.
Paul Kerensa
I have come face-to-face with the devastating impacts of climate change in my country and in my own life. My own mother has lived in our rural farm for a better part of her life, and sustainably relied on farming as a means of livelihood. In 2011, a permanent water stream running across our family farm, and which supplied water for domestic and some agricultural activities dried up for the first time in my life.
My story is not unique to my mother. Despite not being responsible for most of the pollution leading to climate change, poorer countries suffer its most severe impacts, either in terms of extreme weather events or slow-onset impacts like desertification, which is a great injustice. These effects are likely to become more severe in future.
The first chapter of the Book of Isaiah says 'earn to do good; seek justice, correct oppression; bring justice to the fatherless, and plead the widow's cause.'
The Christian idea of justice is rooted in Jesus' command that we love our neighbour. We believe caring for God's creation leads to living sustainably and acting to preserve and restore God's beautiful creation in the midst of a climate crisis. Let's come together to seek urgent action on climate change. Together, we can build a beautiful world and a more sustainable future.
Music
Beautiful things
Gungor
CD: Gungor - Beautiful Things (Brash Music)
Paul Kerensa
Harry Baker is an award-winning performance poet and a firm Greenbelt favourite.  He performs here every year. During the lockdown, Harry wrote a poem, ?When this is over.?. But first he talks about the challenges for him in the creative process during lockdown.
Reflection: Harry Baker
[unscripted]
Poem: When this is over (Harry Baker)
Music
Let there be light
Steph MacLeod
CD: Steph MacLeod - Gold
Prayer (Andrew Graystone)
Creator God, we thank you for the richness of creativity you have placed in every one of us. We pray for artists and musicians, actors and writers, and all whose lives are dedicated to telling the truth and sharing joy. We remember before you those who should have been with us this weekend, performing and speaking and exhibiting, and all those who have cancelled shows and tours. For those who work in the creative industries, who are forced to find new ways to live and perform and share their craft, we ask for your grace and provision. May the wild spirit of creation still blow through our locked-down hearts and homes. In Jesus? name, Amen.
Prayers (Andrew Graystone)
Let's pray for all those whose lives have been broken by the virus.  For those who are sick or afraid; for those who have lost loved ones; for those whose jobs and businesses have gone.  Loving God, we plead with you for an end to this virus, and for restoration for those whose lives have been devastated by it.
And let's bring our prayers together in the words of the Lord's prayer.
The Lord's Prayer
Blessing - Molly Boot
May the peace of the Lord Christ go with you,
wherever He may send you.
May He guide you through the wilderness,
protect you through the storm.
May He bring you home rejoicing
at the wonders He has shown you.
May He bring you home rejoicing
once again into our doors.
+ In the name of the Father, and of the Son, and of the Holy Spirit.
Amen
Paul Kerensa
Thank you for joining us at this unusual Greenbelt Festival of faith, arts and social justice. We close our act of worship today with Soul Sanctuary Gospel Choir singing that great celebratory song of praise ? Gloria in excelsis Deo ? Glory to God in the highest!
Music
Gloria
Soul Sanctuary Gospel Choir (fade after 90 seconds)
CD: Soul Sanctuary - With all your Soul (Soul Sanctuary)
Broadcast