Main content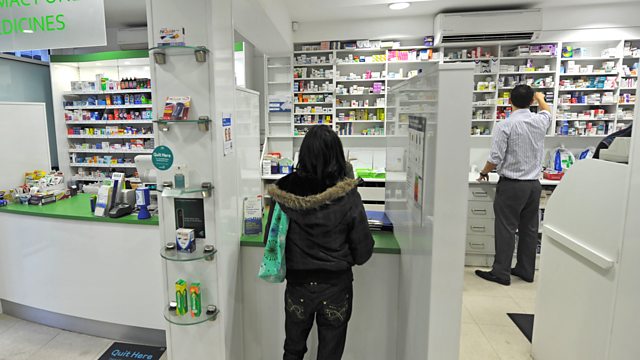 Drug Supplies After The Brexit Transition Period Ends; A Photographic Record Of Blind People During Italy's Lockdown
What's being done to make sure we can access medicines after the Brexit transition period ends? We meet the photographer who captured images of Italy's blind people in lockdown.
The National Pharmacy Association and the Macular Society discuss how best to maintain a steady flow of drugs and medicines into the UK from the EU after the Brexit transition period runs out at the end of December.
And we hear from Stefano Sbrulli, the Italian photographer who captured lockdown on film from the perspective of blind and visually impaired people in the country. We also speak to one of the people who was snapped by Stefano.
PRESENTER: Peter White
PRODUCER: Mike Young
Last on
In Touch transcript: 25/08/20
Downloaded from www.bbc.co.uk/radio4
THE ATTACHED TRANSCRIPT WAS TYPED FROM A RECORDING AND NOT COPIED FROM AN ORIGINAL SCRIPT.  BECAUSE OF THE RISK OF MISHEARING AND THE DIFFICULTY IN SOME CASES OF IDENTIFYING INDIVIDUAL SPEAKERS, THE BBC CANNOT VOUCH FOR ITS COMPLETE ACCURACY.
IN TOUCH – Drug Supplies and a Photographic Record
TX:  25.08.20  2040-2100
PRESENTER:          PETER WHITE
PRODUCER:            MIKE YOUNG
White
Good evening.  How safe are our supplies of sight-saving drugs?  We try to sort out fact from rumour.  And when in Rome:
Clip
They say – hey, you must go more quick because there is the queue and the person want to buy the things – and so we don't have much time.  And this was the first time that it happened to me.
White
We compare notes with Italy on the social distancing experience and much else besides.
But first, the news coverage has been far more about Covid-19 over the past few months and that old perennial Brexit has rather taken a back seat.  But the National Pharmacy Association has told this programme that there needs to be greater certainty about the regulation and supply of drugs and medicines when the Brexit transition period ends in December.  From January 2021 we'll have left the EU single market and customs union and that's worried one of our listeners, who has glaucoma.
Strutt [phon.]
My name's Julia Strutt and I live in Stratford-on-Avon.  I'm worried because I take three lots of eye drops and they come from Greece, the Republic of Ireland and Italy and I'm worried about what's going to happen when the transition periods finishes in December, will they be available on the NHS.  I'm taking Dorzolamide, which comes from Greece; Lumigan from the Republic of Ireland; Brimonidine, which comes from Italy.  My consultant told me that he thought it was a good idea simply to make sure that I had a good supply.  I've had these eye drops since 2006, there's no other possible way of managing my glaucoma.  I'm very seriously worried about availability because I don't want to lose my eyesight because of Brexit.
White
That's Julia Strutt, who emailed us.
Well, let's speak first to Gareth Jones about Julia's concerns.  He's Head of Corporate Affairs at the National Pharmacy Association.
So, Gareth, I mean, what do you say to the problem that Julia is highlighting?  A lot of medicines do come to us from the EU and we're only just over four months away from leaving.
Jones
Yeah, well, first of all, my advice to Julia is actually make sure you get your prescriptions filled in plenty of time, so, don't leave it till the last minute.  Your pharmacist and your doctors will always do everything they can to ensure you get the medicines you need but giving them plenty of time to get the supply is important.  And equally, I wouldn't recommend stockpiling either, I think just make sure you get your prescriptions in, in plenty of time.
But turning to the wider questions here.  Nobody knows for sure what will happen post the end of the Brexit transition period, it is only four months away now and there is uncertainty in the medicine supply chain and so, yeah, we would very much like to know what is going to happen at that point because that will help the supply chain to plan, pharmacists to plan.
White
Because Gareth, you do say that you have real concerns and there are genuine risks when it comes to our drug supply from abroad if the government doesn't get this right.
Jones
Yes, so, the government has done a number of things already.  So, it's put in place additional freight capacity to help move medicines across the Channel and it's asking manufacturers to bring six weeks additional stock into the UK, so they actually have that on UK soil.  We would like them to do a couple of other things.  One, is provide the certainty that we know exactly what is going to happen as soon as possible but also, actually, to give pharmacists some more flexibility.  So, in the past pharmacists were allowed to swap medicines between each other, so, if one had a shortage and some had some spare stock, they could swap supplies.  We're not allowed to do that anymore.  Actually, ironically, due to EU law.  And so, we'd like to see that flexibility introduced because that will help move supply around between pharmacies and can help ensure continuity of supply.
White
Let me bring in Cathy Yelf, who's the Chief Executive of the Macular Society, which of course gives support to hundreds of thousands of people who have various forms of macular disease. 
First of all, Cathy, the Department of Health and Social Care told us patients can be reassured that we have robust contingency plans in place and every possible step is being taken so that people continue to receive the medication they need.  And they went on to say they're not aware of particular problems facing the drugs Julia mentioned specifically – she has glaucoma of course.  They also say their Chief Commercial Officer wrote to all suppliers of medicines and medical products coming to the UK from or via the EU setting out how the department will work with suppliers to deliver safe continuity of care by mitigating any disruption of supply when the transition period ends.  In other words, they're saying we've got it fixed.  What's your feeling about those reassurances?
Yelf
At the moment, we haven't any evidence that this is wrong, so, nobody, at the moment, is raising any red flags with us and saying we are really worried about the supply of drugs, medical consumables and all the other things that go with treating macular degeneration.  Having said that, of course, what we do know of the government's plans are that it has plans and it's promised, I think, in its recent statement that it will deliver a – working with suppliers and industry, manufacturers and so on, the supply chain to produce a detailed plan of the contingency messages and how they're going to overcome the difficulties.  And what we're looking forward to seeing is the detailed plan.
White
There's a range of medicines used to treat macular disease – Eylea, Lucentis – there are others as well, what's the situation, specifically, over those, as you understand it?
Yelf
Well, as we understand it, they will be part of the overall plan which is to make sure that there are sufficient stocks to meet demand until any initial difficulties are ironed out in the supply chain.  So, the government is promising that medicines will be the number one priority for example.  They are talking about having a phased introduction of border controls, so that they won't pull the shutters down on all the controls straightaway.  They want to talk to the suppliers, of course, to work this out and there is going to be, as you heard already, some national stockpiling to make sure that we've got plenty in hand in case there are any difficulties.  And they're doing things like readying other points of entry around the country, so other ports perhaps, to take the pressure off places like Dover.
So, we can see that there are plans in the making.  The detailed plans we will look forward to seeing.
White
I mean do you think you should know this – all this by now?
Yelf
Well, we are getting to the point where we do need to know, aren't we, as you say we're now towards the end of August, there isn't very much time, and I think the government will need to understand that people will be a little bit sceptical about its readiness, given some of its recent history on preparing for things that we know are actually going to come down the line.  And we do want some reassurances about this now.
White
Now, I think you've also said it's not just the key drugs that you have to be concerned about, it's other basics as well.  What did you have in mind?
Yelf
Well, to have an injection in your eye you need to have a local anaesthetic, for example, and that supply needs to be in place as well.  You need to have some eyewash, to make sure you're protected against infection and that needs to be available too.  So, there are lots of other elements of the treatment that also need all to be in place, not just the actual medicine that's being delivered.
White
Thank you.  Just finally, I want to go back to Gareth because if pharmacists do have trouble sourcing medicines won't that have an effect on prices?  That happened in 2019, didn't it, with around 80 medications were in short supply in England with Brexit uncertainty being blamed.  So, is there a danger that prices might rise?
Jones
Yes, for some medicines there is a list of prices changing but, in most cases,, of course, if you get your medicine through the NHS, whether you pay the prescription fee or not, there is no actual effect on the individual patient – the NHS has to fund the additional cost.
White
But obviously there are effects if costs go up and there are, of course, people who do get stuff privately if they're getting something unusual.
Jones
Yes, on some medicines price can flux and that's, I suppose, one of the uncertainties here, nobody knows exactly what will happen at the end of the transition period and that is one of the uncertainties that we have.  And, of course, the other one is that a lot of preparations were made about a year ago for when there was a risk of a hard Brexit but the difference now is that we've had coronavirus which has put extra pressure on the supply chain and depleted some stocks, so that's an additional challenge that we have this year, we didn't have last year.
White
Gareth Jones from the National Pharmacy Association and Cathy Yelf from the Macular Society – thank you both very much indeed.
And thanks to all of you responding to items in recent programmes.  We do read everything you send us.  For instance, singer Ann Wilkins got in touch, having heard us discussing the Her Abilities Awards a couple of weeks ago.  These are awards specifically recognising the achievements of women with disabilities.  Ann says: "I found the deafblind speaker, Haben Girma, particularly interesting when she spoke about awards for people with disabilities.  But I have to say, I don't particularly agree with her.  I was recently interviewed for a Welsh programme on S4C, which looked back at past winners of the David Ellis Memorial Blue Ribbon, it's one of the main competitions at the National Eisteddfod of Wales.  I won this competition in 2012 and if there was a similar Eisteddfod or competition exclusively for blind people I probably wouldn't bother to enter.  For me winning a mainstream competition was a particularly proud moment."
And Stephen Portlock has emailed as well, after we discussed the soundscape production of Blindness, which is on now until September 5th at London's arts venue Donmar Warehouse.  And Stephen says: "Believe it or not, I've read José Saramago's novel on which this based at least three times.  I read it when the movie came out.  The novel troubled me, so I gave it another go.  Then with the new Donmar production, which I've seen, and with awareness of the novel's topicality I read it yet again.  Personally, I was less bothered with how grim it is than by the relationship between the blind people and their sighted saviour.  She came across as a saint and the blind people as somewhat infantilised.  Saramago…" Stephen said, "…throws in numerous insights into blindness that are either confusing or else flat out wrong."
And we stay with the arts for our other item today because an Italian photographer, Stefano Sbrulli, has gained international attention after documenting the difficulties of blind and partially sighted people as we've adapted to a world of social distancing.  Italy faced one of the strictest and longest running Covid-19 lockdowns in Europe.  Now the BBC has put together a collection of Stefano's photographs, along with descriptions of who is featured and how they coped between March and June.  He's told us what prompted him to take these pictures.
Sbrulli
Living in a noiseless city was disorientating for our blind people, no?  A totally different feeling for people with visual impairment.  There is a social problem and nobody talking about it.  And my photographs were the right way to talk about it.  I am happy because this work has had a worldwide resonance, all thanks to BBC and photo editor Philip Comms [phon.], who believed in the project.  I am very happy for this reaction.
White
That's Stefano Sbrulli.  And that point about a noiseless city and how disorientating it is, is a very interesting one.  You can see some of Stefano's photos and read about the people in his pictures, they're featured in a BBC News Online article and there's a link to that on our own In Touch website.  And among the people who featured in Stefano's portraits was Ettore Galassi [phon] who lives in Rome and Ettore joins us now.
Ettore, first of all, I mean how did you get involved with this, how did you come to be one of the people who was photographed by Stefano?
Galassi
Stefano called me and he asked me to do this kind of reportage about the difficulty of person blind or low vision that have low vision during the lockdown and especially in the moment where there was the social distance.  I explained all the difficulties that they meet and also of my friends that have my same kind of problem.
White
Ettore, tell me about your own degree of sight loss.
Galassi
In Italy we call partial blind, partial blind mean very low vision, it's before the blind.  So, I can see just a little bit.
White
And what was lockdown like for you?
Galassi
For me really was a little bit difficult because normally when you go around I am a person that I often travel even alone, I'm a person that takes the subway alone [indistinct words],  okay, so, I am a person quite sure about myself, I don't care about my disability, I don't have any kind of problem to the person to say okay, this is my problem I'm feeling like this.  But, the thing is that normally the person never watched you, never think what are you doing if you are going slow or thing like this right?  During the lockdown it's different because the person are very afraid to stay behind you or things like this, so, they begin to watch you and when they begin to watch you begins the problem.  Sometimes I did the queue for go to the pharmacy or to buy something and to the supermarket and sometimes it happened that I don't realise that there was the ending of the queue and I go insides, somebody say – Hey, where are you going man, you don't see that? – always.  The typical sentence is – you don't see that?  Of course man, I cannot see that.  And even the person that work inside, they say – hey, you must go more quick because there is the queue and the person want to buy the things and so we don't have much time.  And I also asked to my wife – okay, it's better if you go, you to do – to buy some things, it's better if you go to do these sort of things.  And this was the first time that it happened to me.
White
I'm interested that you say that you actually stopped going to the shops, to some extent, your wife would go instead of you.  So, this is a question of you losing some confidence really, that you would have had in the past?
Galassi
I lose not the confidence in myself but maybe I was a little bit afraid about the person that say – Why did you do this, why do you move so fast – you know, the pressure – the pressure was completely different right?  And so I say, okay, if my wife could go I prefer that she go.  And this is not a good thing of course.
White
Now you're not – you're not only visually impaired yourself but you work with other blind and partially sighted people and I'm wondering what kind of things they've said to you, what experiences have they had that maybe mirror yours or maybe are completely different to yours.
Galassi
All the person that have this kind of disability, they have some problem.  On the floor there is the line where you must stop or things like this, they say – we cannot respect these kinds of rules – they are not able, no more, to touch and if you lose the touch, for us, it's very important. 
White
We were particularly interested to talk to you because, I mean, Italy had really a comparable situation to ours, you just had it a bit earlier but they were both severe and I just wonder what's happening since really and whether this has had any long-term effect on people.
Galassi
Maybe the persons are more afraid.  Even with the mask, you know, or things like this, it's much more difficult now.  So, the things that I say to all my friends' disability, that we must do the same kind of life that we do before.  You need your time, you need your things to do, but you must not stop it, otherwise you lose all the things that you done before.
White
What do you think that these photographs by Stefano Sbrulli, what do you think they may have achieved in terms of raising awareness of the challenges that blind people are facing?
Galassi
Stefano did a very great job, very great worker.  Maybe he could transmit the kind of problem that we can have or the world that we feel, you know, because it's very particular about our world.  So, I like it very much.
White
That's Ettore Galassi, speaking to me from Rome.
And there are lots more of Stefano Sbrulli's photos to be seen in that BBC News article, the link to them is on the In Touch website.
Do let us have your comments on anything that struck you in the programme.  You can email intouch@bbc.co.uk or you can go to that website bbc.co.uk/intouch and you can also download tonight's and previous programmes from there.
And that's it for today.  From me, Peter White, producer Mike Young and studio managers Jonathan Esp and Chris Hardman.  Goodbye.
Broadcast