Main content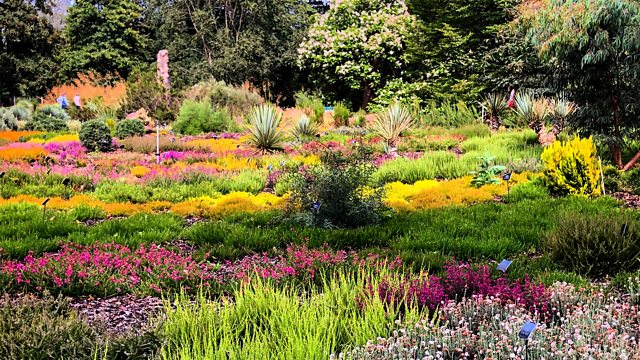 GQT At Home: Episode Twenty-Two
Kathy Clugston hosts this week's gardening panel show.
Kathy Clugston hosts this week's gardening panel show, joined by Bob Flowerdew, Pippa Greenwood and James Wong to answer listeners' horticultural quandaries and queries.
The panellists tackle questions on unhappy salad leaves, growing your own Christmas dinner and fragrant climbers for a pergola. They also share obscure gardening tips passed down from their elders.
Away from the questions, garden designer Humaira Ikram explains how best to plant in dry conditions, and Peter Gibbs visits the heather garden at RHS Wisley with head gardener Matthew Pottage.
Producer - Laurence Bassett
Assistant Producer - Jemima Rathbone
A Somethin' Else production for BBC Radio 4.
Last on
Fact Sheet
Questions and timecodes are below. Where applicable, plant names are provided.
Q – I'd like to grow my own Christmas dinner, but I fear I may be a little late… Could the panel give some advice on anything I can start growing now that might go with our Christmas dinner?
(1 minutes 25 seconds)
Pippa – New potatoes
Carrots
Sloe
James – Kale
Saffron
Bob – Tangerine tree
Q – Please can the panel give some ideas for putting wood chippings to good use?
(4 minutes 59 seconds)
Q – Last autumn, we bought two fragrant Honeysuckles (Lonicera japonica 'Horwood Gem'), but one of the plants has developed white and green leaves and isn't growing as well. Please help!
(7 minutes 19 seconds)
Q – I'd like to replant my rose bed to disguise a black drainpipe, ideally with year-round interest – what would you recommend?
(9 minutes 30 seconds)
James – Virginia creeper
Tetrapanax papyrifer 'Rex'
Bob – Rosemary
Lavender
Southernwood
Golden marjoram
Thyme
Pippa – Parthenocissus henryana
Feature – Dry conditions with Humaira Ikram
(14 minutes 7 seconds)
Pinus pinea
Pinus sylvestris 'Watereri'
Pinus mugo
Arbutus unedo (Strawberry tree)
Ballota pseudodictamnus
Hypericum calycinum
Cynara cardunculus (Cardoon)
Dianthus cruentus
Q – I recently bought a Bay tree, but instead of one stem there are about ten – is this one plant or a bunch of individual ones? In which case, should I leave it or divide it?
(17 minutes 35 seconds)
Q – We have a Monkey Puzzle in our garden which has been there for over 20 years. I recently noticed branches going brown, and I sawed them off. I also noticed a crack at the bottom with white liquid oozing out. What should I do?
(20 minutes 45 seconds)
Q – Can the panel suggest some scented planters for our new pergola?
(23 minutes 43 seconds)
Bob – Passiflora
Akebia quinate
Lonicera etrusca
James – Cape jasmine
Gardenia 'Pinwheel'
Pippa – Honeysuckle 'Heaven scent'
Honeysuckle 'Belgica'
Sweet peas
Feature – Heather at Wisley
(28 minutes 19 seconds)
Calluna vulgaris
Erica
Daboecia
Erica x darleyensis
Q – What is attacking my rocket and salad leaves?!
(33 minutes 56 seconds)
Q – Last year I carefully cut back my fig tree at Christmas and ended up with bumper crop but all at different stages around the year. Please can you advise me on how best to cut it back for this year.
(36 minutes 23 seconds)
Q – My mother taught me everything I know about gardening, including some obscure gardening tips. Do the panel have any bizarre pieces of advice that were passed down to them from their elders?
(39 minutes 27 seconds)
Broadcasts