Main content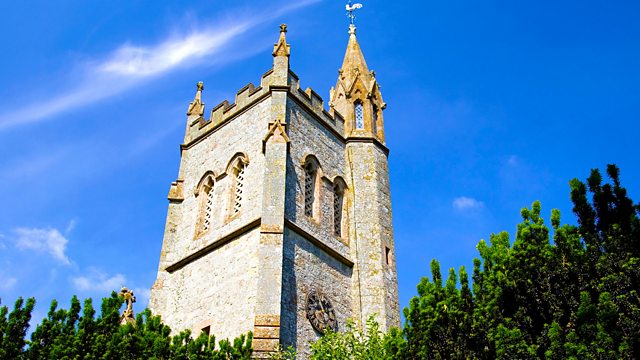 The inspiration of listening
Exploring the inspiration of listening with writer Anna Magnusson and poet Pádraig Ó Tuama.
During this strange summer Pádraig and Anna find solace in time spent listening deeply.
Exploring the inspiration of listening with Anna Magnusson and Pádraig Ó Tuama.
During this strange summer, the usually busy travels of poet and theologian, Pádraig, and writer and broadcaster, Anna,
have been replaced by more stillness, offering opportunities to find solace in time spent listening deeply -
to voices of the past, to nature, to breath and to spirit.
Reader: David Jackson Young
Producer: Mo McCullough
Last on
Script
ANNA:
Good morning.
I remember a newspaper picture from a few months ago. A close-up of a toddler pressing his chubby hand against a window. On the other side is an old lady with blue eyes and wispy white hair. Her hand, too, is pressed to the window. Her eyes are fixed on his, and she's kissing his hand through the glass.
The world contracted when lockdown began.  Like a snail that poked its head out of its shell and brushed against something unknown, we withdrew inside. Separated from touch and sight of loved ones, our physical interactions in the outside world rationed.
Where did we go in imagination? How did our senses attune to what we had and what we longed for? In the quiet of lockdown, what were heart and mind listening for?
MUSIC WITH SPEECH:  ALASDAIR FRASER – THEME FOR SCOTLAND, From album 'Dawn Dance'
(Culburnie Records CUL106D)
PÁDRAIG:
Everything for me changed in lockdown. A friend died — not of Covid, of something else —
and then things like masks and shopping and isolation all took on different meanings. The annoying things became less annoying. The sad things became sadder. And the days were filled with quiet: listening to myself listen to myself grieving. it might sound sad - and it was - but it was also necessary. I had space. I could hear the sound of weeping too. My own. I hadn't listened to that much. The past became a country I dreamt about, and the future became a country I was waiting to hear.

HYMN:  I WAITED PATIENTLY FOR GOD (Words: Psalm 40 arr. John L Bell/Music Alex Muir harmonised by John L Bell – From Scottish Church Hymnary 4th Edition (CH4).
From BBC Archives
ANNA:   Loving God -
Presence unseen, but heard through heart, mind and imagination;
Breath of life;
In the quiet of this moment we listen.
PÁDRAIG:  You are the still centre of a world in flux -
Calm our fears and anxieties for the future, we pray.
You are the energy that fuels love -
Turn us from self to the other.
In Jesus name, we pray.
BOTH:  Amen
ANNA:  For a while during lockdown, I listened to voices from the past.
In the corner of my study I found a plastic bag, full of audio cassettes. Their casings were scratched and dusty.  Some were labelled in faded pencil, some neatly inscribed with event and date.
They're all recordings made, mostly, by my father. The oldest is from 1975. My siblings and I found them when we were clearing our parents' house. So many papers, so many books and photographs and letters, all the leavings of long life.  We put the cassettes into a cardboard box, and at some point I must have emptied them into the polythene bag and brought them home. 
That was maybe 6 or 7 years ago.  One day, a few weeks after lockdown began, the cassettes came into my head.  A sharp tug of the past, plucking me away from this strange, narrow present.   One of the first recordings I listened to was from 1980.  My sister's 21st birthday.  I remember a big family gathering at the old house, with cousins, aunties, uncles, parents. 
I press Play, and now I'm not remembering:  I'm back in the room.  Among the dead who've never sounded so alive.
The sound of their voices flings open the windows of heart and imagination. Listening becomes presence.
           
MUSIC   Anna's family recording:  DANCING CHEEK TO CHEEK
It's not just the reincarnation of these loved voices – the background chattering and babbling, the snatches of conversation or sudden yell of laughter – that possesses me: it's the singing.  That was our tradition at any gathering – Hogmanay, Christmas, birthdays, at weddings and after funerals:  to sing the old songs together, popular songs from the 20s and 30s and 40s, and anthems and sacred pieces from the years my mother and aunts sang in church choirs. It was the music of the past, present to the older generation and passed on to us younger ones, to settle in our memory and imagination. 
When the harmonies started, the room drew together. How could you be separate from someone whose breath curls and plays around yours?
Spooling through that first cassette, I found the song I knew would be there, somewhere.   All in the April Evening, a meditation on Easter.  The music was written by Hugh Roberton, the founder of the Glasgow Orpheus Choir, the words by Katharine Tynan.
I can hear my father's voice calling for 'The Girls' – my mother and her sisters – to sing for us.  And now I'm watching the sisters sitting close together – Mum, the contralto, might have her arm around Harriet, who's shoulder to shoulder with Anna.  A cappella, they sing, voices in communion, breathing each other's air.       
MUSIC:   Anna's family recording:  ALL IN THE APRIL EVENING
MUSIC:   ALL IN THE APRIL EVENING: GLASGOW PHEONIX CHOIR From album The Golden Age of Radio, Roberton Publications
PÁDRAIG: 
At the beginning of lockdown it was like everybody suddenly learnt Video Conferencing. Strangely, even though we were socially distanced, I was in more meetings than before and getting more emails than before too.
In online meetings I stared at my own face talking amidst a pile of little squares that had other people's faces too. Most of us looking down in order to see the screen, and thus, not looking at the little camera on the screen.
Compromised gazes.
I began to get headaches.
And I began to wish our meetings could be without video.
So, I asked.
Could we have phone conferencing instead?
I just wanted to hear people's voices, to see their brilliant faces in my imagination, without badly lit screens and badly lit faces and badly placed cameras giving me close-ups they didn't want.
People have often said that the Radio is the most visual of all media; that listening to the voice is more visual than seeing a video with voice. It's like listening to an audiobook, you see everything that's happening all at once, in a way that a film could never capture.
Whenever I see a film adaptation of a book I love, I know that it'll never reach the images I've seen as I've read — or listened to — the book. Film, while brilliant, has a limited dimensionality.
But the imagination, the senses, they can hold multitudes.
MUSIC: THE FORTY-PART MOTET: VIDI AQUAM – COMPOSER: JAMES MACMILLAN
PERFORMED BY ORA SINGERS CONDUCTED BY SUZI DIGBY (Harmonia Mundi HMM 902669.70)
ANNA :
A reading now from Ezekiel.  In a desolate valley imagined by the prophet, breath, air and spirit are mingled.  Ezekiel listens to God's breath, as the word of life is spoken.  He hears the rush of God's spirit as body is transformed into person, flesh into soul.

DAVID: 
The hand of the Lord came upon me, and he carried me out by his spirit and put me down in a plain full of bones….  They covered the plain, countless numbers of them, and they were very dry.  He said to me, 'Man, can these bones live again?' I answered, 'Only thou knowest that, Lord God.' He said to me, 'Prophesy over these bones and say to them, … This is the word of the Lord God…  I will put breath into you, and you shall live.  I will fasten sinews on you, bring flesh upon you, overlay you with skin, and put breath in you, and you shall live…   Come, O wind, come from every quarter and breathe into these slain, that they may come to life.'
ANNA: 
Near the harbour in Reykjavik in Iceland sits Harpa.  It's a massive concert hall and conference centre, built of glass and steel and light. From a distance it looks like a chunk of crystal. Through a thousand windows it gazes out to the sea and the mountains beyond.
For several weeks during lockdown, the Icelandic concert pianist, Vikingur Olafsson, played there, in an empty auditorium, to an invisible audience on Radio 4. Front Row made him their Artist in Residence, and each week he performed a short piece live on air.
On the 24th of April, he played the Andante of Bach's Organ Sonata Number 4 in E Minor, transcribed for piano.  'Bach is always good to play', he said before he began; no matter what's going on around us  'whether you're sad or happy, Bach somehow stabilizes things; he makes everything better.'
So I sat at my living room window, three floors up, above the sweet green leaves of the park, looking to the folded hills on the horizon. Listening to music is body and mind and heart. I heard it climb and descend; felt the swell in my chest.   In my head I could see marvellous structures and spaces.   Each time I listen again to this piece, it feels as if I'm being pulled and returned on the tide, breath by breath.
MUSIC:  ORGAN SONATA NO. 4 BWV 528 – 2: ANDANTE (ADAGIO)
J S BACH TRANSCRIBED BY AUGUST STRADAL From Album J.S. Bach – Works and Reworks/ Víkingur Ólafsson; Deutsche Grammophon


PRAYER - PÁDRAIG:    
God around us, Christ beside us, Spirit within us,
Hear our silence and our speaking
Listen for us, in the wordless prayers we breathe.
PÁDRAIG: 
I don't sleep brilliantly normally.
But the start of lockdown saw me sleeping less.
It's not that I was tired, even; just that I couldn't sleep.
And the birds.
I started getting up in the middle of the night. Initially I felt like I should be doing some work, some writing, catch up on that deadline for a piece that needed to be submitted yesterday.
Then, I stopped that. Sleeplessness isn't aided by frenetic worrying.
I started sitting outside, on the back patio, listening.
The night isn't quiet, and certainly at the end of even a short summer night, it's positively noisy. 
There is the sound of the chaffinch, high on a tree, calling for a mate. And the blackbird. And the wren. And the siskin. And the bullfinch. And the greenfinches too. And the song thrush.
In Irish mythology it's said that the fairies, the underground people, like to keep song thrushes at the gates to their underworld, because they like the sound of the music echoing down their long halls.
During lockdown I learnt the names of the birds. Even though I grew up in the country, and loved the sounds of them, I hadn't learnt much about the names of them. My partner Paul has a small book about small birds, so we kept it near the window and identified birds. The chaffinch, the bullfinch, the dunnock, the wagtail, the siskin, the robin.


PÁDRAIG'S RECORDING OF DAWN CHORUS AT HOME

We could hear the trill of the wren, but never saw it. Such a loud sound from such a tiny bird. We'd wait outside in the evening hoping to see that small package of feather and song hop by. But never did.

One day, I heard silence. I heard the silence of someone else in the house gone silent. I walked into the kitchen, knowing to tread lightly. Paul was by the window. Quiet as a mouse. He pointed.

The wren. Hopping about like a little brown ball, that stubby tail alert as an antenna. It hopped about, picking up some seeds. The little brown druid, it's called in irish, an Druid Donn. Magic and delight. In silence we watched, and we listened to our silence as we listened to its song.
RECORDING OF WREN
MUSIC:  FOR THE BEAUTY OF THE EARTH - COMPOSED BY PHILIP STOPFORD
From Album 'Do Not Be Afraid' - Choral Music of Philip Stopford
Truro Cathedral Choir directed by Christopher Gray; (Organist: Luke Bond )
(Regent Records REGCD400)
ANNA: 
When lockdown took hold, the near human world became quiet.  The thrum of traffic faded away.  In the half-light of Spring evenings, outside my flat, there was absence: of people; of high, rumbling planes; of solitary cars.  The dog and I found it odd.
The leaves spoke instead; the wind and the birds. And when another late evening dog walker emerged from the trees, our conversation was a passing breath of words in the stillness. We hushed our voices in this new quiet world.
DAVID:  Poem – Spring (Excerpt): Gerard Manley Hopkins
Nothing is so beautiful as Spring –
   When weeds, in wheels, shoot long and lovely and lush:
    Thrush's eggs look little low heavens, and thrush
Through the echoing timber does so rinse and wring
The ear, it strikes like lightnings to hear him sing…

ANNA
The greening of the world in Spring was intoxicating.  As we hunkered down inside, outside the natural world was bursting into colour and smell and wildness. 
My afternoon walks with the dog made us both giddy with light and sensation. In the park, there's a flowering red currant bush half way up a slope of long grass and wild flowers; I always forget it's there until the scent seizes me. I halt, with my nose in the air, just like the dog who's nudging every blade of grass and sniffing the messages of the air.
On longer walks into the woods, I started taking photos of the trees.  What had been brown and skeletal was transfigured to green profusion.
We walked under the blessing of a million leaves.  The instinct to touch, to smell, to brush past, to stand silent and listen, to look and look – it was irresistible.  It was a balm for the jaggyness of life under lockdown, and the sores of separation.
MUSIC: RECOMPOSED BY MAX RICHTER - VIVALDI FOUR SEASONS: DANIEL HOPE
KONZERTHAUS KAMMERORCHESTER BERLIN CONDUCTED BY ANDRÉ DE RIDDER
(DEUTSCHE GRAMMOPHON)
PRAYER - PÁDRAIG
God of this wondrous, breathing earth,
We give thanks for life, full and fragile.
DAVID:
"This Strange Country" – a poem by Pádraig Ó Tuama.

"Into this strange country
the godtree grew … (copyright material)

(Pádraig Ó Tuama; Readings from the Book of Exile, Canterbury Press, 2012)
ANNA:         
In normal times, Edinburgh this month would be resounding with live music and words and performance.  Thousands of people would be cheek-by-jowl in the streets, eating and meeting together, exploring, packing into tiny and huge venues to experience the arts.  Not now.  
A friend of mine was remembering a job she had during the Festival, in a tiny café just off the Royal Mile. On rainy days it was always crowded with people taking shelter.  The windows steamed up with the breath of strangers, huddled together, sharing each other's air.

PÁDRAIG
In Hebrew, the word 'breath' is 'ruach'. It speaks of breathing. But it also speaks of Spirit and Wind. Ruach is a name for God in Hebrew. Many cultures have this link between the meaty reality of lungs and breathing and something transcendent. In English, aspirate and spirit both come from 'spirare'. We aspire to something — we wish it, we breathe into it, we wish it to breathe into us. So many cultures connect breath with spirit, no wonder: without it we are not alive.
VÍKINGUR ÓLAFSSON AS BEFORE
Hearing the breath of someone is to hear their spirit, their essence, their survivability. Between words, between sentences, between things said, we hear their pauses, the sound of air in and out of their lungs, those organs of God.
It's like the blank space on a page of poetry, that silence that holds everything together. The poise, the desire, the rising up and falling down of the chest of a friend when they sleep.


PRAYER – ANNA:
Living, creating Spirit of God
Breathe your peace and your fire into us .
ANNA
It was a hot, close night, somewhere in France.  I was staying with my sister and her children in an old stone house in the heart of the woods.  Basic doesn't describe it: eating was done outside round a fire; there was a big plastic barrel and a hose for washing; lights were few. I slept upstairs on a mattress, in a long bare room with all the children. When the paraffin lamp was turned off, the blackness was solid.
Every window was open to the whisperings of the night: owls, crickets, trees flapping in the breeze, rustlings and scuttlings.  And yet, holding all the sounds was utter stillness.
I opened my eyes to the darkness and listened. I listened to my own breathing.
And then I listened to the sleepy shiftings and sighings of the children.  The hot rushing of the day settled and dormant within them. I listened to their precious breathing.
Outside the wind breathed, the owls flitted.  We were creatures among creatures, sharing the still of the night.
SOUND OF QUIET NIGHT ATMOSPHERE

PÁDRAIG:
How many of us have pleaded — with people we love, with people we work with, with people on the other side of the phone, — to listen.
Listening isn't just the simple biological act of tuning your ears toward something that's being articulated.
It's also a feeling.
When you feel listened to, it can feel like someone is validating you, making you true, making what you're saying into a little temple, a place to find shelter.
All this talk of listening.
Is anyone listening to us?
That, I think, is the small hope offered by prayer: that we are being listened to, in the enormous prayers of our lives, and in the small ones. That the little things we whisper in the dark could be heard — by someone, something. Maybe they don't even need to answer. Maybe it's enough that they are listening.
How many prayers from how many traditions ask the God to hear, to listen?
Once I was at mass, in Australia. I always like to say the responses in Irish. I was living far away from home and this was a connection to home. The man next to me leant over to me during communion and asked — in Irish — if I spoke the language.

I'd been heard. Not by any god, but by my neighbour, which — sometimes — is the same thing.
The 'Our Father', 'The Lord's Prayer' in Irish, sung to a traditional tune by Liam Ó Maonlaoí.
MUSIC: 'OUR FATHER' BY LIAM Ó MAONLAOÍ  FROM ALBUM 'RIAN', LABEL RIAN RECORDS KRCD 301

PÁDRAIG AND ANNA SAY LORD'S PRAYER TOGETHER IN ENGLISH AND IRISH
PRAYERS
ANNA:   God of the night
You are seen in stars, and in the space between stars.
You are felt in time, and in the time between time.
You are heard in birds, and in all chirping things that chirp around the earth.
In these strange times, may we see and feel and hear,
may we sense
what it means to be fully present to everything that is happening:
the joys, the griefs, the pressures.
Because by this presence
we might begin to be more present
PÁDRAIG: God of Comfort
in the gifts of friendship, we each are hands to each other
hand helping hand, hand supporting, hand comforting.
In this time of Covid, many have not had the comfort of a friend's healing hand
We pray for all who yearn for the touch of a friend
to bring the small healings that friends bring
because with small healings like this
we can continue
ANNA:  God of Change
We know one thing: change
And we know that in change, everything can change.
We pray for all who are on the blunt end of change:
the redundancies, the exam results, the bills, the bereavements, the demands.
May they know support — in its most practical of forms —
so that what is overwhelming
might change
into something manageable
day by day
time by time
night by night.
BOTH:  Amen.

MUSIC:  I HEARD THE VOICE OF JESUS SAY (TUNE: ROWAN TREE, Scottish traditional tune arranged by compilers of Scottish Church Hymnary 4th Edition (CH4) Canterbury Press.
From BBC Archives.
PÁDRAIG:  Somewhere, there's a bird shuffling through some leaves, looking for the right leaf for its nest.
ANNA:  Somewhere, there is a pine marten scuttling up the bark, like a tree-cat.

PÁDRAIG:  Somewhere, someone is recording a voice – a recording that will mean more in the future than it does today.
ANNA:  Somewhere, someone is listening.
PÁDRAIG:   As we listen, let us be blessed and go in the name of listening, to listen to the words and worlds around us.
BOTH:  Amen. 


VÍKINGUR ÓLAFSSON AS BEFORE
Broadcast