Main content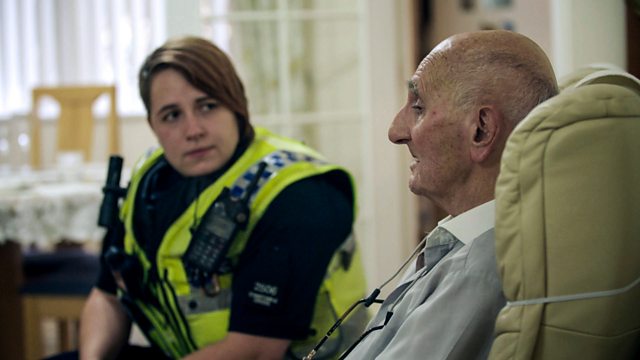 Episode 2
Police mount urgent searches for two people with dementia. Sheila has vanished from her husband's side during a shopping trip, while John has headed out alone into the countryside.
Eighty-three-year-old John only turned his back for a moment while buying some parsley, but that was long enough for his wife Sheila, who has dementia, to disappear from his sight and into the busy streets of Gloucester town centre at lunchtime. After a frantic search around town, John calls Gloucestershire Police and a major search operation swings into action.
John has known Sheila since they were both ten years old and has been married to her for over 50 years. He has watched her steady decline into a childlike state but has fought valiantly to keep the woman he calls the love of his life at home with him and in his care. Now he faces the anguish of not knowing where she is and the very real possibility of losing her.
Marian understands the pressures of caring for a partner with dementia all too well. She has gone out to meet her cousin for lunch, leaving her 79-year-old husband John at home. When she returns after several hours, there is no sign of John. He has money on him but no phone, and is only wearing a thin shirt. Their home is in a small village, surrounded by open countryside, where it would be easy for him to get lost quickly. Without the benefit of CCTV, police have to start scouring the lanes and wooded areas near to the house. Statistically, a dementia sufferer's odds of survival diminish rapidly if not found within 24 hours. Police fear that if John is not returned home before nightfall, he may succumb to hypothermia.
Credits
| Role | Contributor |
| --- | --- |
| Narrator | Indira Varma |
| Series Producer | Sophie Binyon |
| Executive Producer | David Hodgkinson |
| Executive Producer | Sacha Baveystock |
| Director | Myles Jenks |
| Director | Leonardo Machado |
| Director | Rhys Roberts |
| Production Company | Blast! Films |
Broadcasts
BBC One

except Scotland, Scotland HD, Wales & Wales HD

BBC One

Wales HD, Wales, Scotland & Scotland HD only

BBC One

except Northern Ireland, Northern Ireland HD, Scotland, Scotland HD, Wales & 1 more

BBC One

Scotland & Scotland HD only

BBC One

Northern Ireland HD & Northern Ireland only