Main content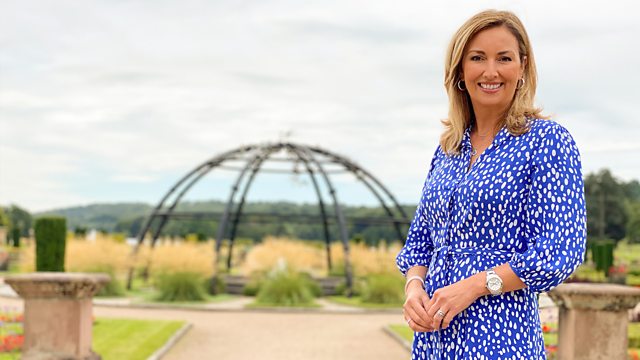 Trentham Gardens
Claire McCollum visits the stunning Trentham Gardens in Staffordshire, discovering how the estate has been a place of Christian worship since the seventh century.
Claire McCollum visits Trentham Gardens in Staffordshire, discovering the rich religious history of this beautiful estate. She hears about Trentham's connection with Saint Werburgh, who ran a convent on the site back in the seventh century. Claire finds out about the Two Saints Way, an ancient pilgrimage route through the Gardens, revived in recent years to help people connect with God through nature. We also speak to the couple running the parish church situated at the top of Trentham's flower gardens, to find out how worship is still a huge part of life there today.
Just south of the estate, Radzi Chinyanganya tries his hand at beekeeping with a vicar who has taken up the hobby as part of his calling to care for creation. And we meet the Christian sisters celebrating the 75th anniversary of VJ Day, when the Japanese surrender ended the Second World War. They talk about their father, who was a prisoner of war in the Far East and reveal how he organised the building of a church at the Chungkai camp, so that prisoners could worship together. The episode includes special performances recorded in Trentham Gardens from AMC Gospel Choir, the Salvation Army's International Staff Songsters, and soprano singer Olivia Safe.
Stories
Trentham Estate: Past and Present
Claire McCollum explores the Trentham Estate in Staffordshire which spans 725 acres. She speaks to a local historian about the rich religious history of the site, which was once a 7th century convent. Claire meets the couple running the church that overlooks the estate, to hear how Trentham's spiritual legacy shapes the church's vision today.

75th Anniversary of VJ Day
To mark the 75th anniversary of VJ Day, we meet the codebreaking sisters whose father was a prisoner of war in the Far East during the second world war. The sisters share how their father helped build a church whilst held captive in the Chungkai Camp, in order to provide a place of worship and peace for fellow prisoners. We also pay tribute to forces' sweetheart Dame Vera Lynn who passed away earlier this year.  
Beekeeping Vicar
Radzi Chinyanganya gets suited up for a lesson in beekeeping with an ordained priest who has over 100,000 bees as part of his calling to care for God's creation. Radzi finds out about the process of honey making, whilst hearing about some of the links between bees and Christianity. 
Two Saints Way
Claire McCollum finds out about an ancient pilgrimage route called the Two Saints Way, that was re-established just 5 years ago. She discovers how the walk connects modern day hikers with the lives of 7th century Christians, St Werburgh and St Chad. 
Credits
| Role | Contributor |
| --- | --- |
| Presenter | Claire McCollum |
| Presenter | Radzi Chinyanganya |
| Producer | Jessie Bland |
| Executive Producer | Cat Lewis |
| Executive Producer | Emyr Afan |
| Series Producer | Matthew Napier |
| Production Company | Avanti Media |