Main content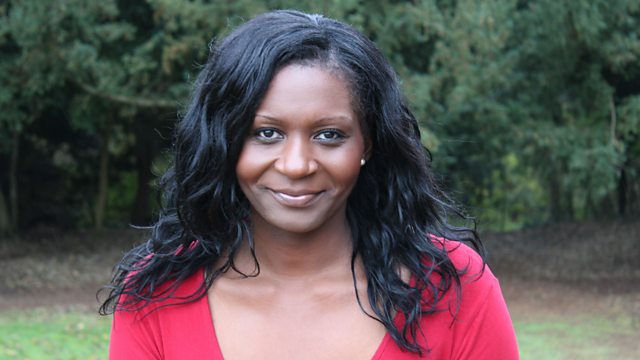 The Cross and Black Liberation
Chine McDonald, Rosemarie Mallet, Augustine Tanner-Ihm and David Shosanya explore the cross through the lens of black experience, as a symbol of oppression but also one of hope.
Chine McDonald, a writer on race and faith, leads a service exploring the cross as a symbol of black liberation. The murder of George Floyd and the growth of the Black Lives Matter movement have been pivotal moments; forcing institutions and society to stop and take stock - to highlight the inequality and racism that's prevalent, but also to look forward in hope. Archdeacon of Croydon Rosemarie Mallet, Anglican ordinand Augustine Tanner-Ihm and co-founder of Street Pastors, David Shosanya will explore the cross through the lens of black experience. As Black Liberation Theology highlights, whilst the cross is a symbol of suffering, it is also one of hope and liberation - promising emancipation and reconciliation to the oppressed. The producer is Miriam Williamson.
Readings:
Mark 15:21-34
Isaiah 53 1- 6
Music:
When I survey the wondrous cross - recorded by Angel Morgan
Were you there? Sam Cooke and the Soul Stirrers
The Old Rugged Cross - Mahalia Jackson
Glory Glory - Odetta
When the Saints go marching in - London Community Gospel Choir
Lamb of God - Soul Sanctuary Gospel Choir
Glory Glory Halleljuah - 100 Voices
Last on

Clips

Script
Introduction – Chine McDonald
Good morning and welcome to this morning's Sunday Worship. It's been 77 days since George Floyd was killed after a police officer knelt on his neck for 8 mins and 46 seconds. We've heard a lot about the protests that followed, as people declared that Black Lives Matter. There's been a period of reflection as some people have begun to hope for a better and more equal future. . There's been a reckoning with the past; and perhaps a disappointment with the fact that we have not moved as far away from racial injustice as we would have liked. Some black Christians – myself included – have found ourselves asking questions about the relationship between our faith in God and the uniqueness of the black experience. The black experience throughout the centuries has been marked by untold oppression, violence and injustice. And yet hope persists, despite it all. As I have wrestled with the pain that the original sin of racism exists, I have uncovered a new revelation of that place where oppression and pain meet liberation and hope: the cross. When I survey the wondrous cross, recorded for us by Angel Morgan.
MUSIC 1 –When I Survey the Wondrous Cross – Angel Morgan & Terry Tetteh-Marley
Chine:
Father God, thank you that at the cross you broke the chains of sin and death and pain and oppression and injustice. Thank you that the salvation you bring speaks hope where there is despair, and light where there is darkness.  And we especially hold in our hearts the people of Beirut after the tragic explosion this week.  Amen.
So often, our conversations around racism stop at conversations around increasing diversity. But I think the cross – the fundamental story of the Christian faith, representing the cosmic act of God becoming human, living among us, dying and defeating death once and for all, requires something much more profound than that. To me, the cross of Christ speaks of what the American theologian James Cone known for his work on Black Liberation Theology described as "a tragic and hopeful reality" – one that is ultimately about liberation from the chains of oppression. Throughout this morning's service, we will hear reflections at the foot of the cross from other black Christians whose faith in Jesus brings them hope despite the injustices they see in the world.
MUSIC 2 - Were You There When They Crucified My Lord? - Sam Cooke & The Soul Stirrers
CD: Sam Cooke with The Soul Stirrers
Chine:
Sam Cook with the Soul Stirrers singing 'Were you there when they crucified my Lord?'. Our first reading explores further the crucifixion narrative from the Gospel of Mark. It will be read by Luka Elliot, a young woman from my church, The Bear Church, a diverse community in south-east London. After which we will hear from Rosemarie Mallet, the Archdeacon of Croydon, known for her work on community cohesion.
This is the gospel of Mark chapter 15 from verse 21.
Reading – Simon of Cyrene – Mark 15:21-34
The Crucifixion of Jesus
21 A certain man from Cyrene, Simon, the father of Alexander and Rufus, was passing by on his way in from the country, and they forced him to carry the cross. 22 They brought Jesus to the place called Golgotha (which means "the place of the skull"). 23 Then they offered him wine mixed with myrrh, but he did not take it. 24 And they crucified him. Dividing up his clothes, they cast lots to see what each would get.
25 It was nine in the morning when they crucified him. 26 The written notice of the charge against him read: the king of the jews.
27 They crucified two rebels with him, one on his right and one on his left. [28] [a] 29 Those who passed by hurled insults at him, shaking their heads and saying, "So! You who are going to destroy the temple and build it in three days, 30 come down from the cross and save yourself!" 31 In the same way the chief priests and the teachers of the law mocked him among themselves. "He saved others," they said, "but he can't save himself! 32 Let this Messiah, this king of Israel, come down now from the cross, that we may see and believe." Those crucified with him also heaped insults on him.
33 At noon, darkness came over the whole land until three in the afternoon. 34 And at three in the afternoon Jesus cried out in a loud voice, "Eloi, Eloi, lema sabachthani?" (which means "My God, my God, why have you forsaken me?").[b] 
Rosemarie Mallett's reflection –
Were you there when they crucified my Lord! Were you there when they nailed him to the cross?
For every Christian the image of the cross is paramount, it defines the path and patterns of life we have chosen to follow. The very image of Christ on the cross reminds us that by taking up the cross, putting on the cross, we are also taking up the journey of life with the cross, and for some even today that might hold the possibility of dying because of the cross. Christians in the Middle East, in China and in Pakistan, are fully alert to the possibility of death because of their faith.
My daughter asked me recently, in light of the George Floyd tragedy and thinking of his children, "is it true, that God never gives us a burden that we cannot bear?",  My answer was yes that's true, but that does not mean that the burden will be light. And that took me to a reflection on the weight of the cross for people of colour.
As Jesus trudged around the dusty streets of Jerusalem towards Calvary and his certain death, weighed down by that cross beam, digging and cutting into his flesh, people watched, some jeered and mocked, some wept. One man was called forward and compelled to help carry the cross of Jesus of Nazareth, according to all three Synoptic Gospels. Simon of Cyrene, from North Africa, most often depicted as a black man is compelled to bear and share Christ's burden. Forced to do so, why? Because he was seen as sympathetic to Christ's call and wished to assist or because he was black.  There is no textual evidence to suggest the former interpretation, but in the light of history, plenty of evidence for the latter. Whatever the actual reason, on that day and at that time, Simon was there when they crucified Jesus, and if we cannot say that he was a joyful crucifer, we do know that he was able to relieve some of Jesus' burden.
 Like Mary the mother of Jesus, like the women of Jerusalem, like Veronica who wiped the sweat from Jesus' brow, like the beloved disciple, Simon – a black man - is now immortalized and remembered in the Stations of the Cross, the penitential journey of the Via Dolorosa that many Christians use during Lent to pray and reflect on the last hours of Jesus Christ.
MUSIC 3 –  The Old Rugged Cross – Mahalia Jackson
CD: Mahalia Jackson Sings America's Favourite Hymns
Rosemarie continued:
Mahalia Jackson there with her instantly recognisable New Orleans's voice singing The Old Rugged Cross. Cut cane, pick cotton.  Hew wood. Draw water. Bear the shackles, the whiplash, the rapacious body, the hangman's noose. Millions of Black people of the African continent were taken, broken and compelled to carry the horrific burden of slavery and colonial exploitation through sinful human abuse.  The church was part of the horrific alliance of capitalism, colonial and Christian, which saw a continent ravaged and people of many nations, and languages, dehumanized, scattered and enslaved for financial reward. By their captors and slave-owners they were deemed savage, uncivilized, beyond redemption. And yet for many of them, the cross of Christ and the word of God became their hope and their salvation. They could identify with a man, taken and broken, brought low by human sinfulness.  They could believe in a God incarnate, who took on their burdens and carried them to the cross. A God who offers mercy and compassion to us all – whatever our ethnicity -  when we are in despair, and who gives strength to the weary.  For many, the Lord became their refuge and their portion, and through the hell of slavery they were still able to lift their voices and sing to the Lord a song full of the faith that the dark past had taught them.
MUSIC 4 Glory Glory – Oddetta
They sang of a love that could transform slavery, suffering and shame.  They sang of Exodus and liberation.  They sang of following the Lord, expecting that life will be burdensome—but full of the knowledge that he will give rest.
Were you there? Each morning as I pray, I finger the simple small cross made of three silver nails given to me by my mother at my ordination. The pins are sharp and each time they prick, they remind me of the microaggressions faced daily by people of colour, that were faced by Simon of Cyrene, the sisters and brothers of the African diaspora, George Floyd and many other saints in glory.  The scourge of racism is a cross that people of colour are compelled to bear in the same way that Simon was compelled to carry the cross of Calvary. It is sin, a wrong, and in fact it is a cross that the whole society - bears consciously and unconsciously.  As I finger my cross, through the pain I am reminded that Christ died on the cross to put humanity right with God, and that the cross of Christ stands for his resurrected glory, and for justice, mercy, love and hope.
Lord, may the power of your cross lift the burden and pain of racism, transform this broken society into a kingdom of justice and peace and conform all your people to lovingly care for each other, and help make each other's burden lighter. And then with the elders we may sing, I feel better, so much better, since I laid my burdens down. Glory glory, hallelujah,  since I laid my burden down.
Amen.
MUSIC 4 - Glory Glory - Odetta
CD Odetta Sings Ballads and Blues
Chine – intro Augustine
Glory Glory sung by Odetta, the American blues singer known as "The Voice of the Civil Rights Movement". . As Rosemarie has explained the church was complicit in slavery – and as we come to terms with what that means for our society, we'll turn now for a moment to America – a nation that is still bearing the brunt of its not too distant history of slavery and segregation. Augustine Tanner-Ihm, an ordinand here in the UK grew up in Chicago but was recently turned down from a job in an Anglican parish which he felt was because of his race. He will reflect on his grandfather's experiences with black oppression in the United States and its lasting impact today, after our next reading from the beginning of Isaiah Chapter 53.
Luka:
Reading - Isaiah 53 chapters 1 to 6
53 Who has believed our message
    and to whom has the arm of the Lord been revealed?
2 He grew up before him like a tender shoot,
    and like a root out of dry ground.
He had no beauty or majesty to attract us to him,
    nothing in his appearance that we should desire him.
3 He was despised and rejected by mankind,
    a man of suffering, and familiar with pain.
Like one from whom people hide their faces
    he was despised, and we held him in low esteem.
4 Surely he took up our pain
    and bore our suffering,
yet we considered him punished by God,
    stricken by him, and afflicted.
5 But he was pierced for our transgressions,
    he was crushed for our iniquities;
the punishment that brought us peace was on him,
    and by his wounds we are healed.


Augustine Tanner-Ihm's reflection
"Child, a white man will never respect you. He will always betray you, and pull the rug from your feet if you're not looking. I can't protect you from that pain."
This was one of the last things I remember my granddaddy telling me before his death in 2006. This statement has stuck with me for the rest of my life
. My grandfather never marched with Martin Luther King or advocated for a Malcolm X style of civil disobedience. He wanted to live a quiet life and put food on the table for his 12 children on the Southside of Chicago. He was raised to understand he was less than, that he would never be truly a man because in the American South (where he was from) he would always be called and treated as a boy. This radical trauma was a powerful and destructive narrative. It did not end with my grandfather but passed on to his children and his children's children.
The sadness he felt when I choose to follow Jesus and convert to Christianity from my granddaddy's religion was palpable. He grew up as a Christian but gave it up because of the church's support of segregation amidst rampant racism. The final straw was when he saw images of the KKK with 'Jesus Saves' in the background – a stark image when they were publicly lynching black people and hanging them from trees. He witnessed continued silence about racism or worse, purposely advocating for a society that marginalised.  Black folk and that was very different to the idea of 'loving your neighbour'.  He knew that because I became a Christian in a white majority church that I would endure radical pain and suffering that He could not shield me from. He could not shield me from people saying slavery was a blessing because otherwise, you would have never known Jesus. My granddaddy worried about the next generation of Black man and women living in a so-called post-radical society. He experienced Jim Crow laws which segregated public schools, places and transport between black and white people. He almost saw the first Black president. But he continued to see his grandbabies die from mental health issues, poverty, and gun violence.. And here in the UK he could not shield me from being passed up from employment because I did not quite fit.
I wanted to tell my granddaddy he needed to forgive. That was all in the past. Today is different now. Unfortunately, as has been shown over the past few months, we still have a lot of work to do.
I became a Christian because Christianity encourages questioning, rethinking and renewal of mind. Jesus' suffering to show how much God loves us is love in action. I'm still a Christian despite continued discrimination and suffering because that's a part of the cross being the lynching tree – a shocking but powerful comparison made famous by James Cone,. Like the Isaiah passage says, ' – Jesus bore the pain on the cross to bring us all peace. The Christian journey is one of suffering and joy - we have to have Good Friday in order to experience the resurrection Sunday. We march on until we see the glory of the Lord.
MUSIC 5 –  When the Saints go marching in – London Community Gospel Choir
CD Glory                                                  
Chine intro into David
When the Saints Go Marching In sung by the London Community Gospel Choir. We move now from the US to the UK, where my friend David Shosanya will share his reflection on the cross. David co-founded the Street Pastors Movement in 2003 with his friend Les Isaac in response to increasing knife and gun crime violence, and to provide an antidote to some of the challenges young people face. Its success is now worldwide with trained volunteers from churches offering care, a listening ear, and help to those out on the streets. He'll reflect on a passage from 1 Corinthians 1:18, in which Paul writes: "The message of the cross is foolishness to those who are perishing, but to us who are being saved it is the power of God."
David Shosanya's reflection :
Paul's words to the Corinthian Church remind me that I have a particular lens through which I see the cross. My lens is deeply coloured by my experience as a young black boy that grew up on a tough multicultural inner city council estate in South London.
I received free school meals, a grant to buy my school uniform and my family lived without the luxuries others enjoyed. However, home was a very happy place. Faith was central to family life but my recollection is that there was little to no mention of the cross.
In a strange way it may have been too painful a subject for a couple whose dreams had been intruded upon by the misfortune of losing a child and then the tragedy of a double stroke which left my Father paralysed on the right side of his body. Perhaps the cross was too offensive a symbol for them to draw any strength from. The resurrected Christ may have been a more attractive option!
That was not my experience though. My encounter with the Christ on Sunday 3rd October 1983 was different. As I confronted the fact that Christ died for me my angry and confused heart became soft and tears rolled down my cheeks for several hours after.
The cross was a life transforming encounter - a place where I was able to experience the paradox of both losing and finding myself at the same time. It was not a place of pain but of power - at the cross I laid and took off the fortified armour I wore to protect myself from the arrows I experienced on a daily basis as a young black man. I discovered a personal vision for life that both embraced and went beyond the burden of the black body I inhabited.
The relationship between the cross and black bodies continues to demand my attention. The death of George Floyd and Breanna Taylor – and the countless more names of black people killed by those who are supposed to protect them - force me to look to the cross again as I try to discern what God has to say in this moment. I ask myself whether God, through the cross, is calling those of us that are privileged by virtue of our colour, class, education, or profession to approach the cross as a place to lay down that privilege as a radical act of solidarity with those marginalised by society.
Similarly, could God be calling the less privileged to fully discover their humanity and live life more fully in Him through the cross? The Apostle Paul's words are as true today as they were when he wrote them nearly two thousand years ago - the cross always means different things to different people – but it is a source of life and hope for all of us. As Pauls reminds us in Colossians chapter 1 verse 9 10 for God was pleased to have all his fullness dwell in him, and through him to reconcile to himself all things, whether things on earth or in heaven, by making peace through his blood shed on the cross..
MUSIC 6 –Lamb of God - Soul Sanctuary Gospel Choir  
CD You are the key
Chine :
Prayers
Lamb of God, thank you that you have taken away the sins of this broken world; a world where injustice and discrimination persist. Thank you that a reflection on your cross leads us to a place of pain and tragedy and violence; but does not leave us there. Thank you that through your death, we find a God who suffers with us in the pain of the oppression and injustices that we might face, whatever our ethnicity or cultural background.. We thank you that when we look at the cross, we can see the future hope that you promise for all who trust in you.
Lord, we know it isn't easy to be people full of hope in a world full of despair. Send your Holy Spirit to give us a peace that passes all understanding in spite of all the uncertainty and suffering caused by this worldwide pandemic. We are sorry for the times when we have oppressed others – through thought, through word, through deed, through negligence, through weakness, through our own deliberate fault. Open the eyes of our hearts to see where we are in need of renewal.
God, we pray for all those who suffer injustice around the world today, from Rohingya refugees in Bangladesh to people in Kenya suffering the catastrophic effects of climate change to all those who feel the reality or the threat of unemployment. God bring your hope and healing to a world that is so desperately in need of it. Help us to be those who speak hope and life into desperate situations. Where there is death, may we speak life; where there is pain may we bring your healing presence, where there is sadness may we bring unspeakable joy.
In your name we pray, Amen.
And now we pray that familiar prayer that Jesus taught his friends, particularly bringing before God the suffering and the bereaved. .
Our Father, who art in heaven, Hallowed be thy Name.
Thy Kingdom come. Thy will be done on earth, As it is in heaven.
Give us this day our daily bread. And forgive us our trespasses,
As we forgive those who trespass against us.
And lead us not into temptation, But deliver us from evil.
For thine is the kingdom, The power, and the glory,
For ever and ever. Amen.
Chine: This morning we've heard three very different reflections on the cross and black liberation . In each reflection, I've heard stories of the burdensome toll that has been placed on people who look like me for centuries – whilst also looking to the hope that is found in the cross. I may be an optimist, but I believe this year might just be a turning point. I pray that the death of George Floyd will have been the catalyst for a change that sees justice roll down like a river; righteousness like a never-ending stream. Christ invites each of us to partake in the creation of a kingdom in which there will be no more pain, no more tears – a re-imagined future made possible only through the cross.
Thank you for joining us for this Sunday Worship. Wherever your path takes you, may you know God's presence through it all.
MUSIC 7 - Glory Glory Hallelujah – 100 Voices
CD Best Gospel Album in the World
Broadcast

Sunday Worship: Dr Rowan Williams