Main content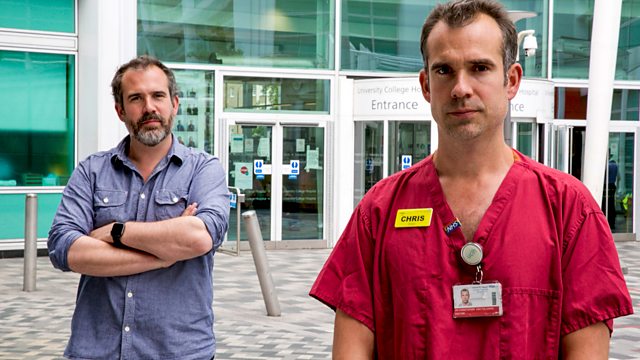 Surviving the Virus: My Brother & Me
Doctors and twins Chris and Xand van Tulleken's experiences through the Covid-19 pandemic have far more personal consequences than either could have imagined.
This is the gripping story of twin brothers and doctors Chris and Xand van Tulleken (Horizon, Operation Ouch, Trust Me I'm a Doctor) as they deal with the professional and personal implications of the Covid-19 pandemic.
Dr Chris van Tulleken is an infectious diseases doctor at the world-leading UCL Hospital in London. It's week three of lockdown and he's been asked to return to the work on the wards for the first time in ten years. As well as treating seriously ill patients, he wants understand what the virus is doing to our bodies and why it's so difficult to treat.
To make things more stressful for Chris, his wife Dinah is seven months pregnant with their second child. With Chris returning to the wards, Dinah asks 'how worried should I be?' Chris explains that although she's no more likely to get infected than anyone else, it can be particularly difficult to treat pregnant women as they can't have artificial support for their lungs which is one of the main ways that Covid patients can be helped.
Chris gets to work treating patients on the infectious disease wards. He quickly learns just how unpredictable the virus can be when he meets 80-year-old retired taxi driver Richard who was given end of life palliative care only to turn a corner and make a dramatic recovery.
It becomes clear that what Chris had initially thought of as a virus that causes a very nasty cold is actually far more malign. Chris hears how the virus can damage the kidneys, the heart and create unpredictable immune system responses.
Chris's twin brother, Dr Xand van Tulleken, is a specialist in public health. Xand has worked in medical emergencies around the world, but never so close to home. He wants to examine the impact Covid-19 is having outside our hospitals – on the UK's most vulnerable - and lend a hand where he can.
Xand contracted Covid back in March and it has left him tired and sluggish. He's also developed an irregular heart beat which he suspects is part of the aftermath of his Covid infection.
Xand accepts an invitation to visit Philia Lodge Care Home in Peterborough where they want to show him what they're up against. It was one of the first care homes in the country to suffer a Coronavirus outbreak - a third of their residents died. Xand in shocked by what he sees and hears.
At UCL, Chris is given special access to the Intensive Care Unit, the busiest and most pressurised area of the hospital, to gain a deeper understanding of why the virus is so difficult to treat. Intensive care consultant Mike Patterson introduces Chris to one of their sickest patients, Portuguese restaurant owner, Florentino. Florentino is extremely unwell; his lungs and kidneys are being artificially-supported and his immune system seems to have responded to the virus by turning in on itself.
As Chris absorbs the information about Florentino, he receives a call from Xand to say that he's in Chris's own A and E. Chris rushes down to see him. He learns that Xand's heart arrhythmia means his heart is going at the speed of a marathon runner even though he's lying down on a hospital bed. It's a serious situation. Watched on by an emotional Chris, anaesthetists 'shock' Xand's heart back into a normal rhythm. Xand wonders if this is connected to the virus. Doctors can't confirm it – but there's a strong suspicion it is.
Upstairs in Intensive Care, Portuguese restaurant owner Florentino's condition is not improving. He's so unwell that ICU consultant Mike Patterson and his colleagues consider withdrawing care. But although Florentino is in a 'tight spot,' they decide to give him one more push. And buoyed by a visit from his wife and daughter, Denise, Florentino starts to make a slow recovery.
As Xand's health starts to return, and feeling like 'one of the lucky ones', he visits St Pancras rehabilitation centre where he meets other patients dealing with the longer-term consequences of Covid-19. Xand meets stroke doctor, Dr Arvind Chandratheva, who explains that they've seen several patients who've suffered a stroke after contracting Covid-19. A similar pattern was reported in Wuhan. Dr Chandratheva introduces Xand to mental health worker Chuck, just a few years older than Xand, who had a stroke sooner after contracting Covid-19, with debilitating consequences.
And six weeks later, the latest visitors to St Pancras rehab centre are the family of Florentino, who has made a spectacular recovery, surprising all those who've been involved in his treatment. Intensive Care consultant Mike cannot explain why Florentino survived while so many other patients died.
The film ends in the middle of June, with lockdown easing and Xand finally able to visit Chris and his family at home. The film ends with Chris wondering how many other people there are, like Xand, who've had serious complications after contracting the virus, and articulating the concern felt by many in the medical community about the implications of a second wave...
Credits
| Role | Contributor |
| --- | --- |
| Presenter | Chris van Tulleken |
| Presenter | Xand van Tulleken |
| Director | Toby Paton |
| Director | Jack Rampling |
| Producer | Tammy Hale |
| Producer | Helen Crampton |
| Executive Producer | Ben Gale |
| Executive Producer | Helen Littleboy |
| Production Company | Little Gem Media |