Main content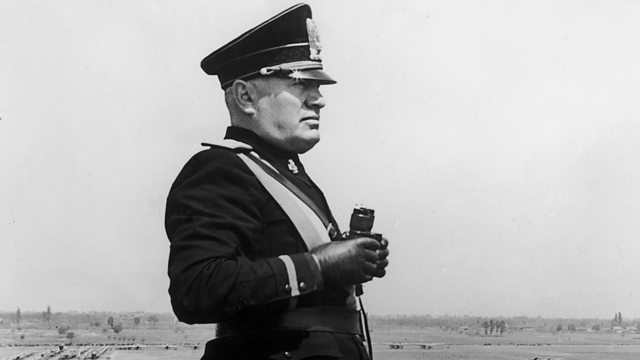 Mussolini
Margaret MacMillan chooses Mussolini who founded the fascist party in Italy and allied with Adolf Hitler in the Second World War
September 1943, and German troops have just landed in gliders to rescue Benito Mussolini from the mountain resort where he was being held. "I knew my friend Adolf Hitler would not desert me," he said later. But Mussolini died before the end of the war, shot and then strung up with his mistress in Milan.
Who was this man, and is he still relevant today? Nominating him is Professor Margaret MacMillan, not as her hero but as someone she says must not be dismissed as a buffoon. Mussolini founded and led the fascists in Italy, was a brilliant propagandist, and would have probably died in his bed but for the war. Winston Churchill, speaking in 1927, told him his fascist movement "has rendered a service to the entire world."
Only later did he dub him the Italian Miscalculator. Mussolini declared war on Britain just as France was poised to fall.
As well as archive of Mussolini, Churchill, and the Italian journalist Luigi Barzini, the programme features Professor John Foot of Bristol University. Margaret MacMillan is the author of Peacemakers and a former BBC Reith lecturer. The programme is presented by Matthew Parris.
Future great lives in this series include Frida Kahlo, Donna Summer, Hendrick Witbooi and Kenneth Williams of Carry On fame.
The producer in Bristol is Miles Warde
Last on
Broadcasts