Main content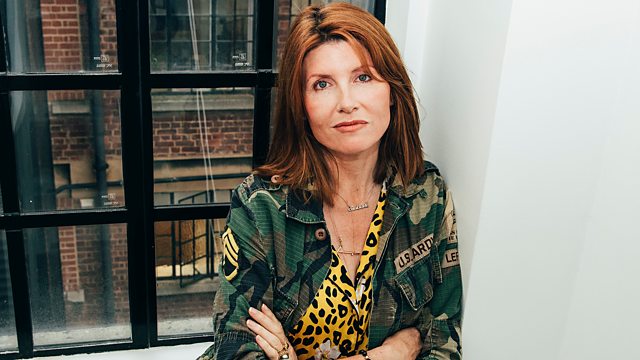 Sharon Horgan, writer, actor, producer
Sharon Horgan, writer, actor and producer, shares the eight tracks, book and luxury item she would take with her if cast away to a desert island. With Lauren Laverne.
Sharon Horgan is a writer, actor and producer best known for co-writing and co-starring in the Channel 4 series Catastrophe with US comedian Rob Delaney.
Sharon was born in 1970 in east London, where her parents Ursula and John were running a pub. They moved to Ireland when Sharon was three and eventually set themselves up as turkey farmers.
Sharon went to a convent school, then art college in Dublin, before moving to London in 1990, hoping to become an actor. Following six years working at a job centre, she decided to get a degree and enrolled on an English course at Brunel University. She reconnected with Dennis Kelly, who she had acted with previously, and they started writing together. Their breakthrough was the BBC Three series Pulling, first broadcast in 2006, which chronicled the lives of three single women leading unfulfilling lives in an unfashionable part of London.
Sharon appeared in films while continuing to write and, in 2014, set up her own production company. In 2015, together with Rob Delaney, she co-wrote and starred in the critically acclaimed Catastrophe, about a couple who discover they're expecting a child after a short affair. Sharon was nominated for a BAFTA Award for Best Female Comedy Performer and she and Rob won the BAFTA TV Craft Award for Best Comedy Writer in 2016. Catastrophe ran for four series, ending in 2019.
Sharon's other writing credits include the acclaimed series Motherland, Divorce and This Way Up, while her most recent film role was in Military Wives, opposite Kristin Scott Thomas. Sharon is divorced from her husband, Jeremy Rainbird, and lives in London with her two daughters.
DISC ONE: Rock n Roll Suicide by David Bowie
DISC TWO: The Queen is Dead by The Smiths
DISC THREE: Kid's Song by Mic Christopher
DISC FOUR: Telephone Thing by The Fall
DISC FIVE: The Only One I Know by The Charlatans
DISC SIX: Everything Goes My Way by Metronomy
DISC SEVEN: The Suburbs (continued) by Arcade Fire
DISC EIGHT: Moments of Pleasure by Kate Bush
BOOK CHOICE: The Sun Also Rises by Ernest Hemingway
LUXURY ITEM: A solar powered word processor
CASTAWAY'S FAVOURITE: Moments of Pleasure by Kate Bush
Presenter: Lauren Laverne
Producer: Cathy Drysdale
Last on
What did she share with Lauren Laverne?
Music Played
David Bowie

Rock 'n' Roll Suicide

The Rise And Fall Of Ziggy Stardust And The Spiders From Mars (2012 Remaster).
EMI.
11.

The Smiths

The Queen Is Dead

How Soon Is Now?.
Rough Trade Records.
2.

Mic Christopher

Kid's Song

Skylarkin'.
Mic Christopher/The Christopher Family.
2.

The Charlatans

The Only One I Know

Some Friendly.
Situation Two.
3.

Metronomy

Everything Goes My Way

The English Riviera.
Because Music.
3.

Arcade Fire

The Suburbs (continued)

The Suburbs.
Mercury.
16.

Kate Bush

Moments Of Pleasure

Remastered Part I.
Noble & Brite Ltd.
4.
Broadcasts