Main content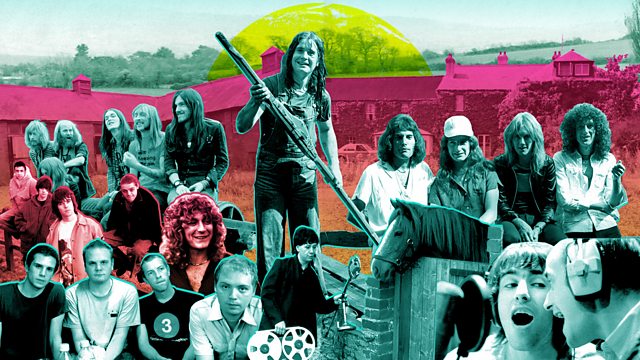 Rockfield: The Studio on the Farm
The unlikely tale of how two Welsh farming brothers turned their dairy farm into a legendary recording studio starring Ozzy Osbourne, Liam Gallagher, Chris Martin and many more.
Black Sabbath, Queen, The Stone Roses, Oasis, Coldplay, Simple Minds, Robert Plant and Manic Street Preachers are some of the greatest bands and musicians of our time, but what is the one thing these titans of music have in common?
This film tells the unlikely tale of how two Welsh farming brothers turned their dairy farm into one of the most successful recording studios of all time, producing four decades of legendary rock music. It's where Queen recorded their seminal Bohemian Rhapsody, featured in the Hollywood blockbuster of the same name. But Rockfield's own story has never been told until now.
Fifty years ago, deep in the Welsh countryside, brothers Kingsley and Charles Ward were starting out in the family dairy farming business. But they yearned to do something different – they wanted to make music. So they built a studio in the attic of their farmhouse and started recording with their friends. Kingsley's new wife Ann left her job in the local bank to do the books, and they continued farming all the while. Animals were kicked out of barns to make way for recording equipment, and musicians were moved into Nan's spare bedroom. Inadvertently, they'd launched the world's first independent residential recording studio.
Rockfield's reputation spread like wildfire, quickly garnering international acclaim. From Black Sabbath, Hawkwind and Queen, to Simple Minds, Iggy Pop and Robert Plant, and later Oasis, The Stone Roses, The Charlatans, Manic Street Preachers and Coldplay - an unbelievable roll call of artists have made music and mayhem at Rockfield.
Legendary musicians give us their awe-inspiring Rockfield stories - sharing with us the highs, lows and magical moments that created some the world's best-known and loved songs of our times - from Wonderwall to Yellow.
Innovatively told through archive, animation and personal interviews, Rockfield: The Studio on the Farm is an extraordinary story of rock and roll dreams intertwined with a family business's struggle for survival in the face of an ever-changing music landscape. Amazingly, Kingsley Ward and his wife Ann, now in their 80s, are still at the helm today, with daughter Lisa 'front of house'.
The film is the debut documentary feature from director Hannah Berryman, produced by Catryn Ramasut from award-winning Welsh production company ie ie Productions.
How much do you know about the artists & bands that have recorded here over the years?
Clips

Music Played
Timings (where shown) are from the start of the programme in hours and minutes
10:00

The Stone Roses

Love Spreads

10:03

Stud Farm for Shire Horses

10:05

Charles Kingsley Creation

Summer Without Sun

10:06

Heather Jones

Nos Ddu

10:10

Black Sabbath

Blue Suede Shoes

10:11

Dave Edmunds

Baby I Love You

10:12

Black Sabbath

Paranoid

10:16

Hawkwind

Silver Machine

10:18

Hawkwind

Space Is Deep

10:25

Alexander Parsons

The Eighties

10:29

Adam and the Ants

Ant Music

10:29

The Teardrop Explodes

Reward

10:30

Iggy Pop & David Bowie

Play It Safe

10:34

Simple Minds

Changeling

10:34

Simple Minds

Changeling

10:36

Robert Plant

Big Log

10:37

Simple Minds

Promised You A Miracle

10:43

The Stone Roses

I Am The Resurrection

10:44

The Stone Roses

I Am The Resurrection

10:47

The Stone Roses

Love Spreads

11:00

The Boo Radleys

Wake Up Boo!

11:00

The Boo Radleys

Wake Up Boo!

11:02

Manic Street Preachers

If You Tolerate This Your Children Will Be Next

11:02

The Charlatans

One To Another

11:11

Oasis

Champagne Supernova

11:17

From Madama Butterfly

Coro a bocca chiusa (Humming Chorus)

11:26

Eliza Carthy

Devil in the Woman
Credits
| Role | Contributor |
| --- | --- |
| Director | Hannah Berryman |
| Editor | Rupert Houseman |
| Producer | Catryn Ramasut |
| Executive Producer | Julian Carey |
| Executive Producer | Kimberley Warner |
| Executive Producer | Keith Potter |
| Composer | Alexander Parsons |
| Production Company | ie ie Productions |
Featured in...
Get the inside track on some of music's most influential songs, albums and personalities.

A collection of some of the best documentaries in Wales

Heard about a good story but missed it on the radio? We've collated the best interviews.