Main content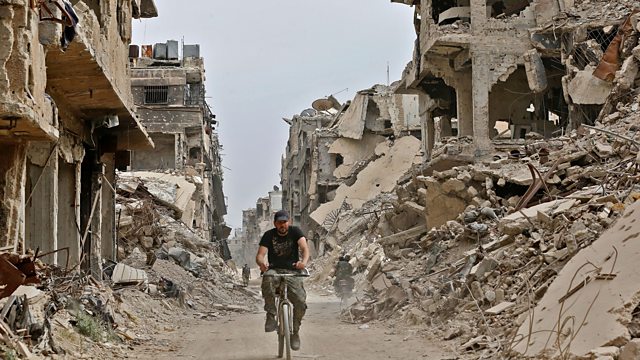 Four young people in Damascus must decide whether to join the uprising as the Arab Spring sweeping across the region reaches Syria.
In Damascus, during 2011, a group of friends must decide whether to join the uprising as the Arab Spring reaches Syria. Hope for change is tempered by the strictly controlled day-to-day reality of life in Syria under Bashar al Assad.
Yarmouk Camp is the area of Damascus known for its Palestinian population. It was first established as an unofficial refugee camp for those fleeing Palestine but went on to become a thriving multi-cultural part of the Syrian capital.
This three-part drama tells the story of the Syrian uprising and how it turned into a civil war. Writer Ghassan Zakarya lived through the uprising before being forced to leave, claiming asylum in France. The production was recorded in London with a Syrian and Palestinian cast, some of whom were established actors in Syria before fleeing the war, arriving in the UK as refugees after often perilous journeys.
Yarmouk takes us inside an extraordinary story, giving an authentic and personal view of the catastrophic events that have taken place there - not only do we see the effect on normal people but also the consequences for the very identity of Syria as a country.
Cast:
Hatem ..... Osama el Azzeh
Salma ..... Sofia Asir
Khaled ..... Ammar Haj Ahmad
Rania ..... Arwa Omaren
Nasser ..... Nayef Rashed
Omar ..... Zaydun Khalaf
News Announcer ..... Alia Alzougbi
General Command Officer ..... Joe Haddad
Written by Ghassan Zakarya
Music, Rihab Azar
Script editor Jonathan Myerson
Sound Design, Alisdair McGregor
Producer and Director, Boz Temple-Morris
A Holy Mountain production for BBC Radio 4
Last on

More episodes
Previous
You are at the first episode
Broadcast