Main content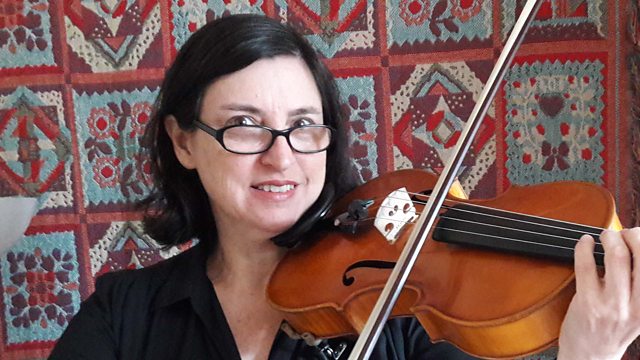 The Power of Music
Clarke Peters and Maggie Service read poetry and prose set against a musical menu with special recordings by BBC musicians and performing groups of Mozart to Lianne La Havas.
As the 2020 BBC Proms gets under way Words and Music explores The Power of Music in a special programme featuring recordings by all the BBC-affiliated performing groups. Readers Clarke Peters and Maggie Service read poetry and prose exploring the unique place music has in our lives, from the 'thousand twangling instruments' which magically fill the air in Shakespeare's The Tempest, to the 'mute glorious Storyvilles' that Philip Larkin imagines when he hears Sidney Bechet play. We'll feel the jealousy and awe that Mozart inspired in Salieri in Peter Schaffer's Amadeus, and the erotic urgency of Langston Hughes' Harlem Night Club. In this special edition of Words and Music the BBC orchestras play a starring role. There are special remote recordings from members of the BBC Symphony Orchestra, BBC Philharmonic and BBC Singers, and Rachel Weld, a viola player from the BBC Philharmonic, has recorded a series of postcards reflecting on life as an orchestral musician, and what the enforced distance from her fellow players has been like during lockdown.
All the music in this special edition is recorded by BBC performing groups and affiliated orchestras and ranges from the BBC Philharmonic playing Beethoven's Fifth Symphony and the BBC National Orchestra of Wales playing Shostakovich, to the BBC Symphony Orchestra playing with Lianne La Havas. There's also Britten played in a special remote recording by BBC Symphony Orchestra harpist Louise Martin, Haydn from a BBC Philharmonic Orchestra quartet and Cole Porter's Night and Day sung by members of The BBC Singers.
READINGS
Saturday - Ian McEwan
I Am In Need of Music - Elizabeth Bishop
The Tempest - Shakespeare
If Bach had been a beekeeper - Charles Tomlinson
For Sidney Bechet - Philip Larkin
My Last Dance - Julia Ward Howe
The Harlem Dancer - Claude McKay
Amadeus - Peter Schaffer
An Equal Music – Vikram Seth
Harlem Night Club - Langston Hughes
Grace Notes - Bernard MacLaverty
Siege and Symphony - Brian Moynhan
Tess of the d'Urbervilles - Thomas Hardy
Music when Soft Voices Die - Percy Bysshe Shelley
Everyone Sang - Siegfried Sassoon
Howard's End - EM Forster
Last on

Music Played
Timings (where shown) are from the start of the programme in hours and minutes
Ian McEwan

Extract from Saturday, read by Clarke Peters

Elizabeth Bishop

I Am In Need of Music, read by Maggie Service

William Shakespeare

Extract from The Tempest, read by Clarke Peters

Rachel Weld

Postcards on Context No. 1, read by Rachel Weld

Charles Tomlinson

If Bach had been a beekeeper, read by Maggie Service

Langston Hughes

Harlem Night Club, read by Clarke Peters

Peter Schaffer

Extract from Amadeus, read by Clarke Peters

Bernard MacLaverty

Extract from Grace Notes, read by Maggie Service

Rachel Weld

Postcards on Context No. 2, read by Rachel Weld

Claude McKay

The Harlem Dancer, read by Clarke Peters

Zadie Smith

Extract from Swing Time, read by Maggie Service

Brian Moynahan

Extract from Siege and Symphony, read by Clarke Peters

Thomas Hardy

Extract from Tess of the D'Urbervilles, read by Maggie Service

Shelley

Music when Soft Voices Die, read by Clarke Peters

Vikram Seth

Extract from An Equal Music, read by Maggie Service

Philip Larkin

For Sydney Bechet, read by Clarke Peters

Siegfried Sassoon

Everyone Sang, read by Clarke Peters

E.M Forster

Extract from Howard's End, read by Maggie Service

Broadcast