Main content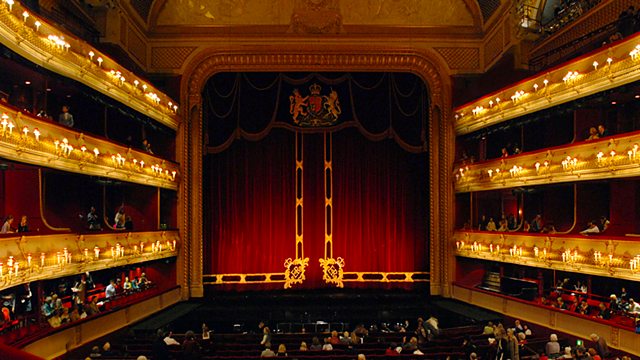 Puccini's La bohème - a tragic love story
Puccini's La bohème from the Royal Opera House, the first new production there for more than 40 years. The cast is led by Nicole Car and Michael Fabiano.
Opera Matinee: Puccini's La bohème from the Royal Opera House, Covent Garden.
Four struggling bohemians are living together in Paris, when one freezing Christmas Eve, a girl called Mimì knocks on their door looking for a candle light. Their lives are changed forever and Puccini's tragic love story of Mimi and Rodolfo became the stuff of operatic legend. Recorded in 2017, this production was the house's first new production of the work for 40 years. A stellar cast is led by Nicole Car and Michael Fabiano, with Antonio Pappano in the pit.
Presented by Penny Gore.
Mimì ..... Nicole Car (soprano)
Rodolfo ..... Michael Fabiano (tenor)
Marcello ..... Mariusz Kwiecień (baritone)
Musetta ..... Simona Mihai (soprano)
Schaunard ..... Gyula Nagy (baritone)
Colline ..... Luca Tittoto (bass)
Benoît ..... Jeremy White (bass)
Alcindoro ..... Wyn Pencarreg (baritone)
Royal Opera House Chorus & Orchestra
Antonio Pappano (conductor).
At approx. 3.45pm
Guildhall School of Music and Drama musicians at BBC Symphony Orchestra's Total Immersion: Anders Hillborg
Anders Hillborg: Duo for cello and piano
Ben Tarlton (cello), Ben Smith (piano)
at approx 4.05pm
Brahms: Symphony No. 2 in D major
BBC Symphony Orchestra, Tito Munoz (conductor)
Last on

SYNOPSIS
Act I - An attic on Christmas Eve
Rodolfo is trying to write and Marcello is attempting to paint. The cold makes it too difficult to work, and burning a draft of Rodolfo's play makes only a brief difference. Colline enters, and the three friends joke and enjoy the brief warmth. Schaunard arrives with food, fuel and money. He has been employed by an eccentric Englishman to play his violin to a parrot to encourage it to die (Schaunaurd eventually poisoned it). The friends decide to spend the evening at Café Momus but are interrupted by the landlord Benoît, who demands his rent. The bohemians encourage him to boast about his love life, then feign outrage and throw him out – without his money.
Marcello, Colline and Schaunard go to wait outside for Rodolfo – he just needs to finish an article. As he is writing, a young woman from a neighbouring flat knocks at the door, and asks for a light for her candle. She seems unwell. As she leaves with the candle lit, she realizes that she has lost her key. Her candle goes out again, as does Rodolfo's. In the dark, the pair search for the girl's key, which Rodolfo finds and surreptitiously pockets. He takes the girl's cold hand and tells her about himself. She reciprocates: her name is Mimì and she embroiders flowers for a living.
Rodolfo's friends shout for him to hurry up. Rodolfo and Mimì realise that they have fallen in love. Mimì suggests that she joins him and his friends at the Café Momus, and they leave together.
Act II - The Café Momus, the same evening
The Paris streets are packed with Christmas shoppers. Schaunard buys a horn, and Rodolfo buys Mimì a bonnet. The friends order a lavish meal at Café Momus. Among the crowds, children and their mothers are crowding round Parpignol the toy seller. Rodolfo introduces Mimì to his friends.
As the friends drink a toast, Marcello's on–off girlfriend Musetta arrives, accompanied by the rich but elderly Alcindoro. But Musetta is now tired of Alcindoro. She decides she wants Marcello back, and behaves outrageously to get his attention. She boasts in song of her power over men, then pretends that her shoe is too tight and sends Alcindoro for a replacement. With him gone, she and Marcello are swiftly reunited. The bohemians' bill for supper arrives but nobody has any money left, so Musetta has the waiter add their bill to Alcindoro's. When Alcindoro returns, he finds Musetta has vanished and he has a huge bill to pay.
Act III - The Barrière d'Enfer, dawn (February)
Sweepers and vendors arrive at the city's tollgates. Mimì, clearly ill, comes looking for Marcello at the nearby tavern. He tells her that he and Musetta have been living there for some weeks, and that Rodolfo joined them that morning. Mimì explains that Rodolfo's jealousy is destroying their relationship, and begs for help. Marcello promises to talk to Rodolfo. She hides as Rodolfo comes out of the tavern.
Rodolfo first protests that Mimì is a flirt, but then tells Marcello his true feelings: Mimì is very ill, and he is too poor to provide the care she needs. Mimì's reaction to overhearing this reveals her presence. Rodolfo tries to comfort her. Marcello is distracted by the sound of Musetta's laugh, and goes to see what she is up to. Mimì tells Rodolfo that they must separate – she will collect her things later, but if he wishes, he can keep the bonnet he bought her on Christmas Eve as a memento. Musetta and Marcello quarrel bitterly; Rodolfo and Mimì decide to postpone their separation until the spring.
Act IV - The attic, autumn
Marcello and Rodolfo are distracted from work by thoughts of Mimì and Musetta: the men miss them. Schaunard and Colline arrive with dinner – a herring, bread and water – and the four men fool about.
They are interrupted by Musetta who has brought Mimì, now desperately ill. Musetta tells them how she met Mimì in the street, and Mimì begged to be taken to see Rodolfo one last time. Mimì is overjoyed to be reunited with Rodolfo, and briefly feels better. But she is very cold, and longs for a muff to warm her; Musetta tells Marcello that she will buy one, and gives him her earrings to sell so that he can buy food and pay for a doctor. Colline decides to pawn his coat to buy medicine, and leaves with Schaunard.
Alone with Rodolfo, Mimì tells him how much she loves him and the pair recall their first meeting. Mimì has a sudden coughing fit as the friends return. Musetta gives her the muff, and Mimì, believing it a present from Rodolfo, thanks him and falls asleep. As Musetta prays, Schaunard and Marcello notice that something is wrong. From their reactions, Rodolfo realises that Mimì has died.
Broadcast