Main content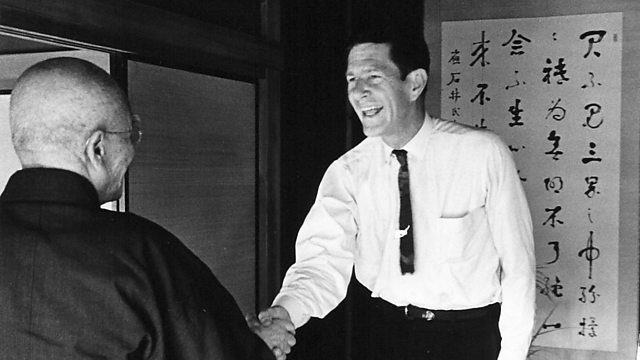 Silent Witness - John Cage, Zen and Japan
How experimental composer John Cage came to write his infamous silent piece, 4'33", shattering our perception of silence and opening our ears to the music of everyday sounds.
John Cage is arguably the most important composer of the 20th century, even though he's perhaps famous, or infamous depending on your point of view, for writing a piece of music that is 4'33" of silence.
Famous because it made his reputation - after all composers write music not silence – and infamous because not unsurprisingly, it's outraged, perplexed and fascinated audiences since its premiere in 1952.
Cage though was deadly serious about his silent piece, and Robert Worby goes on an odyssey to find out what Cage thought silence was, and why silence was central to his life and work.
Robert goes to the quietest place in the UK - so quiet you can't hear a pin drop - to experience what John Cage did, when he entered an anechoic chamber in the 50s in search of silence.
But it's not as straightforward as you might think, as Robert discovers Cage didn't find the silence he was seeking, and instead found something even more surprising.
The key to understanding 4'33", and Cage's fascination with silence, is his interest in the discipline of Zen Buddhism, which unlocked a whole new world of hearing sound that he charted through chance operations.
It led to a meeting of like minds when Cage met Yoko Ono in New York who instantly saw the Zen influence on his work. In 1962 Ono and her husband, Toshi Ichiyanagi, invited Cage to visit Japan - his Zen spiritual homeland - a trip that later became known as the 'Cage Shock'. It was a turning point in his career whose ground breaking performances sealed his reputation as the most controversial and experimental composer in the world.
The programme features two UK premieres on Radio 3, an interview Robert recorded with John Cage when he met the composer in NYC in the 80s after finding his number in the phone book, and Cage reading his Lecture on Nothing, his enigmatic musing on silence.
Produced by Andrew Carter - A BBC Radio Cumbria Production.
Photograph of D.T.Suzuki and John Cage meeting in Japan 1962, courtesy of the John Cage Trust.
Last on

Broadcast