Main content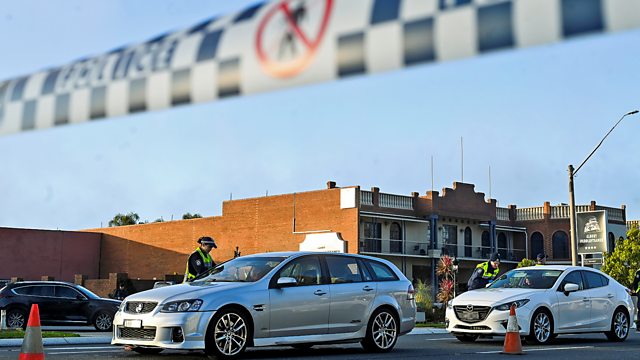 Lockdown again in Melbourne
Stories from France, Norway, Mallorca and Russia, plus Australia's new coronavirus spike which has put Melbourne back in lockdown. Presented by Kate Adie.
Australia had widely been seen as having successfully contained the coronavirus – an example to countries like the UK and the US where numbers of cases and deaths have been so much worse. In Australia they locked down early, closed the country's borders and have had fewer than ten thousand cases. But this week has seen a resurgence in Melbourne and the city's five million residents are now barred from leaving home for six weeks, except for essential reasons. The whole of the state of Victoria, of which Melbourne is the capital, has been closed, making it particularly hard for communities straddling the state's boundaries, from where Shaimaa Khalil reports.
In France this week, where they're still reeling from the economic and human cost of the coronavirus epidemic, the country has been getting to know its new government. There's a new prime minister, Jean Castex, and a new direction promised by the President – all part of Mr Macron's plan to reboot his mandate after the crises of recent years. But what are the challenges facing this government in a post-lockdown France? Lucy Williamson reports from Paris.
Passenger ferries are essential to life along the Norwegian Coast – acting as a link between island and coastal communities and the wider world. But recent times have seen these ferries in troubled waters. Locals are angry about fare increases. The ferry companies say it's so they can invest in environmentally friendly electric and hydrogen-powered boats. But some people in Norway's island archipelago are feeling trapped by the cost of leaving home, as Oliver Smith reports.
A holiday in the resort of Magaluf on the island of Mallorca won't ever be quite the same again – and not just because of coronavirus. This year has seen a new law in some Balearic resorts aimed at clamping down on alcohol-fuelled tourism. Out goes the promotion of boozy boat parties and pub crawls and in comes a more sedate, family friendly experience - the authorities hope. Lottie Gross has been to find out how it's looking in Mallorca's party resort.
When our correspondent in Moscow, Steve Rosenberg, was granted an interview with Russia's spy chief – Sergei Naryshkin – he couldn't help feeling rather excited as this was both rare and unexpected. The visit to the fortified headquarters of the Foreign Intelligence Service contained all the ingredients of a classic spy novel . And after the spy chief blamed America for trying to rule the world the interview ended with a party – complete with toasts and Russian jokes.
Presenter: Kate Adie
Producers: Caroline Bayley and Serena Tarling
Last on

Broadcast