Main content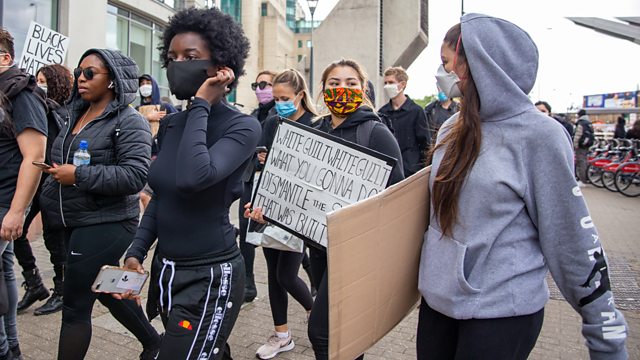 Race and Our Public Space
The killing of George Floyd has reignited the global debate about the historical figures we choose to honour. As statues are toppled - how might our public spaces change?
The statue of the slave trader and philanthropist Edward Colston statue has been torn from its plinth and dumped in Bristol's harbour. He joins a list of toppled US statues including Christopher Columbus and Robert E Lee - and they may soon be joined by Oriel College Oxford's controversial monument to the Victorian colonialist Cecil Rhodes.
A new wave of anger about who we choose to memorialise has been fuelled by the killing of George Floyd, and this programme asks - if we are to better reflect our country - how should our public spaces change?
Samira Ahmed is joined to discuss solutions and the future by the the artist Hew Locke, who was born in Edinburgh and raised in Guyana before returning to the UK. He has made works directly featuring controversial statues. We hear from historian and former director of the British Museum Neil MacGregor, and philosopher Susan Neiman, author of "Learning From The Germans" a book about memorials and remembering difficult history, especially around race. And Danna Walker, an architect, and founder of the social enterprise "Built by Us" which aims to diversify construction and architecture to create a more inclusive built environment.
Presented by Samira Ahmed
Produced by Kevin Core
Assistant Producer Miriam Walker-Khan
Last on
Broadcasts