Main content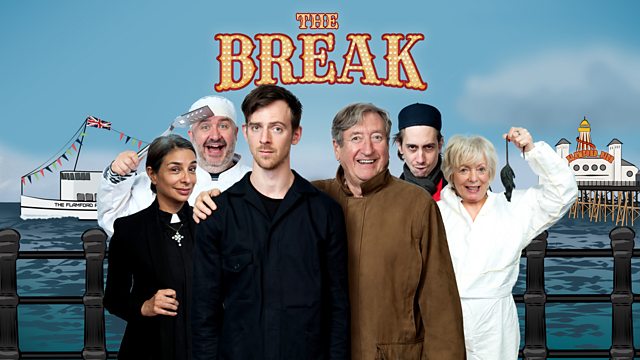 Philip Jackson, Alison Steadman and Shobna Gulati star. Andy and Jeff plan to get away from it all. But it seems the rest of Flamford is coming with them.
Jeff (Philip Jackson) and Andy (James Northcote) are awaiting their departure from Winifred Holtby International Airport, formerly RAF Flamford Heath, with a major repurposing in the 90s as Flamin' Wheels Go-Kart Centre.
They've taken advantage of The Flamford Bugle's 2-for-1 ticket offer to mark the "exciting new route" to Rome-Maremma by low budget airline AlexAir.
They're soon joined by Fish Shop Frank (Mark Benton), Copper Kettle proprietor and nervous flyer Joyce Rickles (Alison Steadman) and Flamford's Number One aged curmudgeon, Mr Truepenny (Rasmus Hardiker) - all of them with an eye for a bargain and all of them fellow 2-for-1 ticketeers.
Frank has already started on the pints ("What? I'm on holiday"), Joyce has been on a Flying-With-Confidence course ("My mantra is 'Turnips'") and Mr Truepenny is behaving more oddly than normal ("I dropped an E earlier and I think it's kicking in"). They soon find cheapest is not always best.
As the flight delays mount, so tempers rise and questions are asked. When's the plane leaving? What is Frank's secret? Who is Simon? And why does WH Smith sell water in litre bottles which you cannot possibly finish before you reach the security gate?
Starring:
Philip Jackson
Alison Steadman
Mark Benton
Shobna Gulati
Rasmus Hardiker
James Northcote
Created and Written by Ian Brown and James Hendrie
Studio Engineered and Edited by Leon Chambers
Production Manager Sarah Tombling
Produced and Directed by Gordon Kennedy
Recorded at The Soundhouse Studios, London
An Absolutely Production for BBC Radio 4
Last on

More episodes
Next
You are at the last episode
Broadcast