Main content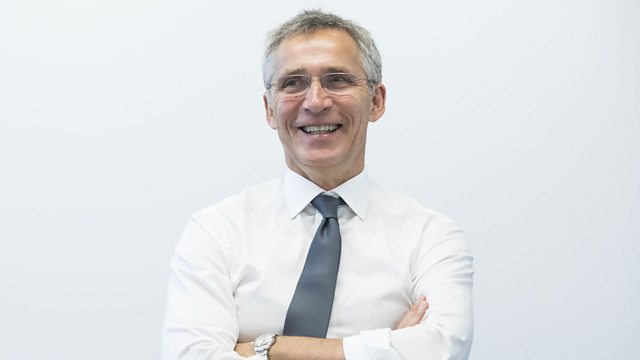 Jens Stoltenberg, Secretary General of NATO
Jens Stoltenberg, the Secretary General of NATO, chooses the eight tracks, book and luxury he would take with him if cast away to a desert island. With Lauren Laverne.
Jens Stoltenberg is the Secretary General of NATO and a former Prime Minister of Norway.
Although he was born into a political family in Norway, he grew up thinking he would become a statistician, before turning to a career in politics.
He served as the Prime Minister of Norway twice. During his second term, Norway experienced one of the darkest days in its recent history, when 77 people were murdered in a bomb attack in Oslo and a mass shooting on a nearby island.
Before becoming the Secretary General of NATO, a post he has held since 2014, he spent time as a UN Special Envoy on climate change. His term in office as Secretary-General has been extended until September 2022.
DISC ONE: Lift Me by Madrugada and Ane Brun
DISC TWO: No Harm by Smerz
DISC THREE: So Long, Marianne by Leonard Cohen
DISC FOUR: Hungry Heart by Bruce Springsteen
DISC FIVE: Make You Feel My Love by Ane Brun
DISC SIX: Til Ungdommen by Ingebjørg Bratland
DISC SEVEN: Free Nelson Mandela by The Special A.K.A.
DISC EIGHT: From Up Here by Ingrid Olava
BOOK CHOICE: A statistics textbook
LUXURY ITEM: A pair of skis
CASTAWAY'S FAVOURITE: Til Ungdommen by Ingebjørg Bratland
Presenter: Lauren Laverne
Producer: Sarah Taylor
Photo credit: NATO
Last on
Music Played
Madrugada and Ane Brun

Lift Me

Smerz

No Harm

Have Fun.
XL Recordings.
2.

Leonard Cohen

So Long, Marianne

Songs of Leonard Cohen.
Columbia Records.
6.

Bruce Springsteen

Hungry Heart

Bruce Springsteen: Greatest Hits.
Bruce Springsteen: Greatest Hits.
5.

Ane Brun

Make You Feel My Love

Balloon Ranger Recordings.

Ingebjørg Bratland

Til Ungdommen

The Special A.K.A.

Free Nelson Mandela

Long Walk To Freedom.
Wrasse Records.
1.

Ingrid Olava

From Up Here
Broadcasts