Main content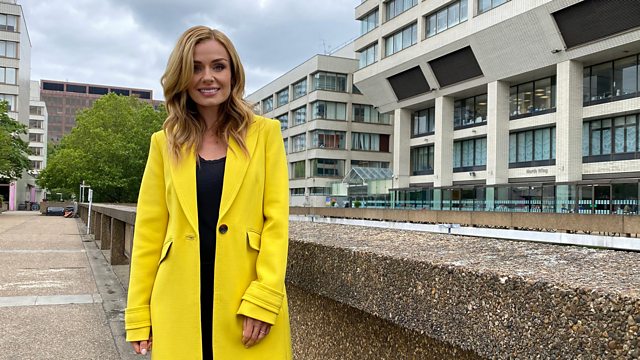 Celebrating Florence Nightingale and the NHS
Katherine Jenkins is in London to mark the birthday of the NHS and Florence Nightingale's bicentenary, and the archbishop of Canterbury pays tribute to all carers on the frontline.
In the year of Florence Nightingale's bicentenary and to celebrate the anniversary of the founding of the NHS, Katherine Jenkins is in central London to pay tribute to all carers on the frontline.
Outside St Thomas' Hospital, where they celebrate pioneers like Florence Nightingale and her contemporary Mary Seacole, Katherine meets Christian nurses who have been caring for people with Covid-19 throughout the pandemic. She also meets the archbishop of Canterbury, Justin Welby, who has been volunteering as a chaplain at St Thomas' during lockdown. He speaks about the role of Christian faith at such a time of loss and uncertainty, and he reflects on the care NHS staff have given to patients, which he has witnessed first-hand.
Speaking with Rev Mia Hilborn, head chaplain at St Thomas', Katherine learns more about the extraordinary legacy of Florence Nightingale, born 200 years ago this year, and how her faith was central to all that she did. And Christian artist Sophie Hacker shows Katherine her design for a new Florence Nightingale window for Romsey Abbey, depicting the moment a young Florence felt God's call.
Rev Kate Bottley meets a young man in Manchester to pay tribute to his late mother, a nurse who died of Covid-19 in the hospital in which she worked. He tells Kate of his mother's determination to serve others with Christian love and how his own faith is helping to keep him strong.
James Lusted meets a Christian firefighter from north Wales who is now recovering from Covid-19 after many weeks in intensive care. He and his wife reflect on the care he received, the support of their church and the strength they took from knowing that people all around the world were praying for them.
With hymns and songs from across the UK, including a very special new performance from Katherine Jenkins in tribute to the carers on the frontline.
All filming was carried out in accordance with government guidelines and all congregational music was recorded before lockdown.
Music:
All My Hope on God is Founded – Southwark Cathedral
Here's to the Heroes – Katherine Jenkins
Brother, Sister Let Me Serve You – St Pol de Leon, Penzance
10,000 Reasons – Pontio Arts Centre, Bangor
I Look to You – Rachel John at Methodist Central Hall
Great is Thy Faithfulness – St Davids Cathedral
Stories
Faith on the Frontline
Katherine Jenkins meets nurses serving on the frontline through the current pandemic and the Archbishop of Canterbury reflects on volunteering as a hospital chaplain.
Hope and Survival
Hylton shares with Katherine how the image of Jesus calming the storm provided great hope and comfort as he lay in intensive care with COVID 19. 
James Lusted meets Firefighter Steve Landon and his wife Becky. They reflect on their faith and on the NHS care now that Steve is recovering having been in intensive care with COVID 19.
Credits
| Role | Contributor |
| --- | --- |
| Actor | Katherine Jenkins |
| Presenter | Kate Bottley |
| Presenter | James Lusted |
| Executive Producer | Cat Lewis |
| Executive Producer | Emyr Afan |
| Series Producer | Matthew Napier |
| Director | David Waters |