Main content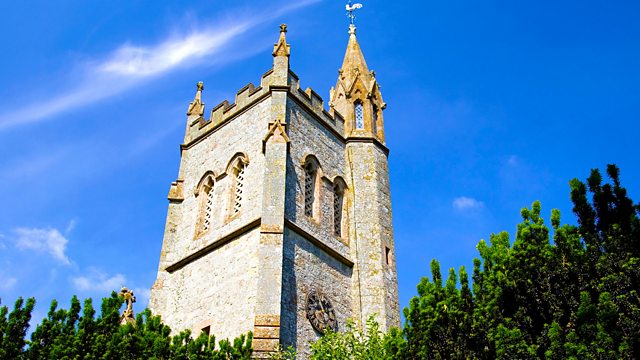 Speaking into troubled times
The Revd Lucy Winkett, Rector of St James's Church, Piccadilly, and composer Bob Chilcott explore the power of music to speak into troubled times. Producer: Andrew Earis
Last on
Script
Music
If ye love me – Thomas Tallis
The Tallis Scholars
CD: The Tallis Scholars sing Thomas Tallis (Gimell)
Introduction: Rev Lucy Winkett
Good morning. In the past few months, the daily life of all of us who live in the UK, and indeed around the world, has changed.  And whether that's meant staying at home, working or not working, one of the features of this time has been the increasing importance of music. Whether you think of yourself as musical or not doesn't matter.  Music is itself a spiritual language without words.  But this virus has provoked a crisis in music making that is drawing in politicians, fund raisers, scientists and a diverse range of musicians themselves?  Performing and live listening to music has become controversial because some music making is viewed as unsafe.  And while the storm rages around the live performance of music in public, for the rest of us, we have realised – if we didn't know it already - in a time of fear and anxiety, music is vital for human flourishing. Whatever kind of music does it for us, music has the spiritual and emotional power to express what we don't yet have words for; what this pandemic, and the changes it's brought to our society, will mean for us for the rest of our lives.
Let us pray.
God of time and eternity; we thank you for the gift of music to provoke, console and inspire us.  Help us to listen for your still small voice and give us courage to sing our own songs of redemption, solace and peace. Amen.
The incomparable voices of Jessye Norman and Kathleen Battle sing such a song of solace now, with words inspired by the Prophet Jeremiah.
Music
There is a balm in Gilead - Spiritual
Jessye Norman and Kathleen Battle
CD: Spirituals in Concert (Deutsche Grammophon)
Reading
Psalm 57 (extract)
Bob Chilcott Reflection 1: Harmony
One of the most emotive, embracing and positive words in the English language is the word, harmony. Harmony is also a word that stands as a cornerstone in the creation and performance of music and without it music would probably not function.  For harmony to exist within music there needs to be more than one note sounding at the same time where the notes resonate together. These notes make up a structure that we call a chord, a word whose origins come from the word 'accord' meaning 'agreement.' I suspect that the composer Thomas Tallis knew exactly how the power of simple, clear harmony would work to project the words from St John's Gospel in his setting of 'If ye love me' that we heard just now.
How do we make this harmony good? A performer has a number of concepts that come to the fore in what they do that resonate deeply with the word harmony, such as 'blend' as in the blending and matching of sounds and musical intent, and 'ensemble' from the French word meaning 'together' or 'at the same time.' They also work hard to be 'in tune' with each other and also to 'listen.' 
Ultimately, all these things help to bring about acts of collaboration, and of working together to seek consensus. The performer works to engender a sense of responsibility towards the creator of the piece, the composer, and also towards their fellow musicians. This is not always an easy process, but ultimately when that process is achieved, a connection comes together that is in itself a spiritual one, that is an expression of unity.
Music
Reflection on Thomas Tallis' If ye love me – Frank Ferko
Ora Singers
CD: Ora – Many are the Wonders (Harmonia Mundi)
Reading
Luke 17:20
Lucy Winkett Reflection 1: Harmony
It's hard to create harmony by yourself. Harmony requires more than one note to be played at the same time. Harmony is only possible together.  One of the features of this lockdown period is that it has been hard to make music together to create harmony.  Delays on internet connections and conferencing platforms have meant that it has not been possible to sing together live at all.  If I lead a church service on Zoom for example, and we try to sing together, everyone in their own home, it is a cacophony of sound, not really harmonious at all.  Of course composers and conductors have got around this by recording everyone separately and mixing the voices afterwards, but the result, however remarkable in the making, still has a metallic quality to it, an artificial veneer. We've found ways to make music together in this demanding lockdown but in truth, we have all been singing alone. 
For me, the power of live harmony has been emphasized by its absence. Singing together in a choir for instance is a beautiful picture of what Jesus called the kingdom of God. In the gospels we can hear Jesus reaching for whatever he can find to illustrate what he was trying to explain; it's like a mustard seed he said – it's like baking bread, it's like farming, it's like buried treasure.  Singing together wasn't one of the pictures Jesus used, but it's a contemporary version of what he was trying to say. 
Making music together well requires deep listening, to the composer's intention and to one another in the moment. And the rehearsal process also requires a cycle of interactions more usually associated with the spiritual life; a process of acknowledging your mistakes, needing forgiveness from other musicians, practising obedience to the composer's melodies, and, importantly,  finding the guts to make music your way, with your voice; music that only you can make.  
The kingdom of God was a constant theme of Jesus's: it's close at hand, it's within you, it's nearby, it's already here. This kingdom of God is an invitation to live in a way that's both beautiful and just. Mutual, dynamic, interdependent with all that lives; a mirror of the Trinitarian life that is rooted and grounded in mutual love.
What would it take for us to live harmony out in our everyday lives?  It would mean deep listening to the voices around us, and then daring to join ours to theirs, finding our voice and place to make the world a more just place.
We are creatures whose instinct is to search for what's worth most and to turn our faces towards it. It's called praise.   Praise the Lord all you people is an impulse to worship the creator of the universe, here set to sublime harmonious music by Mozart.
Music
Laudate Dominum - Wolfgang Amadeus Mozart
Barbara Bonney & The English Concert
CD: Mozart 111 Masterworks Vol 2 (Deutsche Grammophon)
Reading: Revelation 14:2-3
Bob Chilcott Reflection 2: Dissonance
Where there is harmony there will also be what can be perceived as the opposite - discord or dissonance. In a musical context, dissonance can mean a collection of sounds or colours that don't agree and that don't vibrate together. In music, as in life there are elements that happen as a result of something else, as in cause and effect. We don't have high without low, loud without soft, fast without slow or tense without relaxed. Dissonance is not, however, simply the opposite of harmony. It is a little more complex and clever than that.
A hard, loud dissonance can be very ugly. It can be made up simply of two notes played together, or a loud, ugly chord played by a full orchestra or sung by a choir. But dissonance is also a reactive idea, and it has a quality that can galvanise, be very positive and push us forward.  It is also a sound that we take notice of – a very commonly heard example of this is the sound of a police car siren or an ambulance, it begs to get our attention.
Yet at the same time a soft dissonance can be very deceiving, beguiling and alluring. In music, notes sometimes rub up against each other in a way that can make us feel slightly uncomfortable, or captivated in a seductive way. Composer through the ages, from Henry Purcell to Cecilia McDowall, have used dissonance to lend weight and emphasis to sacred texts. So dissonance has the power to energise and to challenge us. It also can leave us in a situation where we feel unresolved, where things are left up in the air or unfinished. Such is the strength of dissonance.
Music
Hear my prayer – Henry Purcell
The Sixteen
CD: Allegri Miserere (Classic FM)
Lucy Winkett Reflection 2: Dissonance
For much of the history of western music, a value judgement has been made about harmony and dissonance. Harmony has been good, dissonance bad.  Foundational thinkers such as Plato and Aristotle emphasized this, speculating that the music of the spheres was of God and therefore harmonious. In contrast, if a sound was dissonant, then it was of the devil. There was even one particular chord, called the augmented 4th,  that was dubbed the devil's interval and it was banned from church music.   This interval is often used in jazz, for instance in the song 'it don't mean a thing if it aint got that swing'.  This long held prejudice about dissonance and what you might call slightly jarring tones, has meant that jazz still has something of a controversial place in church music. 
But there's a problem with this.  If all we hear is harmonious music about God in church, then we get the message that God will make everything fine.  God doesn't promise that. This is just not true. Sometimes, and we're experiencing an intense period of this now, things for many many people are far from fine.  Christian faith insists that God suffers. God is crucified over and over by human hubris, by our competitive lust for power, by our acquisitiveness, our need to accumulate, to crush competition, and as we hear in the story of Jesus's last days, by our inability to do anything but go along with the mob.
Music
Standing as I do before God – Cecilia McDowall
Susanna Fairbairn & Sospiri
CD: A Multitude of Voices (Convivium Records)
The text that Cecilia McDowall has set from nurse Edith Cavell is a remarkable sentiment for someone who, as she was, was about to be executed for treating enemy soldiers during the First World War. These two women, Edith Cavell and Cecilia McDowall show us generations apart that God doesn't try to smooth things over in a saccharine way, but crucially too, does not abandon us even 100 years ago in front of a firing squad, or in these days in the heartbreaking goodbyes to a dying man from his family in a video call. God does not abandon us even in the deep anxiety of a pandemic.
God of sound and silence. Help us to trust your presence with us,  even when we feel we are standing in the fire.  Give us courage and energy to live the good news we proclaim; that love is strong as death; and your peace transforms our fear. Amen. 
Bob Chilcott Reflection 3: Consolation
For many people music has the power to console in times of difficulty. There are many factors that come into play for this to happen and two spring to mind. Whoever said this, 'We need breath to live but if we hold on to it, we die,' lends support to the first of these, that the flow and shape of the breath is mirrored in the way that musical phrases are formed and in the way that they rise and fall. When we seek music to console ourselves we perhaps unconsciously seek music that gives us time to breathe, where our breath is at rest.
Another factor that comes into play is the choice of the key of the piece. Western music is written around the theory of major and minor keys. So There is a real alchemy that happens through key choice, as different keys have varying colours and characteristics. Minor keys tend to be melancholic, perhaps a little unsettling, whereas major keys tend to be brighter and often leave us feeling more optimistic. The composer thinks very carefully about the choice of key and the key they choose will unlock the door that takes us on the journey of the piece.
Pieces that might console, like Edward Elgar's 'Nimrod,' or the 'In Paradisum' from the Requiem by Gabriel Faure and also the 'Laudate Dominum' of Mozart that we heard earlier are all written in a major key. So perhaps we again unconsciously seek music in these times that give us glimmers of light, glimmers of hope.
Music
Lux Aeterna - Edward Elgar
Voces8
CD: Lux - Voces8 (Decca)
Reading
Revelation 21.3-5
Lucy Winkett Reflection 3: Consolation
Sometimes a piece of music is like a key that opens a door in time.  Some music can in an instant transport us from where we are to somewhere else altogether. It can trigger a memory of the past – suddenly we're back there and all the feelings come rushing back too.
Music is also way of lamenting in the present, and can express sadness that is too deep for words.  Music can also transport us into the future.  It is itself creative; in its very performance, stating in the present that things don't have to be as they are now. That's why music is such an important part of protest, of imagining a new society. Melody, rhythm, chant, song, are all powerful ways to protest and ways to give voice to the need for change.  Music is important when life is really difficult because in imagining a new future, we can be consoled in the present.  Music can express our yearning for change; it can help us give a name to our loneliness, our fury, our society's injustices.  Music from the past, sung in the present calls us into a new future and reminds us, no demands of us the vision that a better world is possible.
This week the church celebrated the feast of St Peter, the energetic, impetuous disciple who denied Jesus three times and then met Jesus risen from the dead on the beach, who then asked him three times do you love me?  In asking him this three times, Jesus reminded Peter of the worst thing he had ever done. Made him face it. Gave him a way to redeem it.  I learn from this that there are some things that are not resolved this side of death.  There are some hurts, injustices, fractured relationships that remain unmended in this life.  From this difficult dissonant place, we can like Peter hear the words of the risen Christ not smoothing it all over, but profoundly consoling us, helping us face the most complex circumstances, giving us strength to receive today and whatever today brings, as a gift.  In Paradisum is one such sublime message from life beyond the grave; that somewhere the battle we are fighting is over, weapons are laid down. Consolation wins. 
Music
In Paradisum (from 'Requiem') – Faure
The Sixteen & Academy of St Martin in the Fields
CD: Faure Requiem (Coro Live)
Prayers
God of heaven and earth, we pray in thankfulness for the gift of music and musicians.  We pray for composers, performers, conductors and arrangers especially at this time of isolation from one another. May music be made whenever and wherever we can.
We pray for all whose livelihoods depend on the making of music, imperilled and made precarious by this pandemic. For singers and players, for all who are responsible for concert halls, cathedrals, jazz clubs, performance spaces.  Give us the will as a society to know ourselves in need of music made well and played live.
We pray for all who believe they can't sing, who are afraid or ashamed to hear their own voice.  We give thanks for inspiring  music teachers, coaches, choir directors and encouragers.
We pray for all whose voices are raised in the music of dissent , who sing us into a more just world. Give us courage to join our voices in songs of protest and hope.  
We give thanks for those whose voices have fallen silent in death. And we pray for those who grieve, that they may know your consolation in this life.
Lord's Prayer
Blessing
May God whose mercy is new every morning, whose word comes to us in the power of music, make you strong in faith and love. And the blessing of God almighty, the Father, the Son and the Holy Spirit, be among you and remain with you, this day and forever. Amen.
Closing words
To end our service today, the music of Johann Sebastian Bach. When I listen to this music, I often find myself waiting for something to resolve. The creative and adventurous harmony teaches me direction and momentum, even while the tension keeps building, and I can't see – or hear - where it's all going to end.  This music helps me live with uncertainty, harmonically helps me put one foot in front of the other, holds me somehow even while I'm wandering without much sense of where I should go.  And, always, eventually, Bach's music brings me, as the psalm says, to the haven where I would be.  
This then is music for our time: music that can bring profound consolation to those of us who live, in a prayer for all those who have died.
That they may rest in peace and rise in glory.
Music
Ach Herr, lass dein lieb Engelein (Final Chorale from 'St John Passion') - Johann Sebastian Bach
English Baroque Soloists conducted by John Eliot Gardiner
CD: J.S. Bach - St John Passion (Archiv Produktion)
Broadcast