Main content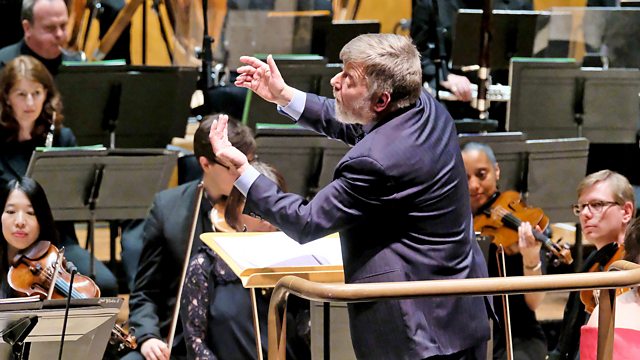 Under the Shadow of the First World War: Sir Andrew Davis Conducts the BBC Symphony Orchestra and Chorus
Music written during or just after World War I by Edward Elgar and Lilian Elkington. Baritone Roderick Williams joins for the London premiere of a song cycle by Raymond Yiu.
As recorded at the Barbican Hall in April 2018, Sir Andrew Davis conducts the BBC Symphony Orchestra and Chorus at the Barbican. The programme includes music by Edward Elgar and Lilian Elkington, and baritone Roderick Williams joins for the London premiere of a song cycle by Raymond Yiu. And there's interval music by composers who served - and some who died - in the First World War: from Germany, Australia, UK and France.
When Elgar was asked early in the War to write music for a home front theatre adaptation of Algernon Blackwood's curious escapist novel A Prisoner in Fairyland he delivered a work of never-never land enchantment - The Starlight Express. Baritone Roderick Williams and soprano Emma Tring join the BBC SO. Baritone Roderick Williams's second appearance tonight is for The World Was Once All Miracle by the composer Raymond Yiu. Premiered in 2017 to great acclaim, the work sets texts by a hero of Yiu's, the writer and sometime composer Anthony Burgess - who was born in 1917.
Lilian Elkington's Out of the Mist (1921) is a recently discovered war treasure. It paints a picture of Dover on 10th November 1920 as HMS Verdun, with a flotilla of battleships, appears through the Channel fog bringing the body of the Unknown Warrior on its way to final rest in Westminster Abbey. Elgar's noble choral masterpiece The Spirit of England memorialises the fallen setting texts by Laurence Binyon , including the lines 'They shall grow not old, as we that are left grow old'. Andrew Staples is the tenor soloist with the BBC Symphony Chorus and Orchestra.
Enjoy this concert performed by famed Elgarians!
Presented by Martin Handley
Recorded at the Barbican Hall on 13 April 2018.
Elgar: The Starlight Express (selections)
Raymond Yiu: The World was Once All Miracle (London Premiere)
20.25 Interval Music
Rudi Stephan
Music for 7 Stringed Instruments, 'Nachspiel' (2nd mvt)
The Horenstein Ensemble.
Frederick Septimus Kelly
24 Monographs for Piano, No. 18
Tamara Anna Cislowska (piano)
William Denis Browne
4 Songs for Voice and Piano, 'Diaphenia' (no. 3)
Robin Tritschler (tenor) Malcolm Martineau (piano)
Maurice Ravel
Le Tombeau de Couperin, 'Toccata' (no. 6)
Bertrand Chamayou (piano)
20.45
Lilian Elkington: Out of the Mist
Elgar: The Spirit of England Op.80
Emma Tring (soprano)
Roderick Williams (baritone)
Andrew Staples (tenor)
BBC Symphony Chorus
BBC Symphony Orchestra
Sir Andrew Davis (conductor)
Last on

Broadcast

Featured in...
We broadcast more live and specially-recorded concerts and opera than any other station.