Main content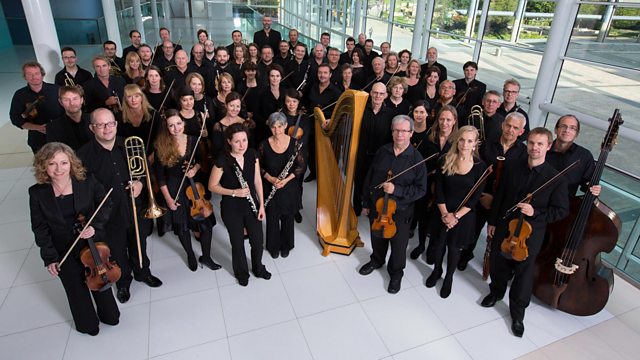 BBC Philharmonic
The BBC Philharmonic perform British music by Vaughan Williams, Bax and Rubbra, and a world premiere by Martin Suckling. A tribute to Gerard Schurmann completes the afternoon.
An afternoon of English music played by the BBC Philharmonic. We start off with Vaughan Williams atmospheric evocation of the East Anglian landscape, followed by a tribute to him by Edmund Rubbra, a composer Vaughan Williams claimed was his natural successor. In 1914 Arnold Bax began an affair with the pianist Harriet Cohen and they spent a few weeks on the north Cornish coast at Tintagel, with its nearby castle associated with the legends of King Arthur. His love for Cohen and that Arthurian magic are all features of his popular tone poem. Next up is music by Dutch born composer Gerard Schurmann who's best known for film scores and who orchestrated Lawrence of Arabia. We'll hear his Concerto for Orchestra which was written in 1996. And to conclude the world premiere recorded in 2019 of Martin Suckling's 'This Departing Landscape'. Martin describes the two movements as 'a kaleidoscope of sharp-edged fragments constantly shifting into new configurations', and 'music of glacial energy: extremely heavy, extremely slow, an inexorable continuity of gradual transformation'.
Presented by Tom McKinney.
2pm
Vaughan Williams: In the Fen Country
BBC Philharmonic
John Wilson, conductor
Rubbra: A Tribute [to Vaughan Williams on his 70th birthday]
BBC Philharmonic
John Storgards, conductor
Bax: Tintagel
BBC Philharmonic
Vernon Handley, conductor
Schurmann: Concerto for orchestra
BBC Philharmonic
Rumon Gamba, conductor
Martin Suckling: This Departing Landscape (wp, BBC commission)
BBC Philharmonic
Ilan Volkov, conductor
Last on

Broadcast