Main content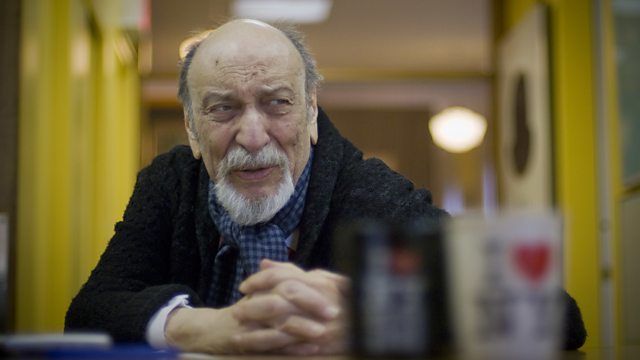 Milton Glaser, Terry Dicks, Professor Tom Arie, Else Blangsted
Matthew Bannister on designer Milton Glaser, MP Terry Dicks, psychiatrist Tom Arie, music editor Else Blangsted.
Pictured: Milton Glaser
Matthew Bannister on
The graphic designer Milton Glaser who came up with the iconic "I heart New York" logo – but didn't make a penny from it.
Terry Dicks, the controversial right wing Tory MP who went out of his way to challenge political correctness.
Professor Tom Arie, the psychiatrist who helped to transform mental health treatment for older people.
Else Blangsted, the Hollywood music editor whose own life story reads like the script for a dramatic film.
Interviewed guest: Christopher Bonanos
Interviewed guest: Arianne Wack
Interviewed guest: Julia Langdon
Interviewed guest: Dr Claire Hilton
Interviewed guest: Angie Errigo
Producer: Neil George
Archive clips from: I Heart Milton Glaser, Radio 4 10/02/2011; File on Four, Radio 4 24/07/1984; Sound Archive: Libyan Terrorism and U.K. Deportations, Radio 4 22/04/1986; File on Four, Radio 4 09/06/1993; The Week in Westminster, Radio 4 24/02/1990; Looking for Else, directed by Sandy Kopitopoulos and Daniel Maurer, Amka Films 2007; The Bonfire of the Vanities, directed by Brian De Palma, Warner Bros 1990; Olympic Sports in Berlin 1936, British Pathe 13/04/2014; Samson and Delilah, directed by Cecil B. DeMille, Paramount Pictures 1949.
Last on

Milton Glaser
Born 26 June 1929; died 26 June 2020, aged 91.
Last Word spoke to Christopher Bonanos, City Editor of New York Magazine, and writer Arianne Wack.
Terry Dicks
Born 17 March 1937; died 17 June 2020, aged 83.
Last Word spoke to political journalist Julia Langdon.
Professor Tom Arie
Born 9 August 1933; died 24 May 2020, aged 86.
Last Word spoke to his friend Dr Claire Hilton, Historian in Residence at the Royal College of Psychiatrists.
Else Blangsted
Born 22 May 1920; died 1 May 2020, aged 99.
Last Word spoke to film writer Angie Errigo.
Broadcasts