Main content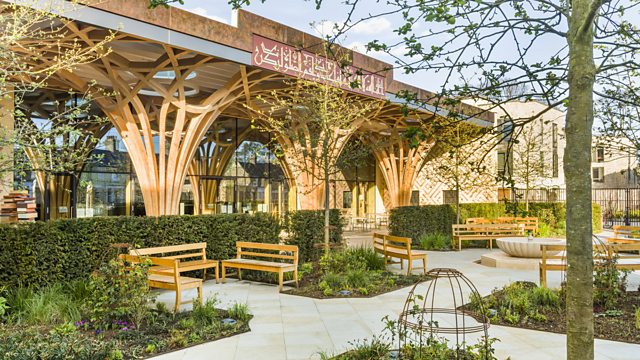 GQT At Home: Episode Fourteen
Kathy Clugston and the panel answer gardening questions sent in by listeners.
Kathy Clugston and the panel - Anne Swithinbank, Matthew Pottage and Christine Walkden - answer gardening questions sent in by listeners.
This week the team offer alternatives for a moss pole, discuss the best way to prune a quince tree and give options on what to plant in a Whisky barrel.
Matthew Wilson chats to Cleve West about his experience of Veganic gardening and Peter Gibbs talks to Islamic Garden Designer Emma Clark about the Cambridge Mosque Garden and the role of gardens in Islamic culture.
Producer - Darby Dorras
Assistant Producer - Rosie Merotra
A Somethin' Else production for BBC Radio 4
Last on

Fact Sheet
Questions and timecodes are below. Where applicable, plant names have been provided.
Q – What plants can be used for covering up eyesores, such as a whisky barrel?
(1 minute 9 seconds)
Christine – Amelanchier tree
Snowy Mespilus
Sorbus'
Mountain Ashes
Maylis'
Crab Apples
Matthew – Trachelospermum Jasminoides
Geranium Rozanne
Bottlebrush
Waterlilies
Q – I have grown sweet peas every year for fifty years and always succeeded, until now. What has happened to my plants this year? 
(4 minutes 50 seconds)
Q – We hear a lot about encouraging insects, like bees, butterflies and beetles, into our gardens but what about grasshoppers and crickets? Are they not desirable?
(8 minutes 53 seconds)
Feature – Vegan-Organic Gardening 'Veganics' with Matthew Wilson
(11 minutes 37 seconds)
Q – Are there any alternative solutions to using a 'moss pole' for supporting and training my Monstera Deliciosa (Swiss Cheese plant) as it grows?
(19 minutes 3 seconds)
Anne – Devils Ivy
Matthew – Variegated Monstera
Q – I have a rabbit foot fern that is too big for its pot.  I took a "foot" several months ago and now it has a new frond.  But what about the parent.  How do I re-pot it? Please could you give me some advice. 
(22 minutes 21 seconds)
Q – I recently bought a large quince tree. I want to grow it in a pot and train it against my wall. Is this possible and can I prune off stems now to achieve this?
(25 minutes 38 seconds)
Feature – Islamic Garden Specialist, Emma Clark, speaking about the new garden at Cambridge Central Mosque with Peter Gibbs
(28 minutes)
Narcissi
Q – When digging around in some hard and unyielding soil I accidentally spiked cyclamen tubers with my garden fork. I have since found more tubers, but they are damaged.
What do you advise? Should I just select the best and replant them 15cm apart or do you think a tuber cut in half will still flower?
(34 minutes 25 seconds)
Christine – Cyclamen Hederifolium
Q – We are currently closed at The National Poo Museum on the Isle of Wight but keen to develop our endozoochorous' garden (all the seeds of the different plant species have first passed through the gut of an animal). There is one gap in our research; humans. Could the panel suggest some interesting fruits or seeds for willing volunteers to ingest and 'plant'?
(37 minutes 18 seconds)
Christine – Tomatoes
Matthew – Date seed
Broadcasts