Main content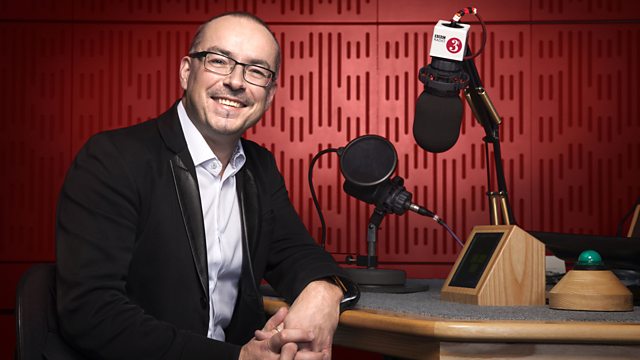 Grieg's Holberg Suite with Oliver Condy and Andrew McGregor
A round-up of the best new classical releases, and in Building a Library Oliver Condy recommends a recording of Grieg's Holberg Suite. Plus Berta Joncus on new Baroque recordings.
with Andrew McGregor
09.30
Building a Library
Another chance to hear Oliver Condy discussing his favourite recordings of Grieg's Holberg Suite and making a recommendation.
Grieg's ever-popular Holberg Suite is a set of five tuneful movements for string orchestra. Based on 18th-century dance forms, it was written in 1884 to celebrate the 200th anniversary of the birth of Dano-Norwegian humanist playwright Ludvig Holberg.
11.45
Berta Joncus shares some recent recordings of Baroque music.
11.20
Record of the Week
Andrew recommends an outstanding new release.
Last on

Record Review
9.00am <?xml:namespace prefix = "o" ns = "urn:schemas-microsoft-com:office:office" />
Desire: Arias by Puccini, Verdi, Bizet, Tchaikovsky etc.
Aleksandra Kurzak (soprano)
Morphing Chamber Orchestra
Frédéric Chaslin (conductor)
Sony 19075883262
https://www.sonyclassical.de/alben/releases-details/desire-2
Prokofiev: Sonata No. 6 & Visions Fugitives
Vadym Kholodenko (piano)
Harmonia Mundi HMM 902659
http://www.harmoniamundi.com/#!/albums/2612
Nikolai Tcherepnin: Narcisse et Echo, La Princesse lontaine
Bamberger Symphoniker
Łukasz Borowicz (conductor)
CPO 555 250-2                       
https://naxosdirect.co.uk/items/nikolai-tcherepnin-narcisse-et-echo-op.-40-la-princesse-lointaine-op.-4-symphonic-prelude-517508  
Cantatas of the Bach Family
Benjamin Appl (baritone)
Christoph Hartmann (oboe)
Berlin Barock Solisten
Reinhard Goebel (conductor)
Hänssler Classic HC19081
https://haensslerprofil.de/shop/konzerte-sinfonien/cantatas-of-the-bach-family-2/
9.30am – Building a Library – Oliver Condy on Grieg's Holberg Suite, Op. 40 [version for string orchestra]
Composer: Edvard Grieg
Reviewer: Oliver Condy
Recommended Recording:
Academy of St Martin in the Fields (1984 recording)
Sir Neville Marriner (conductor)
Philips 4127272 and Eloquence ELQ4565612
Other Recommended Recording(s):
Oslo Camerata
Stephan Barratt-Due (conductor)
Naxos 8557890
Ostrobothnian Chamber Orchestra
Juha Kangas (conductor)
Caprice CAP21443 (download only)
Australian Chamber Orchestra
Richard Tognetti (director)
BIS BISSACD1877 (Hybrid SACD)
10.15am – New Releases
Rachmaninoff: Piano Concerto No. 1, Rhapsody on a Theme of Paganini & Preludes
Anna Fedorova (piano)
Sinfonieorchester St. Gallen
Modestas Pitrenas (conductor)
Channel Classics CCS 42620
https://www.channelclassics.com/catalogue/42620-Fedorova-Rachmaninoff-Piano-Concerto-No-1/
 Beethoven: Violin Sonatas Nos. 1, 5 & 8
Tamsin Waley-Cohen (violin)
Huw Watkins (piano)
Signum Classics SIGCD618
https://signumrecords.com/product/beethoven-violin-sonatas-nos-1-5-8/SIGCD618/
Romantique: Klughardt, Onslow & Spohr
Les Vents Français
Eric Le Sage (piano)
Warner Classics 9029528568
https://www.warnerclassics.com/release/romantique
10.40am – New Releases – Berta Joncus on Baroque and Beyond
London Calling: A Collection of Ayres, Fantasies and Musical Humours
Amandine Beyer (violin)
Michael Oman (recorder and director)
Austrian Baroque Company
FB2001111 Fra Bernardo
http://frabernardo.com/?portfolio=london-calling-a-collection-of-ayres-fantasies-and-musical-humours
Portraits de La Folie: Arias by Destouches, Marais, Purcell etc. 
Stéphanie d'Oustrac (mezzo)
Ensemble Amarillis
Héloïse Gaillard (recorder, oboe and director)
Harmonia Mundi HMM902646
https://www.harmoniamundi.com/#!/albums/2614
In Chains of Gold: The English Pre-Restoration Verse Anthem Vol. 2
Magdalena Consort
Fretwork
His Majestys Sagbutts & Cornetts
Silas Wollston (organ)
Signum SIGCD609
https://signumrecords.com/product/in-chains-of-gold-volume-2/SIGCD609/
The Romantic Castrato: The Ornamented Songs and Arias of Giambattista Velluti
Robert Crowe (male soprano)
Joachim Enders (piano)
Iris Rath (flute)
Toccata Classics TOCN0008
https://toccataclassics.com/product/the-romantic-castrato/
Baroque Wind: Vivaldi, Zelenka, Händel, Fasch, Telemann
Die Freitagsakademie
Winter and Winter 9102632
https://www.winterandwinter.com/index.php?id=1659
11.20am – Record of the Week
Mahler: Symphony No. 7
Minnesota Orchestra
Osmo Vänskä (conductor)
BIS BIS2386 (Hybrid SACD)
https://bis.se/orchestras-ensembles/minnesota-orchestra/mahler-symphony-no7  
Broadcast