Main content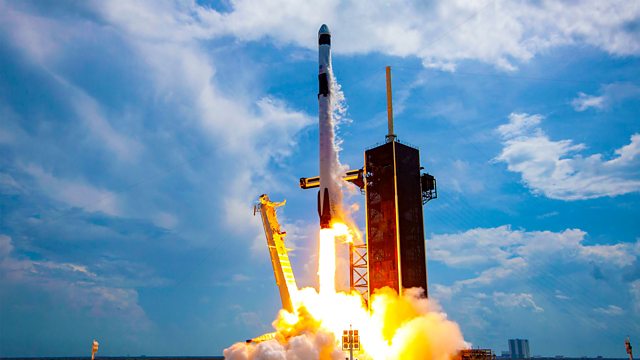 Meanwhile in Space
Rebecca Morelle explores the future for human spaceflight after SpaceX became the first private company to fly astronauts to the International Space Station back in May.
While the world's focus has been on the Covid-19 pandemic, other stories have been developing.
In May, SpaceX became the first commercial company to fly humans to the International Space Station. The launch was the first from American soil since 2011. The BBC's Global Science Correspondent, Rebecca Morelle, asks whether this launch marks the beginning of a golden era of human spaceflight and examines how new relationships between space agencies and commercial companies will change the field of space exploration.
Will this development capture humanity's imagination and give the field a renewed focus, or will it make space feel further away from the private citizen? Will space agencies and private companies collaborate or compete? Will it increase international cooperation or allow nations to advance by themselves? Rebecca explores the motivations of the individuals who are propelling advances beyond the Earth's atmosphere and examines what the risks might be, in the absence of a new international space treaty.
Presenter: Rebecca Morelle
Producer: Camellia Sinclair
Credit: British Pathé, "Space Treaty 1967", Pathé newsreels, 02/02/1967
Last on
Broadcasts