Main content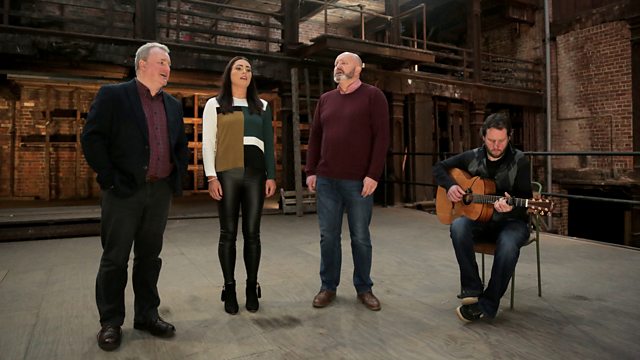 Julie Fowlis a' lìbhrigeadh ceòl bhon t-sreath Port nach deach fhaicinn a-cheana. Previously unseen music from the series Port with Julie Fowlis.
Bidh Druthag Bheag Eile a' tarraing ri chèile pìosan ciùil sònraichte a chaidh a chlàradh airson an t-sreath Port ach nach deach fhaicinn a-cheana. Anns a' phrògram seo, ceòl a chaidh a chlàradh ann an Dùn Èideann, Leòdhas agus Beul Feirste ann an 2015 agus 2016. Bidh sàr luchd-ciùil ann an cuideachd Julie Fowlis agus Muireann Nic Amhlaoibh anns na trì ceàrnaidhean sin. Anns an earrann seo, bidh an seinneadair is fear cluiche ghiotàir Dónal Clancy à Èirinn agus Julie a' cur dreach àlainn air "Open the Door Softly", an t-òran aig Archie Fisher. Bidh Louise Mulcahy a' siubhal gu Leòdhas airson cluich le Alasdair White agus Innes White, agus cluinnidh sinn "Fear a' Bhàta" air a sheinn le Art MacCarmaig, Seán Mac Corraidh agus Róisie, an nighean aig Séan, le taic air a' ghiotàr bho Paul Meehan.
Druthag Bheag Eile is a collection of three previously unseen musical gems from the award-winning series Port. This episode features music recorded in Edinburgh, Lewis and Belfast in 2015 and 2016. A cast of renowned musicians joins presenters Julie Fowlis and Muireann Nic Amhlaoibh to play on three tracks. In this episode Irish singer and guitarist Dónal Clancy joins Julie for a beautiful rendition of Archie Fisher's song Open the Door softly. Louise Mulcahy travels to Lewis to play with Alasdair White, accompanied by Innes White, and Arthur Cormack joins singer Seán Mac Corraidh, his daughter Róise and guitarist Paul Meehan for their version of the well- known song Fear a' bhàta.
In Gaelic with English subtitles