Main content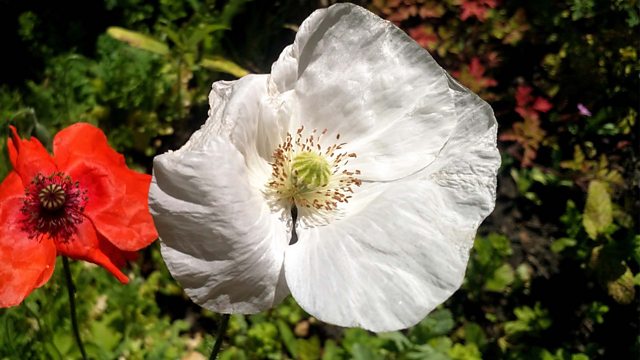 GQT At Home: Episode Thirteen
Kathy Clugston hosts the horticultural panel show.
Kathy Clugston hosts the horticultural panel show. Bob Flowerdew, Bunny Guinness and Pippa Greenwood answer the questions sent in by listeners via email and social media.
This week the team discusses whether to water plants from the top or bottom, suggests how to turn a porch into an indoor jungle, and shares gardening mysteries.
Matt Biggs talks about the role of light in our garden and Advolly Richmond has the interesting history behind the Reseda Odorata 'Mignonette'
Producer - Hannah Newton
Assistant Producer - Jemima Rathbone
A Somethin' Else production for BBC Radio 4
Last on
Plant List
Questions and timecodes are below. Where applicable, plant names have been provided.
Q – Do you water the plants from the top, like the rain does, or bottom straight to the roots? (1 minute 14 seconds)
Pippa – Courgettes
Bunny – Roses
Q – Lockdown has encouraged us to make more of our small balcony and create some privacy. We've installed trellis and we'd like a climber that's quick to grow, low maintenance, evergreen and preferably with flowers for some of the year. (4 minutes)
Bob – Grapevine Siegfried
Pippa – Bougainvillea
Bunny – Clematis armandii
Trachelospermum jasminoides
Q – As a disabled gardener and I do a lot of gardening in pots on a small scale. I have a collection of scented-leaf Pelargoniums in my conservatory. They are all flowering except one which is healthy but has a strange green lump on the bottom of the main stem. Should I be worried? (7 minutes 30 seconds)
Q – Why is my wasabi wilting? There are black bits on the stems and some of the leaves have small holes. What should I do? (9 minute 50 seconds)
Feature – The Role of Light in Our Gardens with Matt Biggs (12 minutes 33 seconds)
White Lacecap Hydrangea anomala subspecies petiolaris
Clematis 'Nelly Moser'
Fatsia Japonica
Lamium Orvala
Cyclamen Hederifolium
Narcissus
Roscoea
Corydalis
Daphnes
Rhododendrons
Alchemilla
Aquilegia
Jasminum Nudiflorum
Mahonias
Chaenomeles 'Japanese Quince'
Rosemary
Lavender
Ceanothus
Salvias
Sea Holly
Stipa Tenuissima
Camellias
Magnolias
Q – I have some brown blotches forming on my tomato leaves. This has spread rapidly to other plants. What should I do? (16 minutes 50 seconds)
Q – Can the panel suggest suitable plants that might resemble miniature foliage. I am looking to build a mini replica of a mountain range in my garden using sculpted rocks and I need low spreading greenery to simulate trees and undergrowth. (20 minutes 30 seconds)
Bunny – Asarum
Pippa – Sedums
Sempervivum
Thrift 'armeria maritima'
Q – I have an olive tree and one half is thriving whilst the other is dying. The dying half has wind burn, is without leaves, wood worm and also has boreholes. Can I bring it back to life?(22 minutes 50 seconds)
Feature – The Reseda Odorata 'Mignonette' with Advolly Richmond (24 minutes 50 seconds)
Q – I have oriental poppies in my garden. I recently divided one clump as it was getting overcrowded. When the poppies flowered the original clump flowered red instead of the usual dusky pink colour. Why do you think that is? Can I get them back to their original colour? (29 minutes)
Q – We have a porch which we would like to turn into a bit of a jungle with indoor plants, ideally grown from seeds. The porch gets sun from 1pm until sunset and can get very hot.
(32 minutes 06 seconds)
Bunny – Caladium
Jasminum Polyanthum
Pippa – Cheese Plants
African Violets
Easter Cacti
Christmas Cacti
Mango
Grapefruit
Bob – Grapevine 'Madresfield Court'
'Muscat Hamburg'
Spiderplants
Paw Paw
Q – I had a basil plant that died and planted in the same soil some daffodil seeds. After some time, a green shoot appeared and it turned out to be, neither basil or a daffodil, but a cactus! Have you ever experienced similar gardening mysteries or surprises? (36 minutes 50 seconds)
Bob – apios tuberosa
Aloe Vera
Bunny – Opuntia Prickly Pear Cactus
Rosa banksiae
Broadcasts