Main content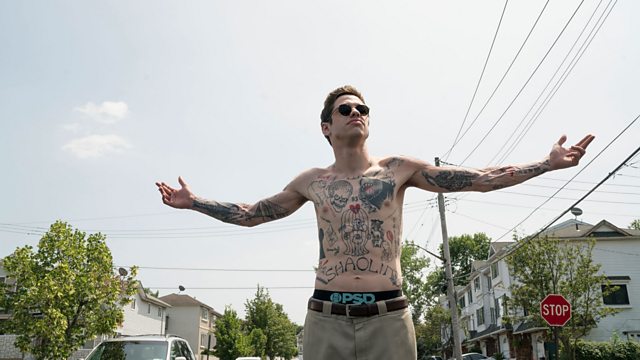 Judd Apatow, Carnegie and Greenaway Medals for children's literature, job losses in theatre, Alison Brackenbury
Judd Apatow on The King of Staten Island, the coronavirus hits jobs on West End musicals, and the Carnegie and Greenaway winners announced.
Judd Apatow - famous for film comedies like Knocked Up, The 40 Year Old Virgin, and Trainwreck - on his new film The King Of Staten Island, which he co-wrote with Saturday Night Live star Pete Davidson. Pete plays a young man trying to get his life together after the death of his fire-fighter father.
Today the damage to UK theatre caused by the Coronavirus has really begun to show: major producer Cameron Mackintosh has announced redundancy consultations for staff on blockbuster shows, including Hamilton and Phantom Of The Opera. Additionally, a hundred leading creative figures have signed a letter calling for government action to save the sector. We talk to Matthew Hemley, News Editor of theatre magazine The Stage, about the crisis faced by UK theatre.
We announce the 2020 winners of the CILIP Carnegie Medal for writing for children and the CILIP Kate Greenaway Medal for illustration for children, and speak to the winners about their work.
Plus Alison Brackenbury, Front Row's virtual poet-in-residence for the week. She's been inspired by the museums and galleries she visited before lockdown and is sharing a poem a day from her Museums Unlocked series. Today's is about buried treasure and takes us to Birmingham Museums' Staffordshire Hoard exhibition, and back to the age of the Anglo-Saxons.
Main image: Pete Davidson in The King of Staten Island
Image credit: (C) 2020 Universal Studios
Presenter: Samira Ahmed
Producer: Emma Wallace
Last on

Judd Apatow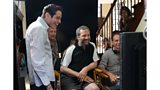 The King of Staten Island, written and directed by Judd Apotow is available to stream now, certificate 15.
Images:
Main image above: Pete Davidson as Scott in The King of Staten Island
Image to the left: Judd Apatow (Centre) and Pete Davidson (Left) on the King of Staten island set.
Image credits: (C) 2020 Universal Studios
The Carnegie and Kate Greenaway Medals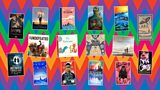 The winners of the CILIP Carnegie and Kate Greenaway Medals 2020 are announced this evening.
The shortlisted books are:
The Carnegie Medal:
The Black Flamingo by Dean Atta, illustrated by Anshika Khullar
 Nowhere on Earth by Nick Lake 
 Lark by Anthony McGowan 
Patron Saints of Nothing by Randy Ribay 
Lampie written and illustrated by Annet Schaap and translated by Laura Watkinson
Voyages in the Underworld of Orpheus Black by Marcus Sedgwick and Julian Sedgwick, illustrated by Alexis Deacon
On the Come Up by Angie Thomas 
Girl. Boy. Sea. by Chris Vick
The Kate Greenaway Medal:
You're Snug with Me illustrated by Poonam Mistry and written by Chitra Soundar
The Iron Man illustrated by Chris Mould and written by Ted Hughes
The Suitcase written and illustrated by Chris Naylor-Ballesteros 
The Undefeated illustrated by Kadir Nelson and written by Kwame Alexander
The Dam illustrated by Levi Pinfold and written by David Almond
Mary and Frankenstein illustrated by Júlia Sardà and written by Linda Bailey
Tales from the Inner City written and illustrated by Shaun Tan 
Child of St Kilda written and illustrated by Beth Waters
Image: the Shortlisted books
Image credit: CILIP
Museums Unlocked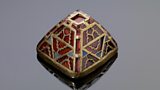 Alison Brackenbury introduces the third of her Museum Unlocked Poems
 I'm at home in lockdown, just a few miles from the M5 to Birmingham. For decades, at work, I dealt with its skilled engineers.
 Now I'm retired, I find myself drawn more and more to this city It has many songs and languages. It's alive with poetry- and many of its poets are very young. When I asked them what I should visit, almost everyone told me that I must go to the Birmingham Museum and Art Gallery.
 So I went – and marvelled at the strange, broken loveliness of the Staffordshire Hoard.
This hoard has over three thousand objects, including pieces of weapons and harness. Many are beautifully made. It's thought they were hidden in the seventh century. This was a troubled time, a time of change from the Anglo Saxon pagan gods to Christianity.  No one knows who buried these treasures, or why. So I began to guess, in a short poem which tries to speak with the voice of their desperate owner.
            The Staffordshire Hoard 
I heave in crosses first,
the old blood gods last best.
Garnets still warm my hand,
round as her breast.
Fine filigree fell ripped from hilts,
heaped ransom for their King.
This was my share, for laboured hours,
for sorrowing.
I smell them, rain on wind.
Stiffly I climb the track.
I leave my son's toys, Roman glass,
I keep the useful sack.
Bury your treasures deep.
Never come back.
The Staffordshire Hoard is owned by Birmingham City Council and Stoke-on-Trent City Council on behalf of the nation, and is cared for by Birmingham Museums Trust and The Potteries Museum and Art Gallery, Stoke-on-Trent.   Their doors remain closed for now.
Image: A golden pyramid fitting, part of the Staffordshire Hoard.
Image credit: (C) Birmingham Museums Trust
Broadcast